Anonymous workers in non-existent industry
(Shanghai Star)
Updated: 2004-05-28 08:51
When the curtain of night falls on the city every day, some dim pink lights turn on in tiny hair salons dotting small streets in every neighbourhood. These lights actually mark the sites of brothels.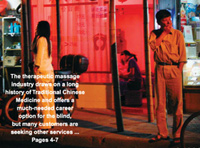 As the curtain of night falls some pink dim lights turn on in tiny hair salons. [file photo]

The salons have sign boards saying "xi tou fang" (hair washing and massage). They have several mirrors on the walls and chairs just as in ordinary hair salons, but no hair-cutting tools or similar equipment would be found inside. Usually two or three women in heavy make-up and provocative dresses sit on a sofa, visible to passers-by outside through the glass doors.

Gu Zexu, a local scholar who has completed a report on these shops, said economists have estimated that consumption of sexual services in China has reached approximately 30 billion yuan (US$3.6 billion).

In China, a sector that has a gross annual revenue above 1 billion yuan can be considered an industry, such as the soccer industry, with its annual revenue of 2 to 3 billion yuan.

However, the sexual services "sector", with a revenue 10 times that of the soccer industry, cannot officially be named and acknowledged as an industry in the country.

"It's a hot potato for the authorities to deal with," Gu said. "It's almost impossible for the Chinese government to legalize the industry and then to keep it under control and in good order. The government has never confronted such a problem and has no theories to base any policy upon."

Lack of management

He said some areas had experimented with the policy of taxing every sex workers 500 yuan a month in return for the legal recognition of their services. But eventually officials found it was too complicated to continue in this way, because there were so many different "ranks" of prostitutes.

The figure of 500 yuan was only suitable for the "high-class" girls working in KTVs, earning a daily income of at least 100 yuan on average. A large number of sex workers in cheap hair salons and massage stores could not afford that sum of money.

Gu once worked as head of an area development office in the Pudong District. He understood that the Industrial and Commercial Bureau was controlling the number of "hair salons" within any specific area by restricting licences and banning hidden rooms.

"However, people were always able to think of ways to avoid the restrictions. The number of such places has increased greatly and they all still have separate hidden rooms to conduct their business," he said.

A spokesperson with the Shanghai Police Bureau turned down the opportunity to make detailed comments on the issue to the Shanghai Star but said sexual services were "not occurring on a large scale" and the police were "working on the problem all the time."

A newly arising phenomenon has been that an increasing number of young men from rural areas now resident in the city have started to date or even marry women sex workers they have met in the salons.

Filling a niche

"A local girl may be more demanding of a high standard of living and a decent house, so such young men with their low incomes could not afford the rocketing cost of a marriage. The sexual workers were gentle with them, and also had a much lower expectation from their husbands and their lives," Gu said.

Gu also found that very few sex workers regularly demanded the use of condoms, so that venereal disease (VD) infections were very widespread among them.

Recently the influential South Weekend has also reported a dispute arising from the recently publicized Shenzhen Blue Book, a report on the development of the city, including a 16-page section about the sexual services in the "hair salons."

The rate of VD and HIV infection among the sex workers has become a great concern.

"The sex industry problem should not be neglected any longer. It is a source of instability in society due to the large number of people working in the industry who are existing in very bad conditions," Gu said.
Today's Top News
Top Life News

China: Foreign troops should leave Iraq before Jan 2005




3 children found decapitated in apartment




Release of new auto policy 'within days'




Unsafe blood collection targeted




Britain berated over Dalai visit




US: Cleric tried to start terror camp