'Unity is path to long-term prosperity'
By Tonny Chan (China Daily HK Edition)
Updated: 2004-05-27 15:10
Visiting central government official Liu Yandong Wednesday called for unity across the board in Hong Kong and asked all sectors of the community to set aside their differences.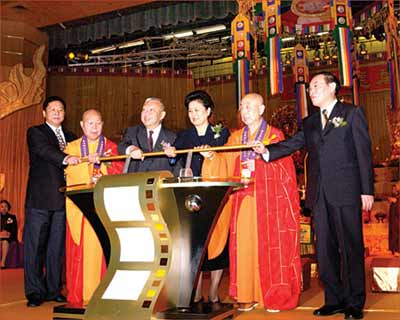 Central government official Liu Yandong (centre) and Chief Executive Tung Chee-hwa officiate at a grand ceremony to mark the unveiling of Buddha's "sarira" or finger bone relic at Hong Kong Convention and Exhibition Centre, May 26, 2004. [newsphoto]
"We should seek common ground while respecting differences. We should unite everyone, no matter what social strata, party or group he or she is from," she said.
Liu, vice-chairperson of the Chinese People's Political Consultative Conference (CPPCC) and head of the United Front Work Department, made the remark at a meeting with local community representatives.
The message of "harmony" and "dialogue" was the high focus of her speech.
She used the proverb that "if the family lives in harmony, all affairs will prosper" to encourage Hong Kong compatriots to unite as one to build their common family of Hong Kong.
She noted that Hong Kong is a diversified community where it is normal to see different political appeals and interests.
The key to this is to enhance communications in order to arrive at better understandings and a wider consensus.
"With a little more reason, a little more dialogue and a little more forgiveness, there is no problem that cannot be solved," she said.
Liu arrived in Hong Kong on Tuesday for a five-day visit.
She came at a time when local society is locked in a heated debate over constitutional development.
There were claims that the community was polarized on issues such as the interpretation of the Basic Law annexes by the country's top legislature and its decision on Hong Kong's electoral changes in 2007/2008.
But Liu Wednesday stressed that central government support for Hong Kong is "sincere and selfless".
"Hong Kong compatriots are our brothers and sisters of the same blood. What the central government has done for Hong Kong is all for the benefit of the SAR. It aims to safeguard the fundamental interests of Hong Kong people and maintain the long-term prosperity and stability of the city," she said.
She said Hong Kong, led by the SAR government headed by Chief Executive Tung Chee-hwa and with the full backing of the central government, could make new achievements.
Liu officiated at the blessing ceremony of the Buddha finger-bone relic at the Hong Kong Convention and Exhibition Centre yesterday morning, before attending a luncheon with business leaders.
In the evening, she had dinner with the leaders of Hong Kong's six major religions.
At the luncheon meeting with local business leaders, Liu reaffirmed that the principle of "One Country, Two Systems" is the central government's basic policy when handling Hong Kong-related matters.
She said the business and finance sectors were an important force in maintaining a stable environment in Hong Kong, calling on them to seize the emerging opportunities of development.
When Liu dined with Hong Kong's religious leaders, she reiterated that it had always been the central government's position to encourage religious exchanges between Hong Kong and the mainland under the principles whereby one respects each other, does not interfere with and does not act in a subservient way to each other.
Liu will visit a home for the elderly in Fanling and with representatives from a range of professions Thursday.
Today's Top News
Top China News

China voices support for Russia's early WTO entry




Wen raises 5 proposals for global prosperity




China, nations seek Iraq resolution change




Key officials 'knew' of bad milk powder




Official: No ceiling on US film imports




'Unity is path to long-term prosperity'