Iraq's Shahristani reluctant on PM role
(Agencies)
Updated: 2004-05-27 09:46
A nuclear scientist who had been tipped to become Iraq's interim prime minister hinted on Wednesday he might reluctantly take the post, but an official in the coalition authority ruled him out of the job.
Confusion surrounded who would take the role after the official contradicted earlier comments by U.S. sources in Washington that Hussain al-Shahristani would be the prime minister.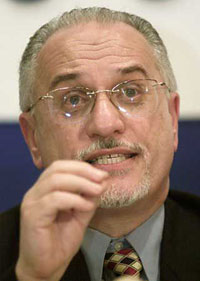 Hussain al-Shahristani, a nuclear scientist who had been tipped to become Iraq's interim prime minister hinted on May 26, 2004 that he might reluctantly take the post. Shahristani is seen at a press conference Feb. 18, 2003. [Reuters]

Shahristani, who was jailed and tortured at Abu Ghraib prison under Saddam Hussein, said the process of choosing a prime minister was not yet complete and other candidates were being considered.

He said Lakhdar Brahimi, the U.N. envoy sent to help shape the interim government, had yet to make his recommendation for the premiership of the government, which is due to take back sovereignty on June 30.

"I personally prefer to serve the people of Iraq in humanitarian fields as I have done since my escape from Abu Ghraib in 1991," he said in an email to Reuters.

"However, putting the country on route to democracy and protecting the population from terrorists and violence is the responsibility of Iraqis, and we have to burden that responsibility," he said, hinting he would take the job if pushed.

Contradicting reports from U.S. sources in Washington on Tuesday that Shahristani would head the new government, a senior official in the U.S.-led coalition authority told Reuters in Baghdad he would not be chosen as prime minister.

Also, a spokesman for the U.S.-led coalition authority, Dan Senor, told a news conference in Baghdad: "My understanding is that that initial report about Mr. Shahristani is incorrect. And the report that there is actually a candidate nailed down is incorrect as well."

The government, to be made up of a president, two vice presidents and a prime minister overseeing a cabinet of 26 ministers, would serve until full elections in January next year.

Shahristani, a devout Shi'ite who prefers a secular state and is regarded as close to Ayatollah Ali al-Sistani, Iraq's foremost Shi'ite cleric, said he had suggested other names to Brahimi. The government is due to be announced in the next week.

"There are competent Iraqis who can serve the country in that capacity and I have suggested to Mr. Brahimi a few names for the post of prime minister," Shahristani said.

Shi'ites make up about 60 percent of Iraq's population and a Shi'ite is widely expected to be named to the position of prime minister. The president is expected to be a Sunni, and the two vice presidents are likely to be a Kurd and a Shi'ite.
Today's Top News
Top World News

Wen raises 5 proposals to attain global prosperity




Key officials 'knew' of bad milk powder




Official: No ceiling on US film imports




Nuclear scientist to become Iraqi premier




Hospital releases SARS vaccine test result




Local gov'ts told to curb price hikes