Beijing safety fears after Paris tragedy
(Shenzhen Daily)
Updated: 2004-05-26 10:19
The architect who designed Beijing's National Theater also designed the terminal at Charles de Gaulle Airport in Paris which collapsed Sunday.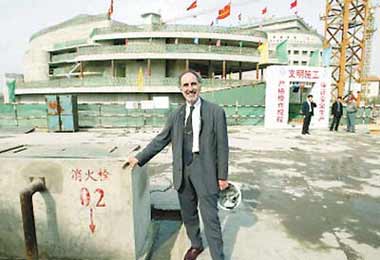 The Shanghai Evening Post reported Monday that an assessment of the theater design could be made to allay safety fears.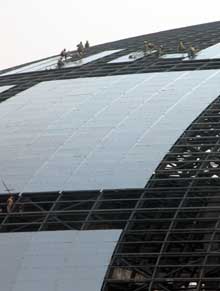 Workers install the glass dome of the National Grand Threatre of China, which is gradually taking shape in the centre of Beijing. [newsphoto/file]

A shocked Paul Andreu has flown back to Paris, but work is continuing on the theater.

Earlier reports said six people died in the collapse, but investigations lowered the death toll to four.

New cracking sounds were heard in the airport terminal Monday, triggering new fears for airport officials.

The 2.69 billion yuan (US$328 million) egg-shaped National Theater will seat 6,000 people and is due for completion next year.

¡°We will probably relaunch a safety assessment of the whole design project, due to safety fears,¡± a government-appointed official overseeing the theater¡¯s construction told the Shanghai Evening Post.

Wu Huanjia, of Qinghua University¡¯s School of Architecture, said: ¡°It is necessary for China to learn a lesson and to be more cautious and accurate in the safety of architecture.

¡°For the moment, we cannot definitely conclude that the airport walkway collapse was a result of the design. It was most probably caused by materials or bad construction.¡±

In addition to the National Theater, Mr. Andreu, 66, has designed the new Guangzhou Stadium, Shanghai Pudong Airport, Sanya airport in Hainan, and the Shanghai Pudong Oriental Arts Center.


Today's Top News
Top China News

New bank set to revitalize Northeast China




EU, China reach deal on coke supply




Bush keeps Saddam gun at White House




US, Iraqi council spar over new president




Swedish game banned for harming China




Hong Kong GDP surges 6.8% in 1st quarter