Report: Al Qaeda at 18,000 and growing
(Agencies)
Updated: 2004-05-26 09:20
Despite losses around the world, al Qaeda has more than 18,000 potential terrorists, and its ranks are growing because of the conflict in Iraq, a leading think tank warned Tuesday.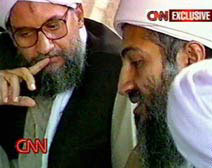 U.S. remains prime target of terror group led by Osama bin Laden, right. [cnn.com]

Al Qaeda still has a functioning leadership despite the death or capture of key figures, and estimates suggest al Qaeda operates in more than 60 nations around the world, the International Institute of Strategic Studies said in its Strategic Survey 2003-4.

The terrorist group poses a growing threat to Western interests and attacks are likely to increase, the institute said.

"Al Qaeda must be expected to keep trying to develop more promising plans for terrorist operations in North America and Europe, potentially involving weapons of mass destruction," institute director John Chipman told a news conference to launch the annual survey.

At the same time, it will continue carrying out attacks on "soft targets encompassing Americans, Europeans and Israelis and aiding the insurgency in Iraq," he added.

The estimate of 18,000 fighters was based on intelligence estimates that al Qaeda trained at least 20,000 fighters in its training camps in Afghanistan before the United States and its allies ousted the Taliban regime. In the ensuing war on terror, some 2,000 al Qaeda fighters have been killed or captured, the survey said.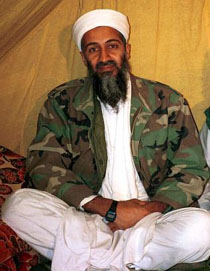 Osama bin Laden poses in this undated photograph taken in Afghanistan. [AP]
The United States remains al Qaeda's prime target, the report said. An al Qaeda leader has said 4 million Americans will have to be killed "as a prerequisite to any Islamic victory," the survey said.
Iraq has become the new magnet of al Qaeda's war against the United States and up to 1,000 foreign Islamic fighters have infiltrated Iraqi territory, where they are cooperating with Iraqi forces, the survey said.
Al Qaeda appears to have successfully reconstituted its operations in dispersed groups and through local allies since being driven out of Afghanistan, the survey said.
"The Madrid bombings in March 2004 suggested that al Qaeda had fully reconstituted, set its sights firmly on the U.S. and its closest Western allies in Europe, and established a new and effective modus operandi," the survey said.
The U.S.-led war in Iraq has increased the risk to Western interests in Arab countries, the survey said.
The West and its allies must continue to mount a major offensive against al Qaeda and progress will be incremental, the report said. Any security offensive against al Qaeda must be accompanied with political developments, such as the democratization of Iraq and the resolution of conflict in Israel, it said.
Progress against al Qaeda "is likely to accelerate only with currently elusive political developments that would broadly depress recruitment and motivation," the report said.
Today's Top News
Top World News

Enhanced Russian trade ties explored




SARS vaccine test results come out today




AP: Major terror attack planned in summer




Landing? What landing? It's cruising along




Developing nations battle poverty together




Japanese chemical weapon container found