Boys in the band
(eastday.com)
Updated: 2004-05-26 09:04
Shanghai's dormant rock scene is heating up, but can Shanghai's bands thrive in a city that doesn't even have its own independent label?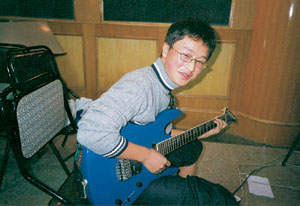 A college student plays guitar. [file photo]

Think of venues for local bands in Shanghai, and dives immediately come to mind -- darkened streets leading to half-deserted warehouses in the city's northernmost heavy industry zone.

The tiny performance spaces are filled with students, wearing their favorite Western metal bands image on baggy T-shirts. Slouching singers wear a decadent expression while yelling themselves hoarse with incomprehensible lyrics, occasionally interrupted by feedback from the second-hand loudspeakers.

There is none of this in evidence as Midnightbus kicks off a five-concert campus tour at the East China University of Science and Technology to promote their eponymous debut album, released in March.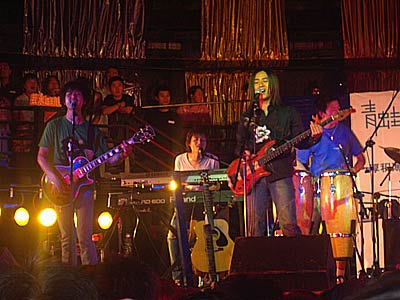 The band "Frog" performances on the stage; The young today find the best way to relieve their feelings, rock&roll music. [file photo]

A renowned band on campuses in Shanghai, their delicate fusion of blues, folk and a slight touch on metal rock wowed the 500-odd clean-scrubbed audiences who pack the concert hall and wave colorful fluo-sticks. ``Be brave and get on the way to roam, leave me your photo and take my guitar, a friend is on your shoulder,'' belts out Wang Chun, the band's guitarist and lead vocalist, whose timid smile stirs up an instant enthusiasm among the screaming girls. ``It is a shared dream of any band to have its music heard and loved by people other than themselves,'' Wang says backstage.

"We're so lucky that it didn't take very long for us to reach our goal." In 2001, Wang and the band's second guitarist, Li Xiaobo, moved from Beijing to Shanghai to try to make it in music. Back in 2000, the duo was already the winner of the best original group in a national campus music competition held in Beijing. With bass player Ni Tao and drummer Hou Haipeng joining in, the band gave their Shanghai debut at the campus of the Fudan University under the name of Midnightbus and was later offered a gig at Ark Live House in Xintiandi. Local music producer and critic Fan Li recalls that he was stunned by the band's bravura, which was as mature as a professional group. ``They jazzed up elements of different music genres and fused them into their own style, which was a sharp contrast to early original bands whose raw and unrefined materials were only good for underground mini-concerts,'' Fan says.

"I'm not suggesting that they are going to represent the mainstream of the original band scene. But I'm willing to see more bands like that as their music is approachable to a wider range of audiences, that is, they will bring a market." In fact, the market for local original bands has grown rapidly over the past few years, along with the boom of live venues, be it obscure or mainstream, proliferating performing opportunities as well as nurturing a large and stable fan base. Unlike their counterparts in 1990s, music is not only a pastime for these young and promising talents but a possible shortcut to fame, recognition and a fairly nice income. But in order to have all this, there is the sometimes thorny issue of the city's embarrassing shortage of independent music labels, without which a band can not issue their own albums, let alone garner name recognition or carry out strategic promotions.

Take "The Red," a one-time campus sensation, for example. With all its four members winners of regional music awards, the band used to be the most widely-known original group among university students, with plenty of material in its repertoire for an album. Upon graduation, however, they failed to hook up with any local labels and the financial pressure finally forced them to break up. ``All of us have our stuff going on in Shanghai and we don't want to move to any other cities,'' says Zhang Zhilin, former lead vocalist with the band. Zhang is now a resident singer at Ark.

"We weren't willing to give it all up but there was simply no way out." Fortunately, Midnightbus has crossed the barrier. In January, the band signed a contract with one of the foremost independent music labels in Shanghai -- Fine Music Production Co Ltd. In November 2002, the company released The Honey's "On the Street," which marked the first album of a Shanghai original band with a Shanghai label. In the first Shanghai International Music Carnival, which took place over the Labor Day holiday in the Century Park, the two bands, along with Fine's other band, Crystal Butterfly, were the only Chinese musicians invited to rock with 10 overseas top bands.

Yuan Yue, the founder and the general manager of Fine Music is strongly against the assumption that local original bands, especially those from campus, are only capable of pub gigs. A private entrepreneur from Xi'an, central Shaanxi Province, who relocated to Shanghai in the early 1990s to open the city's first audiovisual equipment shopping mall, Yuan has a keen sense of hidden market potential.

"You will probably never find another city in China where cultural influences from East and West merge seamlessly," Yuan notes. "There should be voices speaking for a special cultural ambiance like this, and I think that these young men, who have been living and studying in this city, are the most qualified candidates to fill the market blank." Although Yuan set out ambitiously, the inexperience of both the company and the band once dragged the process down. It took more than one year for the company to come out with "On the Street," which released only 5,000 CDs and 2,500 cassettes.

The launch of "Midnightbus" took another year and its total copies sold so far sold is only around 1,000. "Sales are not our first concern at the early stage, as it takes time for our bands to trade on the appeal of their music," Yuan says. "As a producer, the company's mission is to make high quality productions out of their fine music and introduce them to the public with strategy." One remarkable breakthrough the company has achieved was investing more than one million yuan (US$120,400) to set up a high-end studio equipped with the Power Mac G5 -- an advanced studio processor in the world). Instead of scattering advertising bombs on mass media, the company chose to start from where the band came from -- the universities.

The five concerts of the Midnightbus campus tour were all free of charge to lure the "great purchasing power of tomorrow," Yuan says. All these strong backups leave the coveted lads with no excuse to slack. Apart from the weekly pub performances, the band is now busy working on its second album -- writing music, solving disputes and exercising a hundred times for a 10-second solo. It's like university life all over again, only with fewer distractions.
Today's Top News
Top Life News

Enhanced Russian trade ties explored




Developing nations battle poverty together




SARS vaccine test results come out today




Japanese chemical weapon container found




Landing? What landing? It's cruising along




US, Britain differ on Iraq operations