Material Girl kicks off 'Re-Invention' tour
(Agencies)
Updated: 2004-05-26 08:32
She sits in an electric chair and dances and sings against a backdrop of war images, President Bush, and Saddam Hussein, but fans of Madonna Tuesday said the pop queen of shock seems to have mellowed with age, religion and motherhood.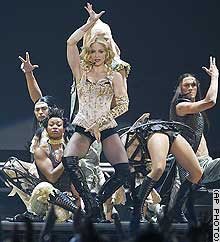 Madonna performs at the Great Western Forum in Los Angeles, California.

Madonna opened her extravagant and politically charged "Re-Invention" tour on Monday wearing a jewel-encrusted corset but changed into army fatigues when she sang "American Life" against projected images of a war-torn nation and the sounds of dropping bombs.

"I knew there would be a lot of politics and religion tonight. It's kind of like she's grown up, but she's still hot," said Dee Dee Kennedy, 36, a saleswoman for Kettel One Vodka, who saw Madonna 20 years ago.

On stage, dancers dressed like soldiers did push-ups and calisthenics as helicopters swooped and infernos blazed on the video screens behind them.

At one point, they displayed a giant image of two men resembling Saddam Hussein and President Bush laughing together.

While much of the video imagery was disturbing, some of the more outrageous details members of the media had been told to expect, such as naked, pregnant dancing girls, were nowhere to be found.

The 45-year-old Material Girl did not disappoint longtime fans, many of whom paid upward of $200 per ticket, by performing many old hits like "Holiday" and "Vogue," punctuated by spectacular choreography.

But gone are the days when Madonna strutted around in her trademark cone-bra bustiers. Instead, the pop diva-turned-mom went for a more soulful approach, simply playing guitar and belting out some of her best-known hits.

Spirituality and Madonna's passion for Kabbala, a form of Jewish mysticism, also took center stage with untranslated Hebrew text often displayed in the background of her performances.

Another high point for many concert-goers was Madonna's rendition of John Lennon's "Imagine," which was accompanied by a video of sick and injured children from around the world.

Many concert-goers paid as much as $150 per seat and planned to see two additional shows at those prices. But others like Victor Payes, 29, bought a $300 face value ticket for about $25 on the street shortly before the show.

"It's the best ticket in town," said Payes, noting he planned to return Wednesday if he could get a similar bargain.

An estimated 750,000 people are expected to see 39 shows scheduled for the U.S. and Canadian leg of her tour, with most of the shows reportedly sold out.

But ticket brokers who buy and sell tickets said on Tuesday they had oversubscribed. "We're getting beat up," said one East Coast ticket broker.

Madonna's "Drowned World" tour in 2001 grossed $55 million from 28 shows in 12 cities, ranking No. 6 on top U.S. tours for that year, according to concert trade magazine Pollstar.
Today's Top News
Top Life News

Enhanced Russian trade ties explored




Developing nations battle poverty together




SARS vaccine test results come out today




Japanese chemical weapon container found




Landing? What landing? It's cruising along




US, Britain differ on Iraq operations