Enhanced Russian trade ties explored
By Shao Zongwei (China Daily)
Updated: 2004-05-26 08:40

Chairman of the National People's Congress (NPC) Wu Bangguo Tuesday said China and Russia should enhance their trade and economic partnership by expanding areas of co-operation.

Speaking at a forum on Sino-Russian border and regional synergy in the Russian capital, Wu suggested the two neighbours should improve the make-up of their trading commodities, increase investment, promote regional collaboration among enterprises and improve the environment for economic accord.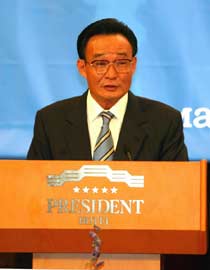 Wu Bangguo

Sino-Russian trade ties have experienced ups and downs throughout the 1990s, though recent efforts by the governments have brought about a new surge in trade, senior Chinese officials, including Wu, hold that the current figures still have plenty of room for improvement.

Last year, trade between China and Russia exceeded 130 billion yuan (US$15.7 billion), an annual increase for the fourth consecutive year. With a year-on-year growth rate of 35.6 per cent between January and April, the figure could well pass 165 billion yuan (US$20 billion) this year.

Garment and food products still remain the staple for China's exports to Russia, while China mainly imports energy resources and timbre from Russia.

"Labour-intensive goods and products with low added value and primary products have taken up too much of bilateral trade, which does not match the economic development, industrial and technological levels of the two countries," said Wu.

He said increases in high-tech goods, mechanical and electronic products should rise to help balance trade.

Chairman of Council of Federation of the Russian Federal Assembly Sergey M. Mironov agreed.

He said emphasis on new economic ties in areas such as telecommunications are needed, for example.

With China and Russia sharing a border of more than 4,000 kilometres, transactions along it take up an important part in trade. Last year, border activity accounted for 22.3 per cent of the overall trade volume, reaching 29 billion yuan (US$3.52 billion).

While pledging that China will encourage its enterprises to participate in the development of Russia's Far East region and Siberia, Wu told the forum that China welcomes Russia's participation in the nation's efforts to develop its western regions and to revitalize its old down-trodden Northeastern part, a heavy industrial area with large State-owned enterprises.

The neighbouring states also need to encourage accomplished enterprises to participate in joint projects and investment, said Wu.

Compared to China's trade ties with other major economies, the development of economic partnerships with Russia have been hampered by small-scale investment.

Wu, highlighting opportunities rapid economic development brings from investment, said the countries need to actively promote development on energy resources, infrastructure construction, the conversion to high-tech equipment to improve productivity, electronics and information technology.

He also called for greater efforts for a more fair legal environment to back up the entrance of the other country's commodities, investment and services into the market.

Chinese trade observers hold that loopholes in Russia's business systems have often led to disputes arising from the "grey customs clearance."

With permission from the Customs Committee of Russia, "customs clearance companies" provide "one-stop" customs service. Favourable policies such agencies enjoy have attracted many Chinese businesspeople to turn to them for customs procedures. However, many of them do not supply customs clearance manifests, which can put their clients under suspicion of smuggling.