US floats UN draft on Iraq
(Agencies)
Updated: 2004-05-25 10:28
The United States on Monday asked for U.N. endorsement of a hand-over of power to an interim Iraqi government but proposed U.S. forces there be allowed to "take all measures" to keep order and set no date for them to leave.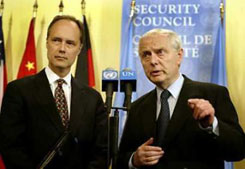 Sir Emyr Jones Parry (R), Britain's ambassador to the United Nations, and James Cunningham, US deputy ambassador to the UN, talk to reporters after a closed door meeting of the UN Security Council, May 24, 2004. [Reuters]

The U.S.-British resolution, distributed to the 15-nation U.N. Security Council, would back the formation of a "sovereign interim government" that would take office by June 30. It says that government would "assume the responsibility and authority for governing a sovereign Iraq."

The draft emerged several hours before U.S. President Bush's televised speech on Monday mapping out his plans for Iraq, where attacks on occupying forces have thrown into doubt prospects for a peaceful transfer to democratic rule.

As part of the transition process, U.N. envoy Lakhdar Brahimi, now in Baghdad, is due to name a president, a prime minister, two vice presidents and 26 ministers soon. They would stay in office until elections for a national assembly, expected to be held by January 2005.

No vote is expected until Brahimi reports to the council. But most council members expect the measure to be adopted, perhaps with some amendments. "No one is in a position to vote against," said one envoy.

The definition of sovereignty, particularly on the role of foreign troops, is a contentious issue, with the Bush administration attempting to assure U.N. members they would not be asked to approve an occupation under another name.

CRITICISM FROM FRANCE

The text endorses a U.S.-led multinational force, which would have "authority to take all necessary measure to contribute to the maintenance of security and stability."

But the draft has run into criticism from France, Germany and others, who opposed the Iraqi invasion last year. It does not give a definite timetable for the foreign force to leave but calls for a review after a year. An elected Iraqi government, after January, can also call for such a review.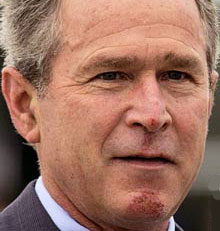 US President Bush received minor scrapes in a weekend bicycle accident May 22, 2004. [AP]

A review, however, is similar to an open-ended mandate and does not mean the force would leave unless the Security Council, where the United States has veto power, decides it should do so.

Deputy U.S. Ambassador James Cunningham acknowledged there was no authority for Iraq to ask foreign troops to leave.

But, quoting earlier remarks from Secretary of State Colin Powell, he said, "The United States has said we will leave if there is a request by the Iraqi government to leave."

8,000 IRAQI PRISONERS

The resolution is silent on several points -- whether the Iraqi military can refuse to go into battle and on the current interim constitution, although U.S. officials say it stands until a new constitution is crafted.

A senior U.S. official said the resolution should not dictate too many details to a future Iraqi government and that military arrangements would be worked out in a separate letter between the U.S. command and the Iraqis.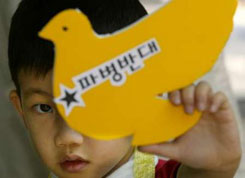 A South Korean boy holds an anti-war banner during a campaign against the US-led war in Iraq near the US embassy in Seoul May 25, 2004. Dozens of women and their children gathered on Tuesday to demand South Korean goverment stop its plan to send additional troops to Iraq. The slogan in the banner reads: 'We object to the dispatch troops to Iraq'. [Reuters]

The measure also does not mention the 8,000 Iraqi prisoners in U.S.-run jails and what would happen to future prisoners. The senior official said this would be worked out between Iraqis and U.S. authorities.

The resolution defines a "key" role for the United Nations in the political sphere but allows Secretary-General Kofi Annan to decide whether to return U.N. staff to Iraq, depending on security. The United Nations has no permanent foreign staff in Iraq since last October, two months after its offices in Baghdad were bombed, leaving 23 dead.

On oil, the draft resolution says Iraq would have control over its oil revenues. But it would keep in place an international advisory board, which audits accounts, to assure investors and donors that their money was being spent free of corruption.
Today's Top News
Top World News

Spokesman: Chen still a threat to Straits peace




Japanese mustard gas poisons at least 9




Monopoly law badly needed, report says




Brazil sees market economy in China




Bush outlines five steps to Iraqi sovereignty




Oil near record, Saudi hike not enough?