New cracks at stricken Paris air terminal
(Agencies)
Updated: 2004-05-25 09:25
New cracks appeared at a Paris airport terminal Monday, a day after part of the roof collapsed, and the airport's head vowed to tear the terminal down if an investigation finds it is unsafe.
Terminal 2E at Charles de Gaulle airport has been closed to passengers since Sunday's accident killed six people, but workers spotted the cracks as they cleared the rubble.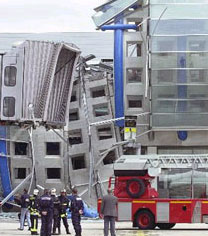 The terminal opened 11 months ago following delays because of construction problems. [AP]

"A certain number of cracks were observed in a second zone that is identical in design to the area where the roof collapsed," Rene Brun, director of operations at the airport, told reporters.

"Given our concerns about what happened Sunday and for precautionary reasons, we decided to evacuate it."

Concrete, metal and glass crashed down onto a waiting area in terminal 2E Sunday morning, bringing down a large section of the long tube-like building at Paris' biggest airport -- minutes after passengers saw and heard cracks in the roof.

Permanent closure of the showcase building would be a big blow to the finances and image of operator Aeroports de Paris (ADP) as it prepares for partial privatization, but ADP chairman Pierre Graff said safety was the top priority.

"If all the (structural) rings which make up this terminal are beyond repair, we will raze everything to the ground," he told Le Parisien newspaper in an interview. "We will take no risk in terms of safety."

Firemen said they had retrieved four bodies from the rubble, revising the death toll down from five. The search could last days and it was not clear if there were more bodies under the rubble, a fire brigade spokesman said.

FLGHTS AND PASSENGERS REDIRECTED

The futuristic terminal, used mainly by national carrier Air France, opened only 11 months ago and is intended eventually to handle 10 million passengers.

Covered by a domed roof perforated with small windows that bathe it in light, the terminal cost 750 million euros ($900 million) and was hailed as a triumph of engineering and design.

Its about 60 daily flights are being diverted to other terminals at the airport in Roissy, on the northeastern outskirts of Paris.

The collapse has raised questions about the design and construction, and whether the terminal was built too fast.

Hubert Fontanel, who oversaw construction of the terminal for ADP, declined to speculate on the reasons for the roof's collapse until a judicial investigation is complete.

He said that during construction, ADP had found cracks in some supporting pillars but they had been reinforced with carbon fibers. He denied construction had been rushed or that ADP opted for a futuristic cylindrical design without regard for safety.

"The design is avant garde but the building was conceived with the strictest technical requirements and is made of classic materials like cement," he said.

Architect Paul Andreu flew back from China where he is working on an opera house. "I can't explain what happened. I just don't understand it," he told L'Humanite newspaper.

Andreu and ADP said they adhered to all required security checks. They said the terminal's opening last year was delayed by just over a week because of problems such as electricity installations, which had nothing to do with the bigger structure.

Even so, shares in French construction firm Vinci, which helped build the terminal, ended down 1.9 percent Monday.

Analysts said the accident dented ADP's image and could delay plans to partially privatize it in 2005. "This has to be a significant embarrassment," one said.
Today's Top News
Top World News

Spokesman: Chen still a threat to Straits peace




Monopoly law badly needed, report says




Bush outlines five steps to Iraqi sovereignty




Forced labour case voided in Japan




Russia's richest man to be tried




Oil near record, Saudi hike not enough?