Chinese killed in Paris airport roof collapse
(Xinhua)
Updated: 2004-05-24 08:57
The two Chinese victims in the roof collapse at Paris biggest de Gaulle airport on Sunday morning are identified.
According to staff of the Chinese Embassy in Paris, the Chineseman who was killed in the accident was named Wu Xin and the other Chinese woman who disappeared named Liu Jianfang.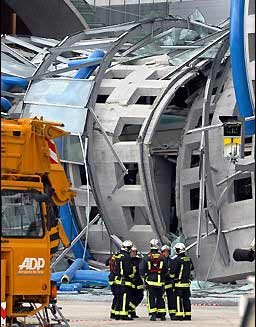 A general view shows rescue teams working near the collapsed footway of the new terminal 2E at Roissy airport, outside Paris. [AFP]
French security forces are making effort to find the missing persons.
A few cracking sounds as a 30-meter portion of the concrete, steel and glass roof caved in just before 7 a.m. (0500 GMT) at theTerminal 2E of Paris Charles de Gaulle airport as passengers arrived Sunday morning.
The collapse killed at least 6 people and injured 3 others.
Zhao Jinjun, China's ambassador to France, arrived at the airport in the afternoon to visit the Chinese passengers who have survived the accident.
Today's Top News
Top China News

Four Beijing volunteers test SARS vaccine




Chengdu axes 16 ineffective officials




Guangzhou delays metro launch




Koizumi returns with abductees' 5 kids




Juveniles fall under new prosecution rule




Morgue records shows 5,500 Iraqis killed