G7 to call on OPEC to pump more oil
(Agencies)
Updated: 2004-05-23 15:04
The Group of Seven top economic powers are set this weekend to call on oil-producing nations to lower sky-high energy prices by pumping more crude.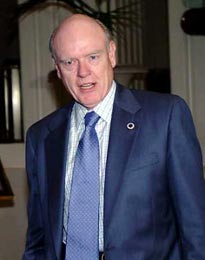 U.S. Treasury Secretary John Snow exits a meeting at a New York hotel May 22, 2004. G7 finance officials meeting in New York are worried record oil prices will dent the rosiest economic outlook in years by hitting business and consumers and stoking inflation. [Reuters]

Europe and Japan get all the hot new technology first. Here's a look at the pipeline of future tech -- plus some gadgets that didn't travel well and a wishlist of cool things.



G7 finance officials meeting in New York are worried record oil prices -- which earlier this month topped US$40 a barrel for the first time -- will dent the rosiest economic outlook in years by hitting business and consumers and stoking inflation.

"The (G7) statement will invite OPEC countries to increase their oil production and will contain an appreciation of Saudi Arabia's position on increasing its production," a G7 source told Reuters Saturday.

Members of the Organization of Petroleum Exporting Countries, who met earlier in Amsterdam, deferred any decision on upping output to a meeting in Beirut on June 3 but said the cartel wanted to cut fuel costs to support the world economy.

Saudi Arabia is pushing for an OPEC output hike of up to 2.5 million barrels a day and has pledged to pump more oil itself in any event.

"What I am thinking is that OPEC increase between 2.3-2.5 million barrels a day and this will give us a kind of credibility," Saudi Oil Minister Ali al-Naimi told Sunday's edition of the Arabic-language daily al-Hayat.

G7, meantime, wants OPEC to honor a long-term commitment to stabilize oil prices between US$22 and US$28 per barrel.

U.S. Treasury Secretary John Snow Friday welcomed Saudi Arabia's plan and said he would back a G7 call for an OPEC-wide pledge. Britain's Gordon Brown, Germany's Hans Eichel and France's Nicolas Sarkozy had earlier penned a joint statement to that effect too.

Canada's Ralph Goodale, who opted out of the G7 meeting because of election commitments at home, also gave support.

He called Snow and Brown, and the three agreed the G7 should be "pressing for appropriate increases in global (oil) production to help moderate the global economy," a spokesman said Saturday.

Japan echoed the concern. Finance Minister Sadakazu Tanigaki said oil was not debated at Saturday's dinner but would be dealt with at Sunday's gathering: "It (the high oil price) is something that needs to be watched closely."

The precise wording of any statement is still to be decided, several officials said. The Group is conscious of not making specific demands or setting ultimatums, they said.

"The G7 don't give orders, they just give indications. Usually these indications are followed," Italy's Finance Minister Giulio Tremonti told reporters Saturday.

WALDORF ACCORD?

Finance ministers from five of the G7 -- the United States, Japan, Germany, Britain, France, Italy, and Canada -- are meeting Saturday and Sunday at the Waldorf-Astoria, a landmark art deco hotel on New York's fabled Park Avenue.

The ministers will discuss the outlook for global growth, structural economic reforms, stalled trade talks, Iraqi debt and a review of Bretton Woods institutions -- preparing the economic agenda for a June 8-10 summit on Sea Island, Georgia.

Germany's Eichel is another absentee from the meeting but both he and Goodale have sent high-level representatives. Russia also sends a delegation as part of preparations for the G8 summit, where it has a seat at the top table.

The officials held a short meeting Saturday evening at the hotel followed by dinner at New York City Mayor Michael Bloomberg's private residence, a luxury townhouse on the East Side of Manhattan.

The G7 finance chiefs and central bankers discussed rising oil prices at their Washington meeting last month, but while their joint communique gave a nod to concern about energy costs, it did not include any language on OPEC production.

Some OPEC members and many private economists argue that recent oil prices are a result of refining capacity constraints, market speculation and roaring economic growth rather than collars on crude output.

While higher output might help to stabilize the situation, they argue, it would not necessarily lower prices.

"G7 is even more impotent than OPEC is at this stage in an attempt to keep a lid on the market," said Nauman Barakat, senior vice president at brokerage Refco in New York.

"The longer-term major factor is the significant increase in demand. That was a major catalyst," Nauman added. "And the very unstable geopolitical environment."

The overall impact of higher energy costs on the world economy is expected to be limited. Rules of thumb suggest it will shave less than half a percentage point off global gross domestic product, now expanding at about 4.5 percent a year.

And some at Saturday's meeting were keen to defuse a sense of imminent crisis from high oil prices.

"I think that for the moment one doesn't have to fear serious consequences," said European Union Economic and Monetary Affairs Commissioner Joaquin Almunia.

But G7 concern appears twofold. It is worried the impact on demand and output in its slowest economies -- the euro zone in particular -- could exaggerate an already uneven pace of expansion and global current account imbalances.

Conversely, the impact of pricier oil on the faster growing economies like the United States and Britain could exacerbate inflation pressures, forcing up interest rates.
Today's Top News
Top World News

Economists: Year-long trade deficit possible




Documents: Abuse was to punish and amuse




Powell reiterates US one-China support




Bush suffers cuts, bruises in bike fall




DPRK to let Japan abductee relatives leave




Single children growing up, marrying