'Fahrenheit 9/11' wins Cannes' top prize
(Agencies)
Updated: 2004-05-23 09:50
American filmmaker Michael Moore's "Fahrenheit 9/11," a scathing indictment of White House actions after the Sept. 11 attacks, won the top prize Saturday at the Cannes Film Festival.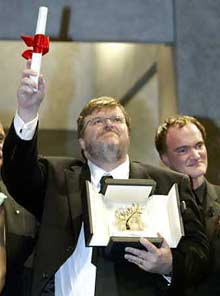 U.S. director Michael Moore (C) holds the Palme d'Or for his documentary film entry 'Fahrenheit 9/11' as Quentin Tarantino (R), Cannes Film Festival Jury president, stands near during the awards ceremony at the 57th Cannes Film Festival, May 22, 2004. [Reuters]
"Fahrenheit 9/11" was the first documentary to win Cannes' prestigious Palme d'Or since Jacques Cousteau's and Louis Malle's "The Silent World" in 1956.
"What have you done? I'm completely overwhelmed by this. Merci," Moore said after getting a standing ovation from the Cannes crowd.
The grand prize, the festival's second-place honor, went to South Korean filmmaker Park Chan-wook's "Old Boy," a blood-soaked thriller about a man out for revenge after years of inexplicable imprisonment.
Moore was momentarily flabbergasted when he took the stage to accept the award, a big difference from his fiery speech against U.S. President Bush after winning the best-documentary Academy Award for 2002's "Bowling for Columbine."
"You have to understand, the last time I was on an awards stage, in Hollywood, all hell broke loose," Moore said.
The best-actress award went to Maggie Cheung for her role in "Clean" as a junkie trying to straighten out her life and regain custody of her young son after her rock-star boyfriend dies of a drug overdose.
Fourteen-year-old Yagira Yuuya was named best actor for the Japanese film "Nobody Knows," in which he plays the eldest of four sibling raised in isolation, who must take charge of the family when their mother leaves.
The directing and writing prizes went to French filmmakers. Tony Gatlif won the directing honor for "Exiles," his road-trip about a couple on a sensual journey from France to Algeria.
Agnes Jaoui and her romantic partner, Jean-Pierre Bacri, won the screenplay award for "Look at Me," their study in self-image centering on an overweight young woman who feels neglected by loved ones. Jaoui and Bacri also co-star.
"Fahrenheit 9/11" won the top award at a festival that sharply divided Cannes moviegoers, who found a solid crop of good movies among the 19 entries in the festival's main competition but no great ones that rose to front-runner status.
While "Fahrenheit 9/11" was well-received by Cannes audiences, many critics felt it was inferior to Moore's Academy Award-winning documentary "Bowling for Columbine," which earned him a special prize at Cannes in 2002.
Some critics speculated that if "Fahrenheit 9/11" won the top prize, it would be more for the film's politics than its cinematic value.
With Moore's customary blend of humor and horror, "Fahrenheit 9/11" accuses the Bush camp of stealing the 2000 election, overlooking terrorism warnings before Sept. 11 and fanning fears of more attacks to secure Americans' support for the Iraq war.
Moore appears on-screen far less in "Fahrenheit 9/11" than in "Bowling for Columbine" or his other documentaries. The film relies largely on interviews, footage of U.S. soldiers and war victims in Iraq, and archival footage of Bush.
Just back in Cannes after his daughter's college graduation in the United States, Moore dedicated the award to "my daughter and to all the children in America and Iraq and throughout the world who suffered through our actions."
"Fahrenheit 9/11" made waves in the weeks leading up to Cannes after the Walt Disney Co. refused to let subsidiary Miramax release the film in the United States because of its political content. Miramax bosses Harvey and Bob Weinstein are negotiating to buy back the film and find another distributor, with hopes of landing it in theaters by Fourth of July weekend.
Moore said after the ceremony that he expected right-wing media outlets in the United States to characterize his prize as an award from the French, whose government opposed the U.S.-led war on Iraq. He noted that the nine-person Cannes jury that awarded prizes had only one French member and four Americans, including jury president Quentin Tarantino and actress Kathleen Turner.
Many Americans now realize the French are "good friends of America who tried to do the right thing and tell us this was the wrong road," Moore said. "We owe the people of this country an apology for the way they were debased and treated in our media."
Thai director Apichatpong Weerasethakul's "Tropical Malady" — widely regarded by Cannes audiences as a snoozer for its elongated scenes of a man wandering a jungle alone, with no dialogue — won the festival's third-place jury prize.
Another jury prize went to Irma P. Hall for her role as an elderly Southern woman who foils a casino robbery in the Coen brothers' crime comedy "The Ladykillers," starring Tom Hanks as the heist's ringleader.
Keren Yedaya's "Or," about a Tel Aviv prostitute in failing health and her teenage daughter, won the Golden Camera award for best film by a first-time director. The U.S.-born Yedaya, who grew up in Israel, gives lectures about the problems of prostitution for government officials and mental-health professionals.
Earlier Saturday, Senegalese filmmaker Ousmane Sembene's "Moolaade," an examination of the ritual of female circumcision that earned rave reviews, won the top prize in a secondary Cannes competition called "Un Certain Regard."
The 12-day festival's closing film — "De-Lovely," Kevin Kline's musical biography of Cole Porter — screened immediately after the awards. Kline and co-star Ashley Judd then hosted a beach concert featuring Sheryl Crow, Alanis Morissette, Natalie Cole and other singers from "De-Lovely" performing Porter tunes.
The festival was to wrap up Sunday with encore screenings of award winners and other key movies that played the festival, including a combined, four-hour version of Tarantino's two "Kill Bill" installments.

Today's Top News
Top Life News

Economists: Year-long trade deficit possible




Bush suffers cuts, bruises in bike fall




China, Russia to boost regional cooperation




DPRK to let Japan abductee relatives leave




Single children growing up, marrying




Report: US soldiers fondled Iraqi prisoners