Tony Leung is Asia's Clark Gable
(Agencies)
Updated: 2004-05-22 09:11
Tony Leung, star of the Chinese film that almost missed the deadline for the Cannes film festival, says he was still shooting scenes for "2046" just days before its French Riviera screening.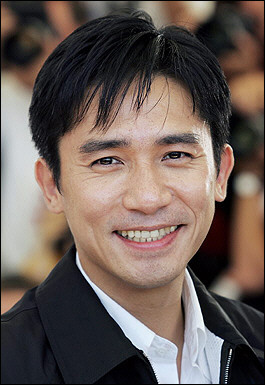 Hong Kong actor Tony Leung poses during a photo call for the film '2046' at the 57th Cannes Film Festival. Leung says he was still shooting scenes for '2046' just days before its French Riviera screening. [AFP]

In an interview with AFP, the 41-year-old star said he saw the film that was five years in the making for the first time at Cannes, at its black-tie world premiere Thursday, where it arrived only in the nick of time.

"We were shooting the last scenes in Bangkok on May 12," he laughed.

Leung, a slick suave Latin-lover type in the film with a pen-thin moustache and slicked-back hair, said he was pleased to be able to step out of the character he began shooting so long ago.

"First in 1999 I played the role of a postman, but in 2002 Wong Kar-wai changed his mind and we started all over again."

"It's exhausting to remain one character for so many years," he said.

The making of the film by iconic director Wong Kar-wai has become a legend in the film world. It was awaited at last year's Cannes festival as well as at other key international cinema meets, and Wong himself told reporters that there was a sick joke making the rounds it would not be finished before 2046.

This week it caused real-life drama at Cannes, the grande dame of world festivals, with organisers unsure whether it would arrive, scheduling rejigged to accomodate its delay, and motorocycle riders dispatched to fetch it from the airport only two hours before its premiere.

The film revisits Wong's 2000 movie "In The Mood for Love" -- for which Leung won a Best Actor's award -- with the actor again playing Chow in a new sulphurous story on love, but this time as a mean amoral playboy rather than a sensitive type.

"I had to play a very dark man so I asked for a moustache to make believe I'd changed," he said. "Otherwise my name was the same, my hair, my clothes were the same."

"My character developed after growing the moustache, which Wong Kar-wai asked me to keep thin, a bit like Clark Gable (news)'s."

In the movie, Leung/Chow seduces a string of women, all extraordinarily beautiful, Zhang ("Crouching Tiger, Hidden Dragon") Ziyi, Gong Li, Faye Wong, Maggie Cheung (in a brief appearance) and Carina Lau, who has been his real-life companion for years.

"I don't have that many women in my life in reality," he said.

The actor, who was born in 1962 in Hong Kong, made a name in television and has played in several movies by Wong Kar-wai, a director with a difference who never works with a script.

"There is no screenplay, you don't know about story development," he said. But actors loved working with the director "because he gives you space and time."

Leung said he was "confused" at the premiere. "I was looking for the missing sequences", he said. "He shot 100 times more footage than is in the film. You have no idea what the story is about during the filming."

His character however was clear. "I play a bad guy with an angel's face," he said.

His next film with Wong Kar-wai, due to start in 2005, will be a kung-fu movie about Bruce Lee's martial arts master that also takes place in the 1950s and 1960s.
Today's Top News
Top Life News

Report: US soldiers fondled Iraqi prisoners




US warned of Chen's deception




Lula to boost Brazil-China alliance




Alarm sounded against possible floods




4 die in climbing Mt. Qomolangma




US human rights hypocrisy attacked