US warned of Chen's deception
(China Daily)
Updated: 2004-05-21 23:03
The United States should not be deceived by the Taiwan authorities and should be aware of the vital threat to cross-Straits peace and stability that may be brought about by "Taiwan independence" activities, Chinese Foreign Ministry spokesman Liu Jianchao said in Beijing on Friday.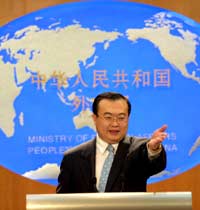 Liu Jianchao [file]

Liu made the remarks when asked to comment on the US reaction to Chen Shui-bian's speech on May 20.

The statement issued by the Office for Taiwan Work under the Central Committee of the Communist Party of China and the Taiwan Affairs Office of the State Council on May 17 has made clear China's principled stance on cross-Straits relations, Liu said.

In a bid to confront the strong anti-"Taiwan independence" pressure from the two sides of the Straits and from the international community, Chen carefully phrased his May 20 speech and changed some words, Liu said.

But Chen's essential stance of rejecting the one-China principle and stiffly sticking to the separatist stance of "Taiwan independence" have not been changed, Liu noted.

"We urge the United States again not to be deceived by the Taiwan authority and realize that the 'Taiwan's independence' activities would severely damage cross-Straits peace and stability, and the common interests of China and the United States as well," Liu said.

The spokesman urged the US side to keep to its promise of abiding by the one-China policy and the three Sino-US joint communiques, opposing "Taiwan independence" and the Taiwan authority's unilateral attempt to change the status quo across the Taiwan Straits and its moving towards "Taiwan independence."

He also urged the US side to send no misleading signals to the Taiwan authority and refrain from doing anything that may harm China-US relations and damage peace and stability across the Taiwan Straits.
Today's Top News
Top China News

US warned of Chen's deception




US human rights hypocrisy attacked




Report: US soldiers fondled Iraqi prisoners




Invasive species costly to ecology




Campaign to check food safety




Alarm sounded against possible floods