US chopper raid kills 3 Afghans, angry locals say
(Agencies)
Updated: 2004-05-21 16:18
Three Afghan civilians were killed and two wounded in a pre-dawn swoop by U.S. helicopter gunships in Afghanistan's southeastern province of Khost on Friday, angry villagers said.
The attack in Tani village to the south of Khost town came after a patrol of U.S. soldiers was fired at, Khost's Mayor, Jalil Ahmad Hasani, told Reuters. U.S. patrols often call in close air support when they come under fire.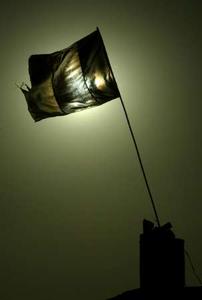 The Afghan national flag flies above an administration building outside Pul-i-Charki prison on the outskirts of Kabul on May 20, 2004. Afghanistan is heading for landmark elections in September, despite concerns over security and reaching enough voters in outlying and unstable regions. [Reuters]

"The report we have indicates that three civilians, including two women, have been killed in the aerial bombardment and several others wounded," he said.

Villagers at the scene said no U.S. patrol had been fired on, adding that Afghans had wrongly identified the house to the Americans as a hideout for al Qaeda or Taliban.

"The Americans acted on wrong information and bombed our village," said Ayoub, whose father was in hospital for wounds inflicted during the air strike.

"We had a family feud and I think the Americans have taken the other side's word for it that Taliban and al Qaeda people were hiding here."

Residents confirmed that three people, including two women, were killed when their house came under fire from four helicopter gunships, and two people were wounded in the same neighborhood.

They told Reuters that U.S. forces had arrived in Tani to carry out an operation and arrested 14 locals on suspicion of siding with the ousted Taliban and their al Qaeda allies.

Residents were clearing away the rubble caused by the bombing; a two-storey mud house was riddled with shell marks.

A U.S. military spokeswoman in Kabul said she was unaware of the incident.

FIRST CIVILIAN DEATHS SINCE JANUARY

It was the first reported incident of civilian deaths in a U.S. attack since January, when 11 Afghans, including four children, were killed in a U.S. air raid on the village of Sawghataq, in the central province of Uruzgan.

In one of the most controversial incidents, 48 people died and 117 were wounded when U.S. planes attacked a wedding party in the town of Deh Rawud, also in Uruzgan, in July 2002. The U.S. military said a gunship had come under fire.

Angry Iraqis blamed American forces for attacking a wedding party on Wednesday near the Syrian border, killing dozens of guests. The military maintains that foreign fighters died in the attack.

While popular resistance to occupying forces in Iraq is fiercer than it is in Afghanistan, the U.S. military in Kabul will be keen to avoid any scandals.

It is already facing unprecedented scrutiny of its secretive network of detention centers following fresh allegations of prisoner abuse. This week it launched a sweeping review of practices and conditions at the 20 or so jails.

About 20,000 U.S.-led troops are in Afghanistan hunting militants from the ousted Taliban regime and the al Qaeda network it once sheltered. Some troops are based at forward posts, including in Khost, concentrated on the Afghan-Pakistan border.

More than 700 people have been killed in a wave of violence in Afghanistan since August. Many of the attacks are blamed on Taliban remnants opposed to the presence of foreign forces in the country and to the central government in Kabul.
Today's Top News
Top World News

Experts: Chen Shui-bian on road to instability




Meeting smoothens China-Viet Nam problems




Soldier: Abu Ghraib prison abuse normal




China condemns US human rights report




Iran, a peaceful land, embraces visitors




21 injured in cleanup riot in Shenzhen