Joint exhibition offers true taste of art
(China Daily)
Updated: 2004-05-21 09:05
When German artist Robert Haas decided on the title "Mixed Pickles" for their joint exhibition, the two Chinese artists participating in the show were amused but actually didn't see how the title had any connection to their show of oil paintings.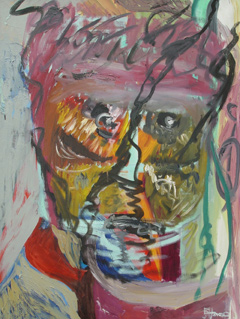 German artist Robert Haas' painting "Crack," oil on canvas. [China Daily]

However, Haas insisted.

"Mixed pickles in Germany always remind me of something spicy and exciting. I think our joint exhibition can bring about the same excitement by juxtaposing works of different style and subject," he explained.

After this explanation, his two Chinese counterparts, Wu Yang and Bai Lin, happily concurred.

During the one-week exhibition, which is to open to the public on Saturday at Beijing's Yanhuang Art Museum, viewers are expected to go through the same process of realization as Haas's Chinese co-exhibitors.

At a time in China when painting is gradually being marginalized, viewers will see the three artists' efforts in experimenting with the possibilities of a traditional art form.

What Haas and woman artist Wu Yang will put on display are mostly oil paintings created out of years of efforts to incorporate in their art the most valuable experiences in their lives.

Bai Lin, an artist known most for his Chinese ink paintings, will bring in his newly created oil paintings, highlighting once again his solid training in traditional Chinese painting and his pursuit of "the freedom of artistic expression," as critic Wang Fei writes in Bai's newly published album.

Even though their styles and subjects differ greatly, the two artists, Haas and Wu, are more likely to impress viewers with their common exploration of the meaning of existence demonstrated in their works.

Haas, 58, who has been living in Beijing since 2001, has a particular interest in the human face, which for him is the mirror of man's character and life, expressing his most human elements.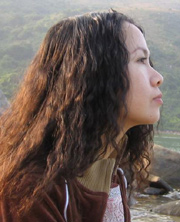 Wu Yang, a Chinese painter

With complex colours and dramatic strokes, Haas's faces, which seem to come very close to traditional methods of portrait painting demonstrate a surprising mixture of primitivity and complexity.

An art critic has described his style as a fascinating combination of modern and post-modern elements, which Haas uses to express strong sentiments about human life. Other critics emphasize his richness of artistic creativity and the ability to convert life experience into expressive structures which speak differently to different people.

Haas himself claims that he is more concerned with making "statements which are valid at all times" in his paintings.

He acknowledged that he was fascinated by the works of Danish philosopher Soren Kierkegaard (1813-1855) and strongly influenced by the prevailing existential ideas in his early years in Germany. His works demonstrate his deep concern with many aspects of human existence.

What Haas intends to express in his seemingly disturbing images coincides with what artist Wu Yang manages to stir in her viewers with her seemingly serene series of paintings of food.

Cakes and cheese, painted with constrained strokes and a pure colour palate, seem to have been deprived of their mundane sweetness and richness and to have been lifted into sublimity, mystic yet ambiguous, thereby acquiring their own meaning.

Usually set on small-sized canvases, her paintings exude an unbridled passion under their seemingly calm images when examined closely.

Some critics believe Wu's paintings are closely linked to the philosophy of existentialism, as the way her subjects are presented always reminds viewers of the fragility of life and the nothingness of existence.

Others tried to explain the paintings of cakes and cheese by analyzing her identity as a female artist.

"The obscurity in the form and characteristics of her subjects indicates women's marginalized position in society," wrote Li Congqin in an art review.

Yet Wu herself claims that the ambiguity in her paintings is intended to dissociate the subjects from specific time, space and even the creator's identity.

"I hope that by my doing this viewers will be able to concentrate on the subject matter and therefore read between the strokes the true meaning of the painting," Wu said.

The way Wu approaches her subjects seems to go against the popular trend of narrative motifs seen in many modern Chinese paintings.

Even though modern Chinese artists are more likely to be recognized in the international art arena with their various story-telling motifs, Wu insists that her paintings stay away from the inclination to "tell" stories in direct graphic ways.

"I believe modern art should not just tell stories. It should encourage viewers to think. I want my works to offer viewers food for thought," said Wu.

Haas and Wu are related by more than the philosophical approaches expressed in their paintings. Both began studying painting at an early age, and departed from art for a considerable period of time before making a sudden return.

Haas started painting in modern style at age 14. Not long after that the modern painter and art lecturer Hans Nebelung became interested in Haas's work. For some years he gave Haas private lessons and advised him to pursue art as a profession.

Haas however, a practical person without illusions, preferred to follow a double strategy: he studied law in order to have a solid base in his life and continued painting at the same time. But for many years the stress of his studies and working life forced him to cut back on his artistic activities, and for some time it even seemed as if art would lose importance for him more or less. However, in 1988 he was suddenly hit by a bout of artistic fever, making him paint and draw as if he were obsessed.

In the same year he started participating in exhibitions and the public soon started showing interest in him. Aside from participating in numerous group exhibitions he has had several personal shows since then, for example, in the national galleries of Namibia and Malaysia as well as in the Parliamentary Association of Germany.

Haas is currently working with the German Embassy in China. But he said he doesn't want his diplomatic identity to influence viewers' interpretation of his paintings and his artistic creations, "because I take my painting very seriously."

Wu decided to return to creative painting from her design majors in 1998. And she said she could easily understand why Haas has demonstrated greater passion than ever before for painting.

"The departure was painful. Yet it has helped me to realize what I really want from art and what art means to me," Wu said.

After years of dedication and practice, she is now gradually emerging in China's art circles.

In January, 2004, her paintings were reviewed by Art Monthly, a renowned art magazine in China. In the article, critic Li Congqin said that the striking oriental charisma beaming out of the conceptually Western images indicates that the artist has been making efforts to plant her feet firmly in both Eastern and Western art.
Today's Top News
Top Life News

Experts: Chen Shui-bian on road to instability




Meeting smoothens China-Viet Nam problems




Soldier: Abu Ghraib prison abuse normal




China condemns US human rights report




Iran, a peaceful land, embraces visitors




Shanghai property mogul stands trial