Refugee camp hit with Israeli rocket fire
(Agencies)
Updated: 2004-05-21 09:04
An Israeli helicopter gunship fired a missile into the Rafah refugee camp late Thursday, Palestinian security sources said.
There was no immediate report of casualties from the strike, the latest in three days of Israeli military operations along the border between Gaza and Egypt.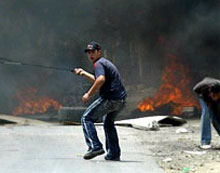 A Palestinian hurls a stone at Israeli soldiers in the West Bank Thursday. [AP]

Israeli forces killed at least eight Palestinians in Rafah in previous operations on Thursday, including a local Hamas militant leader, the sources said.

Khaled Abu Anzeh, one of the local heads of the armed wing of Hamas, was on his way to plant explosives when he was shot by Israeli troops, Palestinian sources in Gaza said.

Hamas, a Palestinian Islamic fundamentalist organization, has been labeled by the U.S. State Department as a terrorist organization. The group's military wing, Izzedine al Qassam, has admitted responsibility for terrorist attacks against Israeli civilians as well as attacks against the Israeli military.

In addition to the death of Abu Anzeh, a 3-year-old Palestinian boy died from shock after Israeli forces shelled his neighborhood, but he was not directly killed by Israeli fire, the sources said.

According to the Palestinian Health Ministry, 40 Palestinians have died and 107 have been wounded since Tuesday, when Israeli troops began a crackdown on weapons smuggling along the border between Gaza and Egypt.

Israeli forces, which numbered about 1,200, entered the Rafah neighborhoods of Basil and Salaam along the Gaza-Egypt border and encountered Palestinian gun and missile fire, according to the Israeli military.

Palestinian security sources said two Palestinians were killed by Israeli snipers in the embattled Rafah neighborhood of Tel Sultan.

Earlier, Israeli Apache helicopters fired four rockets at a building in Rafah, killing five people, the sources said.

Sources with the Israel Defense Forces said the rocket attack targeted three people seen placing explosives in the street.

Israeli forces also blew up the house of a Palestinian Islamic Jihad leader in Rafah, who was apparently not home at the time, the Rafah sources said.

Palestinian Islamic Jihad is a militant group dedicated to the creation of an Islamic Palestinian state and the destruction of Israel. The group has carried out military operations against Israeli soldiers and Israeli civilians. It introduced suicide bombings to Israel in 1992.

On Wednesday, 10 Palestinians died in the Rafah refugee camp during a demonstration. Palestinians blame the deaths on a deliberate Israeli helicopter missile and tank attack. Israelis deny they intentionally fired on civilians.

Palestinian hospital sources reported many of the dead were children.

Video from The Associated Press showed explosions and mass confusion in the crowd as people ran carrying people covered in blood, many of them children.

Israel Defense Forces said in a statement that "a warning fire of a single missile was fired from a helicopter into an open area" and conceded its tank fire -- which it said was aimed at an empty building -- may have contributed to the casualties. The IDF said the helicopter fired the missile at an empty area in hopes of breaking up the crowd as it approached IDF soldiers and did not target civilians.

"Rafah is a very grave incident and the IDF expresses deep sorrow over the loss of civilian lives," the statement also said.

But Nabil Abu Rudeineh, senior adviser to Palestinian leader Yasser Arafat, called it a "a clear-cut massacre carried out by the Israeli helicopter." He said Israel, "in a cold-blooded manner," purposely targeted peaceful protesters, many of them children.

After the incident, the United Nations passed a resolution condemning the killing of Palestinian civilians in southern Gaza and calling on Israel to stop demolishing homes there.

A Palestinian runs with a wounded child after a demonstration was interrupted by explosions in Rafah Wednesday.

While abstaining from the U.N. vote, the United States stepped up its criticism of Israel -- a White House statement saying: "We do not see that its operations in Gaza in the last few days serve the purposes of peace and security."

Israeli military commanders moved into Rafah earlier this month, citing intelligence that arms that would spell a major escalation in the Israeli-Palestinian conflict were waiting across the border in Egypt to be smuggled into Gaza.

Last week, 13 Israeli soldiers and at least 34 Palestinians died in fighting between Israelis and Palestinians across Gaza. Of those, 21 Palestinians were killed in Rafah.
Today's Top News
Top World News

Experts: Chen Shui-bian on road to instability




Meeting smoothens China-Viet Nam problems




China condemns US human rights report




Iran, a peaceful land, embraces visitors




Consumers need more on altered products




Worst is over for sandstorms