What now beckons for David Beckham?
(Agencies)
Updated: 2004-05-21 09:00
With Real Madrid now destined to end the season without a trophy for the first time in five years, the question on everyone's mind was what beckons for David Beckham?
The England captain had won 13 titles in his career with his former club Manchester United and came to the Spanish capital last summer on a promise from Real Madrid president Florentino Perez that more would be on the way.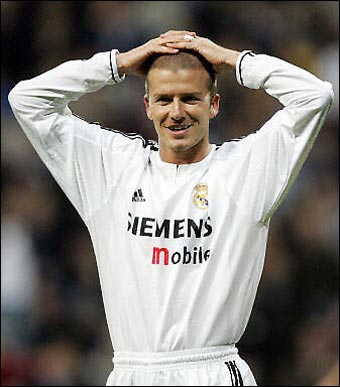 England captain David Beckham released a statement confirming his intention to stay with Real Madrid. [AFP]


"Beckham has experience, class and works hard for the team. I hope he's happy here and he makes us happy in return. If everything goes well, we'll win everything," said Real team mate Luis Figo on Beckham's arrival last July.

As Beckham himself has no doubt reflected over recent weeks, it has not turned out that way as Real Zaragoza, Monaco, and Valencia, the latter taking the Spanish league on Sunday, have successively thwarted Real's trophy bids.

Rumours about a return to England, with newly-enriched Chelsea always mentioned as a destination, started circulating late last year when it became obvious that his wife Victoria was not going to settle permanently in Madrid.

Recent British newspaper allegations about Beckham's private life and a rift between himself and his glamorous pop star spouse, a member of the now defunct super-group The Spice Girls, have also led to more suggestions that he was to bolt back to the Premiership.

However, Real Madrid have gone to great lengths to insist the Beckham will stay at the club for at least another year.

One thing is for sure, 2003-04 has been a season of two halves for David Beckham, and it has ended with neither him not Real being happy.

Everything started off so promisingly.

Beckham scored Real's first league goal of the season to give them a dream start and, for the first few months, he sparkled in the centre of the field but his form has declined after a series of niggling injuries late last year.

Nevertheless, Beckham continued to attract headlines around the world.

"But if the global hysteria about him continues to reach new levels his performances will eventually be undermined," wrote the British newspaper The Guardian in a perceptive article last June, ahead of Beckham's move to Spain.

So it proved.

"At first, Beckham played football and ran. Then, he ran and played football. After that, he just ran," commented the Spanish sports daily Marca a few weeks ago, the country's biggest selling newspaper.

Marca also dubbed Beckham 'Forrest Gump' although it was unsure whether this was for his feats of aimless stamina, as characterised by Tom Hanks in the film of the same name, or his lack of academic qualifications.

As befits a man with a chart-topping singer for a wife, Beckham possesses an extensive CD collection and he is known to have a tune by the legendary British rock band The Clash, appropriately entitled 'Should I Stay or Should I Go'.

Beckham might find an answer to his future in the words of the song because it contains the line, 'If I go there will be trouble, if I stay it will be double.'

Maybe Beckham will return back home, as the lesser of two evils, and adding his name to the long list of English players who have fallen short at foreign clubs.

For the moment though, and perhaps until after the end of Euro 2004 in Portugal in eight weeks time, only the player himself and Florentino Perez really know his future.
Today's Top News
Top Sports News

Experts: Chen Shui-bian on road to instability




Consumers need more on altered products




China condemns US human rights report




Iran, a peaceful land, embraces visitors




Worst is over for sandstorms




Meeting smoothens China-Viet Nam problems