US raid home of former Pentagon ally
(Agencies)
Updated: 2004-05-21 08:48
U.S. troops and Iraqi police raided the home and offices Thursday of Ahmad Chalabi, a prominent Iraqi politician once groomed by the Pentagon as a possible replacement for Saddam Hussein.
The operation confirmed a growing rift between the United States and the former exile just six weeks before the return of Iraqi sovereignty. Two members of the U.S.-appointed Iraqi Governing Council, of which Chalabi is a key member, said they were considering resigning in protest of the raid.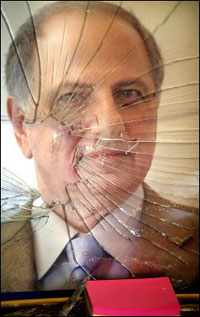 The glass in a portrait of Iraqi Governing Council member Ahmed Chalabi is seen smashed after Iraqi police and US troops raided his head office in Baghdad, confiscating files and computers. [AFP]

"We are friends of America," Chalabi told a news conference several hours after he said police woke him up at 10:30 a.m. and entered his bedroom with pistols. "But when America treats its friends in this way, then they are in big trouble."

Iraqi authorities made several arrests and seized documents and computers. Reporters who visited the offices of Chalabi's political organization saw scattered documents on the marble floors, ripped-off cables and overturned furniture.

A portrait of Chalabi hanging on the wall in his home had a bullet hole in the forehead.

U.S. officials deferred questions about the raid to the Iraqis, but said neither Chalabi nor his political organization, the Iraqi National Congress, were targets. State Department spokesman Richard Boucher said "clearly there were legal and investigative reasons, not political."

Although the U.S. military arranged for Chalabi's dramatic return to Iraq last year, American officials have recently complained privately that Chalabi was interfering with an inquiry into money skimmed from the U.N. oil-for-food program, criticizing American plans for a transfer of power and cozying up to Iranian hardliners.

The Pentagon recently ended a program in which it funneled millions of dollars over the years to Chalabi's political organization. The $340,000 monthly payments were partly for intelligence passed along by fellow exiles about Saddam's purported weapons of mass destruction ¡ª the Bush administration's stated rationale for the war.

Chalabi has come under criticism because large stockpiles of these weapons were never found. The CIA has long been suspicious of information provided by his organization.

At the news conference, Chalabi said the raids was politically motivated.

"I have opened up the investigation of the oil-for-food program which has cast doubt about the integrity of the U.N. here, which they don't like," he said.

Coalition spokesman Dan Senor said the investigation into the oil-for-food program, a U.N.-supervised scheme that helped Iraq cope with the effects of sweeping economic sanctions between 1990 and 2003, has "nothing to do with what transpired today."

Other U.S. officials were equally circumspect.

"I certainly was not aware there was going to be a raid on a home, if in fact there was," Defense Secretary Donald H. Rumsfeld said. "My understanding is that the Iraqis are involved in this, and you'd best ask them."

U.S. officials said American soldiers cordoned off the area around Chalabi's residence but did not enter the home. Iraqi police, with the Americans looking on, also searched two locations housing offices of the Iraqi National Congress.

Chalabi said they had arrest warrants written in English for seven people, including his security chief, but that no arrests were made. But Haidar Musawi, an INC official, said three security guards were arrested though they were not linked to any allegation.

A senior coalition official said on condition of anonymity that several people were arrested and that arrest warrants were issued for "up to 15 people" on allegations of "fraud, kidnapping and associated matters."

In a statement, Chalabi's organization urged the Iraqi Governing Council to take "a national and responsible stand toward these provocations."

Council President Ghazi Mashal Ajil al-Yawer said he was "astonished by what happened" and called an urgent council meeting for Friday to discuss the raids.

An aide to council member Mohammed Bahr al-Ulloum said he was considering resigning. And Salama al-Khafaji, a Shiite member, told al-Jazeera television, "I threatened to suspend my membership if there's no official apology to Dr. Ahmad Chalabi."

Chalabi said he was asleep at the time of the raid on his home.

"I opened the door. The police went into my room carrying pistols. I told them to get out." He said a gunbattle between his guards and the policemen was avoided by a "hair's breadth."

Police seized documents related to the oil-for-food program, a report by the Oil Ministry to the Governing Council and letters from the council, Chalabi said. He said a "valuable" copy of the Quran and worry beads were also taken away.

U.S. and coalition officials have recently accused Chalabi of undermining the investigation into the oil-for-food program. Chalabi, who took an early lead in exposing alleged abuses of the program, has launched his own probe.

A former banker who had last lived in Iraq in 1956, Chalabi was convicted of fraud in absentia in Jordan in 1992 in a banking scandal and sentenced to 22 years in jail. He has repeatedly denied the charges.
Today's Top News
Top World News

Experts: Chen Shui-bian on road to instability




Meeting smoothens China-Viet Nam problems




Soldier: Abu Ghraib prison abuse normal




China condemns US human rights report




Iran, a peaceful land, embraces visitors




Shanghai property mogul stands trial