Spain gears up for 'wedding of the century'
(Agencies)
Updated: 2004-05-20 17:22
In what is being billed as Spain's 'wedding of the century,' heir to the Spanish throne Prince Felipe de Bourbon will tie the knot with former journalist Letizia Ortiz Rocasolano.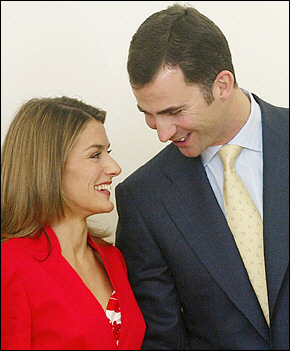 Prince Felipe de Borbon (R) and his wife-to-be, Letizia Ortiz Rocasolano (L). [AFP]

Madrid will be awash with wellwishers but, aside from some 1,600 VIP guests lucky enough to have secured an invitation to Almudena Cathedral, they will have to watch from a distance with the capital swamped by tight security including some 17.700 police and airspace over the city closed on the day.

Until their engagement on November 6, the lovebirds' courtship was a closely-guarded secret which only leaked out to the media on the eve of the first official confirmation.

Their wedding is in line with a growing trend among the world's royal households to welcome commoners into the fold -- something unthinkable a generation ago.

As a television news presenter Ortiz, born in the northern city of Oviedo, was already a household name in Spain before details of her romance emerged.

What struck the Prince was her dynamism and down to Earth nature, according to friends.

"She's a normal, uncomplicated, beautiful and intelligent woman," says Sara Cuellar, a roommate of Ortiz for several months when Spain's future queen spent almost a year working for a Mexican newspaper.

Cuellar believes her friend could become as popular as the late Princess Diana was in Britain, despite noting a "rebellious and headstrong" streak which the royal household will want to keep in check.

Whether or not Ortiz proves to have Diana's allure, royal watchers are enjoying a feast as she will walk down the aisle just a week after Denmark's Crown Prince Frederik wed commoner Mary Donaldson, the first Australian to join a European royal family, in Copenhagen.

Japan's Crown Prince Naruhito could claim to have set the royals-commoners trend in train having wed former diplomat Princess Masako in 1993.

Whereas Frederik and Donaldson met in a Sydney bar in September 2000 during the Olympic Games one of the first known meetings of Spain's golden couple came in less auspicious circumstances.

Ortiz was on assignment for Spanish television in Galicia covering the sinking of the Prestige oil tanker and the Prince, a keen environmentalist, was there to assess the damage.

On Saturday, bagpipers from the verdant northern region of Asturias will play outside the cathedral -- most appropriate for a bride who hails from the area and who is about to take the official title of Princess of Asturias.

The marriage will cement a Spanish monarchy only revived in 1975 on the death of dictator General Francisco Franco with the accession to the throne two days later of King Juan Carlos, father of the Crown Prince.

The royal marriage will be the first to take place in Spain in almost a century with Juan Carlos having pledged his troth to Queen Sofia in Greece on May 14, 1962.

Before that, one has to go back to May 31, 1906 for a Spanish royal wedding with the nuptials of Felipe's great-grandfather King Alfonso XIII and Victoria Eugenia de Battenberg.

Saturday's ceremony is a milestone for modern Spain, with Ortiz not just a commoner but also a divorcee.

At 25, she was married for a year to former literature teacher Alonso Guerrero but friends of Ortiz have indicated the pair were "incompatible."

Ortiz went on to carve a successful career in journalism, swiftly moving from print media into television and becoming a presenter of the main evening news and catching Felipe's eye, helped by their mutual friendhip with veteran television correspondent Pedro Erquicia.

The design of her dress created by Manuel Pertegaz, who has also clothed Queen Sofia as well as Ava Gardner, Audrey Hepburn and Jacqueline Kennedy, is being kept a closely guarded secret -- but it will be ivory in colour.

Felipe, who will dress in army uniform, replete with military decorations including the Grand Cross of Merit, is the only son of Juan Carlos and Queen Sofia, and has two elder sisters, Princess Elena and Princess Cristina.

Owing to the tight security following the March 11 train bombings in the city, bystanders will be requested not to throw flowers, while Spain is also suspending the Schengen agreement allowing unrestricted travel within Europe for a week.

Aside from the March 11 attacks, Spain's worst ever terrorist atrocity, Spanish authorities are also mindful of the need to avoid any repeat of the incident which marred the ceremony of Alfonso XIII after an anarchist threw a bomb into the crowds, killing 23 wellwishers.

Original plans for pre-nuptial parties and a firework display have been cancelled as a mark of respect for the 191 train bombing victims, with the money saved going towards a memorial fund.

As the only male heir the Prince is first in line to the throne.

However, the Spanish government is set to amend the rules on royal succession to enable a future princess to become head of state.

The Prince joked last year that he would like between two and five children -- and if the first born is female she could one day become head of state.

Felipe has geared up for the day he himself eventually ascends the throne by recently taking a key role in official royal engagements.

The prince and his bride will spend at least part of their honeymoon in the Red Sea port of Aqaba, where they expect to attend the marriage of Jordan's Prince Hamza, due to marry Princess Nur Hamza on May 27.
Today's Top News
Top Life News

Experts: Chen Shui-bian on road to instability




Meeting smoothens China-Viet Nam problems




Soldier: Abu Ghraib prison abuse normal




China condemns US human rights report




Iran, a peaceful land, embraces visitors




Shanghai property mogul stands trial