US allows UN council to rebuke Israel on Gaza
(Agencies)
Updated: 2004-05-20 13:43
The United States allowed adoption of a U.N. Security Council resolution rebuking Israel's demolition of Palestinian homes by abstaining rather than using its veto power to kill the measure.
The abstention by the Bush administration, which last vetoed a resolution critical of Israel in March, reflected its dissatisfaction with Israel's largest incursion into the Gaza Strip in years. At least 36 Palestinians died in two days.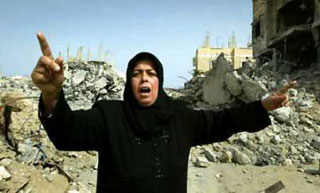 A Palestinian woman cries over the rubble of her house during an Israeli raid at the Rafah refugee camp in the southern Gaza Strip, May 19, 2004. Israeli troops carried out house-to-house searches for militants and weapons-smuggling tunnels in the Rafah refugee camp as Israel's heaviest raid into the Gaza Strip in years entered a second day. [Reuters]


The other 14 Security Council members voted in favor on Wednesday after negotiations between Algeria, representing Arab nations, resulted in a watered-down text to prevent a U.S. veto.

The final version no longer "demanded" Israel stop the bulldozing of Palestinian houses, which the United Nations says made 1,600 people homeless this month.

Israel's Ambassador Dan Gillerman told reporters the U.S. stance had to be taken in a "wider context" in light of talks the Bush administration was having with Arab leaders. He appeared to be referring to Iraq.

The resolution calls on Israel to respect its obligations under international law and insists "on its obligation not to undertake demolition of homes contrary to that law."

It expresses "grave concern" about the humanitarian situation of Palestinians made homeless in the Rafah refugee camp on the Egyptian border where Israel says the houses serve as gun nests. And it condemned "all acts of violence, terror and destruction."

James Cunningham, the U.S. deputy ambassador, told the council he abstained because the resolution did not touch on "terrorists smuggling weapons into Gaza through tunnels."

"While we believe that Israel has the right to act to defend itself and its citizens, we do not see that its operations in Gaza in the last few days serve the purposes of peace and security," Cunningham said.

"They have worsened the humanitarian situation and resulted in confrontations between Israeli forces and Palestinians, and have not, we believe, enhanced Israel's security."

Nasser al-Kidwa, the Palestinian U.N. observer accused Israel of "vicious and barbaric behavior" by firing at least one missile into peaceful demonstrations.

"This is, of course an attempt to isolate the Gaza Strip from the outside world, ensuring that it has no border with Egypt, and thus ensuring the creation of a large prison for the Palestinian civilian population in Gaza," Kidwa said.

U.N. Secretary-General Kofi Annan, who condemned the killing of peaceful demonstrators as well as the demolitions, said he spoke to both U.S. Secretary of State Colin Powell and the national security adviser, Condoleezza Rice, on Wednesday on ways to stop the violence.

He said Palestinian leader Yasser Arafat had telephoned him "pleading with the United Nations and the international community to do something."

But Gillerman said arms were smuggled into Gaza from Egypt through tunnels under the Rafah camp.

He said the tunnels had been used by the Lebanese guerrilla group Hizbollah and its Iranian supporters as well as Palestinian militants to turn the Gaza strip "into a base for missile and rocket attacks against Israeli targets."

Egypt's U.N. ambassador, Ahmed Aboul Gheit, told reporters after the vote, "I wonder how one would believe such accusations that Iran is using Egyptian territory.

"This is a fallacy," he said.

Gillerman also accused Palestinians of digging tunnels under civilian homes. "They are concealed under bathrooms, living rooms and kitchens. They are intentionally hidden under the beds of children." he said.
Today's Top News
Top World News

Authorities to monitor price shifts before rate decision




Official: China can feed its own people




Shanxi mine blasts kill 24, trap 23 others




Experts: Mainland has seen through Chen




US attacks wedding party, kills 41 Iraqis




New photos depict Iraqi prisoner abuses