Garnett helps T-Wolves eliminate Kings
(Agencies)
Updated: 2004-05-20 13:32
Kevin Garnett validated his MVP award and put the Minnesota Timberwolves into the Western Conference finals. Garnett had 32 points, 21 rebounds and five blocks on his 28th birthday, and the Timberwolves held on to beat the Sacramento Kings 83-80 Wednesday in Game 7 of their semifinal series.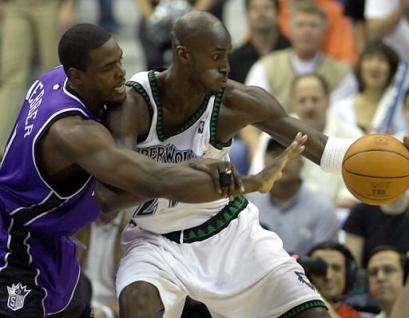 Minnesota Timberwolves forward Kevin Garnett, right, keeps the ball out of the reach of Sacramento Kings forward Chris Webber during the first quarter of the deciding game of the NBA Western Conference semifinal series, in Minneapolis on Wednesday, May 19, 2004. [AP]


The victory wasn't assured until Chris Webber's 3-point attempt went in and out at the final buzzer, giving Sacramento a Game 7 playoff loss for a third straight year.

Minnesota will host the Los Angeles Lakers, who have been idle since Saturday, in Game 1 of the conference finals Friday night.

With the Timberwolves clinging to a three-point lead, the Kings had a final possession to tie. Doug Christie's off-balance 3-pointer was an airball, and Brad Miller's layup attempt off the rebound was blocked by Garnett into the seats near Sacramento co-owners Joe and Gavin Maloof.

The Kings got another inbounds pass with 2.2 seconds remaining. Garnett guarded Webber, then avoided fouling him as he attempted his shot.

"I thought it was going down," Kings coach Rick Adelman said.

Webber, who had 16 points, collapsed to his knees in disappointment after Sacramento failed again, just as the Kings did against Lakers in 2002 and last year against Dallas.

"It feels great to win, especially on my birthday," said Garnett, who hugged Webber before saluting the overflow sellout crowd of 19,944.

Christie had 21 points for Sacramento, Mike Bibby added 15 points and Miller had 11.

Sam Cassell returned to form with 23 points and seven assists for Minnesota, Latrell Sprewell added 14 and Wally Szczerbiak had 10 off the bench.

The Kings, who trailed by as many as 13 in the first half, were down by only four when Garnett delivered a big blow. As the shot clock ran down, he hit a 3-pointer over Miller and Bibby to make it 77-70 Minnesota with 3:39 remaining.

Sacramento cut a nine-point deficit to four, 79-75, when Bibby made a 3-pointer in the corner with 1:40 left. After Garnett threw the ball out of bounds, the Kings missed a chance to cut it to two when Webber missed a wide-open layup with one minute to go.

Still down by four, they blew another opportunity when Garnett stole the ball from Miller and made one of two foul shots with 31.1 seconds left.

Bibby hit a pair of free throws, cutting it to 80-77, but Sprewell made one of two to make it a four-point game. Christie's 3-pointer with 16.8 seconds on the clock sliced the lead to one, and Cassell sank both of his foul shots to make it 83-80.

A day after apologizing for war-weapon metaphors he used to describe his mindset, Garnett played his usual high-energy game at both ends of the court on the biggest night in the franchise's 15 seasons.

"Seven games a lot of times define who you are, and a lot of times the bigger the game the bigger the guy who steps up," Wolves coach Flip Saunders said.

After seven straight first-round losses, Garnett is finally having a positive postseason experience ¡ª but he couldn't have done it without his teammates.

Cassell, who had 40 points in Game 1 but just 62 over the last five, had 11 points in the first quarter and went 10-for-11 from the line despite being hindered by a sore back.

Minnesota was especially sharp on defense. Sacramento's offense never found its rhythm. Peja Stojakovic went 8-for-17 for 16 points, and Bibby was just 4-for-13. The Kings missed nine of their 17 free throw attempts, too.

Sacramento took its first lead, 58-57, on Webber's jumper with 1:55 left in the third quarter. It didn't last long: Cassell's 3-pointer with 33.9 seconds remaining put Minnesota back in front, 62-60.

Notes:@ Garnett ensured a spot on the highlights during a defensive sequence early in the second quarter. Christie missed a layup, Stojakovic grabbed it and put up a withering shot of his own. Garnett jumped high to block it, grabbed it with one hand, cradled it under his wrist and landed on the floor in one smooth motion. ... The last Game 7 victory in Kings franchise history was 1981, when Kansas City beat Phoenix in the conference semifinals.
Today's Top News
Top Sports News

Authorities to monitor price shifts before rate decision




Official: China can feed its own people




Shanxi mine blasts kill 24, trap 23 others




Experts: Mainland has seen through Chen




US attacks wedding party, kills 41 Iraqis




New photos depict Iraqi prisoner abuses