Nets relaxed ahead of Game 7 with Pistons
(Agencies)
Updated: 2004-05-20 09:28
After overseeing a two-hour workout, coach Lawrence Frank called the New Jersey Nets to midcourt for some final thoughts on their upcoming Game 7 against the Detroit Pistons.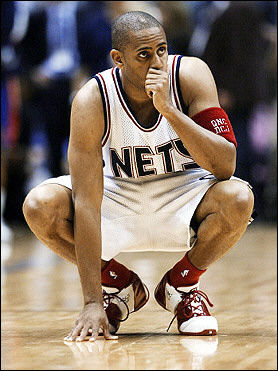 Lucious Harris of the New Jersey Nets looks at the score board during the closing seconds of their loss to the Detroit Pistons in Game six of the Eastern Conference Semifinals in East Rutherford, New Jersey [AFP]

After a couple of seconds of rhythmic clapping, the 33-year-old Frank huddled the team and spoke about the deciding game Thursday night at Auburn Hills, Mich.

A few key thoughts were audible ¡ª have fun, play hard and do your best ¡ª as Frank addressed the two-time defending Eastern Conference champions.

"We have every thought that we are going to win this game," Kenyon Martin replied when asked if he was worried that the Nets' run in the East might end.

"Why would you feel any other way?" 'K-Mart' asked rhetorically. "Why would you start putting any doubt in your mind? We feel we can go up there and win this game. There are no questions, no fear, no doubt and any other word you can come up with."

The Nets looked relaxed after the workout, which was at least 30 minutes longer than expected.

As the players shot free throws in groups of two and three, Frank walked over and spoke. Most of the time, the players laughed.

"We were just stalling to keep you away from the gym," Frank quipped about the length of practice. "We got a new defense in, so we have to make sure we are good at it. We are calling this the Amoeba 2."

"We thrive on competition," Frank said, turning serious. "All of our guys love to play. So if you love to play and have a passion about it, what could be greater than doing it in Game 7 on a national stage against a high-level team in their arena? This is what it is all about."

Jason Kidd said neither team is going to fool the other after 10 games ¡ª four regular-season games and six postseason contests.

Kidd also noted he won't be making any emotional speeches for this game. Two years ago with the Nets facing a deciding fifth game against Indiana, Kidd told his team to leave everything on the court that night.

The Nets survived an overtime-forcing 3-pointer by Reggie Miller and eventually won their first conference title.

"This team understands," Kidd said. "Nobody has to say anything. It's just us going out there and doing our job. If they don't understand that at this point, they are in the wrong profession. I'm not too worried about my guys. They all understand what is at stake."

Martin agreed.

"It's just who is going to play harder for longer," he said. "Either you win or you have a long summer. Our summer hasn't started this early for the last couple of years, and we don't want to start it now."
Today's Top News
Top Sports News

Authorities to monitor price shifts before rate decision




Official: China can feed its own people




Shanxi mine blasts kill 24, trap 23 others




Experts: Mainland has seen through Chen




US attacks wedding party, kills 41 Iraqis




New photos depict Iraqi prisoner abuses