US soldier in first prison abuse court-martial
(Agencies)
Updated: 2004-05-19 09:14
The first court-martial in the Iraqi prisoner abuse scandal begins Wednesday with intense international media attention focused on what type of evidence may be provided in the case against the young American soldier.
Spc. Jeremy Sivits' special court-martial, the military equivalent of a misdemeanor civilian court, is scheduled to begin at 1 p.m. in Baghdad (5 a.m. ET).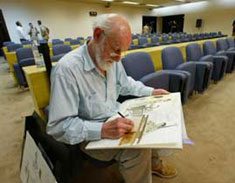 Artist Richard Cole makes sketches in the courtroom where Sivits will be tried. [AP]

A total of seven U.S. soldiers have been accused of abusing Iraqi prisoners at the Abu Ghraib prison west of Baghdad.

Sivits is charged with conspiracy to mistreat subordinates and detainees; dereliction of duty for negligently failing to protect detainees from abuse; and cruelty and mistreatment of detainees, according to U.S. military authorities.

U.S. military regulations forbid cameras in the courtroom, but a few journalists will be allowed in to watch proceedings. Reuters reported that hundreds more would watch on closed- circuit TV in a nearby conference room.

Plea deal?

Legal analysts say it's likely the Sivits case will proceed quickly, with the possibility of a plea deal imminent, if not already completed.

Last week it was reported that Sivits was cooperating with investigators and describing harsh actions by members of his unit.

"The fact that he has been cooperating, that he has made a statement to give evidence against others, suggests that this might not even go to court-martial, and if so, it will be over quickly," said Neal Sonnett, a Miami defense lawyer who has represented civilian and military defendants.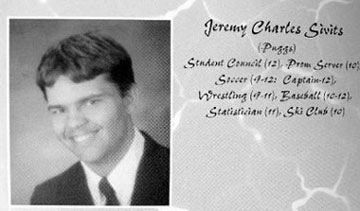 Spc. Jeremy Charles Sivits face a court-martial Wednesday, May 19, 2004.

In his statement, Sivits told investigators that Spc. Charles Graner forced the prisoners to disrobe, mocked them and "punched [a] detainee with a closed fist so hard in the temple that it knocked the detainee unconscious."

Graner will be arraigned in a court-martial proceeding early Wednesday, military authorities said. His hearing is scheduled for 8 a.m. (2 a.m. ET).

Graner is charged with conspiracy to maltreat prisoners; dereliction of duty for allowing prisoners to be maltreated; cruelty and maltreatment; maltreatment of prisoners; assault of prisoners; committing indecent acts; adultery; and obstruction of justice.

Whether or not the Sivits case ends in a plea deal -- what the military calls a pre-trial agreement -- or proceeds to court-martial, legal experts agree that the case will be used in future prosecutions of the prisoner abuse scandal.

"The strategy is to build a pyramid of evidence, a 'follow-the-trail' type of strategy, to see where the commands came from," said Michael Scharf, professor at Case Western Reserve School of Law.

Offering a plea deal arrangement to the first person of several accused not only benefits the defendant, but plays into an overall strategy by prosecutors to learn who was ultimately responsible for an offense.

"The DoD has to be smiling," said Phillip Cave, a retired Navy judge advocate general now in private practice, whose firm in handling litigation in other cases in Iraq.

"It's the same strategy used in prosecuting drug cases," Cave said. "The first one in the door gets the best deal."

Questions about following orders

But Sivits' attorneys may opt for a court-martial proceeding, Scharf said, rather than taking a plea deal, to obtain evidence of where orders came from.

That strategy is likely to be used in the other cases prosecuting the Abu Ghraib abuses, Sonnett said.

In addition to the Sivits and Graner cases, Staff Sgt. Ivan "Chip" Frederick and Sgt. Javal Davis face separate arraignments Wednesday morning. Frederick and Davis face arraignment in general courts-martial -- military courts that handle felony-level offenses.

Sivits, Graner, Frederick and Davis are members of the 372nd Military Police Company.

Sonnett said defense attorneys in the first wave of courts-martial could call commanders up the chain of command to see where the orders to abuse the Abu Ghraib prisoners came from.

As future courts-martial in the prison abuse scandal unfold, courtroom strategies are likely to focus on the U.S. military policy for following orders, experts said. Under U.S. military law, which derived from British military law, the standard is clear: Would a reasonable person know that an order was unlawful?

"Can you convict someone [in the military] who believes orders were lawful?" asked Eugene Fidell of the National Institute of Military Justice (NIMJ).

Answering that question represents the "natural tension" in the military, Scharf said; a soldier's requirement to both follow orders and follow the law.

Issues surrounding the Abu Ghraib cases make the following-orders defense a difficult one to assess, analysts said.

While the following-orders defense is usually "pretty thin," said Kevin Barry, also of the NIMJ, defense attorneys in the Abu Ghraib cases could argue that the U.S.-led war in Iraq, fought in a post September 11 world where the enemy is not conventionally uniformed, called for a new set of military justice rules.

"Defendants could argue that they have watched a slow degradation of rules," Barry said. "Slowly but surely, the old rules did not apply, so how was I to know?"

More likely, Scharf said attorneys for the accused enlisted officers will point to the specific circumstances surrounding the military police unit assigned to Abu Ghraib.

"The attorneys could argue that their clients were enlisted soldiers, average people not fully aware of military law, who had inadequate training."

The obedience to orders defense, Scharf added, has been ruled not legitimate in international law, following the tribunals covering the massacre in Rwanda and the wars in the former Yugoslavia.
Today's Top News
Top World News

WHO: China's SARS outbreak contained




Taipei urged not to misjudge Beijing's resolve




US witness: 'Cover-up' at Iraq Abu Ghraib




Gandhi walks away from Indian PM post




US delegation to Taiwan opposed




Soldier on trial for Iraq prisoner abuse