Shanghai prison inmate ties the knot
(eastday.com)
Updated: 2004-05-19 08:58
An inmate at Shanghai Qingpu Prison yesterday became the first person in China to make use of new marriage registration regulations that allow convicts to tie the knot while living behind bars.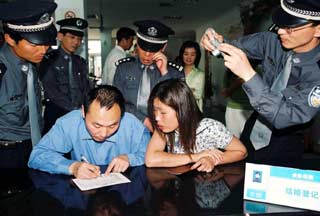 Huang (left), a prisoner serving his term at Shanghai's Qingpu Prison, fills an application with his girl friend from Guizhou Province for a marriage permit May 18, 2004. As the country's revised Marriage Registration Rule went into effect on October 1 and allows a prisoner to get a marriage permit while in jail, Huang became the city's first person to get a permit at the Qingpu Bureau of Civil Affairs. [newsphoto]

The 31-year-old, who prison officials would only identify by the pseudonym Huang Xin, and his longtime girlfriend were granted a marriage certificate at a marriage management office in suburban Qingpu District yesterday morning.

While the ceremony means they are legally married, the two won't be able to take a honeymoon until 2005, when Huang finishes his five-year terms for passing counterfeit banknotes.

Huang had a daughter with his girlfriend Wang Hong, a woman from Guizhou Province, before he was sent to prison in 2000.

Because the couple wasn't married, their daughter couldn't get into a local kindergarten, as they all require a permanent residence permit and children born out of wedlock are not allowed to apply for such a permit.

"Considering Huang's special situation, we want to help him out," said Xiao Limin, a Qingpu prison official. He said prison officials began filling out registration forms for Huang last year.

The application encountered many obstacles as China had no regulations on inmates getting married at the time.

Inmates needed to first get approval from prison and prison bureau officials, as well as local civil affairs bureaus if they want to have their marital status changed. That always takes great trouble, Xiao said.

Last October, the new marriage registration regulation went into effect, making it clear that inmates also have the right to get married so long as the prison can prove he or she is single.

The prison then provided all material needed and the application process was completed within two weeks, Xiao said.

"I was extremely thankful to these kind officials who helped me and my family," said Huang, who distributed wedding candies to prison and marriage management officials yesterday.

"Since more humane measures have been adopted, the prison will generally facilitate inmates' marriage application," said Tai Xun, vice director of the Shanghai Prison Bureau.
Today's Top News
Top Life News

WHO: China's SARS outbreak contained




Taipei urged not to misjudge Beijing's resolve




US witness: 'Cover-up' at Iraq Abu Ghraib




Gandhi walks away from Indian PM post




US delegation to Taiwan opposed




Soldier on trial for Iraq prisoner abuse