Iraqis demand more power, US holds abuse trial
(Agencies)
Updated: 2004-05-19 08:43
Iraq's U.S.-appointed Governing Council sends a delegation to the United Nations on Wednesday to demand Washington gives a new interim government more powers than intended in a planned handover of sovereignty on June 30.
Washington's handling of Iraq will also be under the spotlight on another front when U.S. military policeman Jeremy Sivits faces a court martial in Baghdad in the first of a series of trials triggered by the Iraqi prisoner abuse scandal.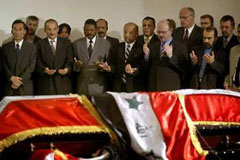 Members of Iraq's Governing Council and other officials pray over the coffin containing the body of Abdul Zahra Othman Mohammad in Baghdad, May 18, 2004. Iraq's leaders, flexing muscles as the U.S. prepares to cede sovereignty, are sending a delegation to the UN to demand control of their oil wealth and an end to reparations it pays for Saddam Hussein's wars. [Reuters]

The Governing Council flexed its muscles on Tuesday as Italy and Poland, staunch U.S. allies over Iraq and major troop contributors, urged Washington to give Iraqis real power over the running of their country.

"We want to be sure that there will be a clear breakthrough in the Iraqi situation that will truly give sovereignty," Italian Prime Minister Silvio Berlusconi told Rete 4 TV as he flew to the United States to meet U.S. President Bush.

Berlusconi, under voter pressure to distance himself from Bush's policies on Iraq, joined Poland in signaling support for greater U.N. involvement to ensure full sovereignty for Iraqis.

Ukraine, another leading contributor to U.S.-led forces in Iraq, said its parliament would vote on Wednesday on whether the former Soviet republic should withdraw its soldiers after opposition parties won a ballot putting the issue on the agenda.

PRESSURE ON BUSH

The stands adopted by Italy, Poland and Ukraine are likely to put fresh pressure on Bush, coming only a day after Britain said it planned to step up training of Iraqi forces to allow its troops to leave as soon as feasible.

Limitations on economic sovereignty, notably control over the world's second-biggest oil reserves, and international negotiations on a new U.N. resolution to approve U.S. handover plans prompted the Governing Council to send a team to New York.

"Iraq must have a say in the next U.N. resolution," Deputy Foreign Minister Hamid al-Bayati told Reuters in an interview. "Iraq must be fully in charge of its resource wealth."

Washington wants an international board that monitors Iraq's oil accounts to remain in place after the June 30 handover.

Iraq still owes some $280 billion in reparations for Saddam Hussein's 1990 invasion of Kuwait, a vast sum next to the $9 billion its oil industry has earned since the U.S.-led invasion in March last year. The council wants the reparations to end.

NAKED AND HOODED PRISONERS

Sivits, 24, will appear in a makeshift court at the U.S.-led occupation administration's Baghdad headquarters, in a public demonstration by the U.S. military of its determination to show Iraqis that justice will be done over the prisoner abuses.

Prosecutors say the abuses occurred last October and November at Abu Ghraib, Saddam's old torture center near Baghdad, and involved around 20 detainees.

Photos have shown naked and hooded prisoners chained, being taunted with the threat of electrocution and posed to simulate sexual acts.

U.S. officials have said the abuses were limited to a few soldiers in one prison, but the International Committee of the Red Cross and Amnesty International say the abuse was more systematic and widespread.

Facing questioning by U.S. senators, Deputy Defense Secretary Paul Wolfowitz and Deputy Secretary of State Richard Armitage said control of military prisons would be handed to Iraqis as quickly as possible, but there was no timetable.

"I would have thought that (the Bush administration) would put some time into this, especially with what we've just been through the last two weeks," said Republican Senator Chuck Hagel, referring to the prisoner abuse scandal.

REUTERS STAFF SAY ABUSED

Reuters said three of the international news agency's Iraqi staff were beaten and subjected to sexual and religious humiliation when held for three days in January in Falluja, west of Baghdad.

They made their complaint public on Tuesday after the U.S. military said an investigation had found no evidence of abuse.

The cost of Iraq in American blood and dollars is weighing on Bush's campaign for re-election in November. But Washington and Baghdad are agreed that a sudden U.S. departure would risk bloodier anarchy in a country of religious and ethnic divides.

Wolfowitz left open the possibility that Washington could keep 140,000 or more troops in Iraq through 2005.

The troops would stay until Iraqis had a "reasonable chance to establish a government that represents them and creates security forces that can protect them," Wolfowitz said.
Today's Top News
Top World News

WHO: China's SARS outbreak contained




Taipei urged not to misjudge Beijing's resolve




US witness: 'Cover-up' at Iraq Abu Ghraib




Gandhi walks away from Indian PM post




US delegation to Taiwan opposed




Soldier on trial for Iraq prisoner abuse