Gandhi walks away from Indian PM post
(Agencies)
Updated: 2004-05-18 23:18
Italian-born Sonia Gandhi dropped out of the race to become India's prime minister Tuesday to end debate over her foreign birth, opening the way for her Congress party to choose an economic reformer as its leader.
Gandhi is now pushing former finance minister Manmohan Singh, the architect of India's reforms, for the post, NDTV said.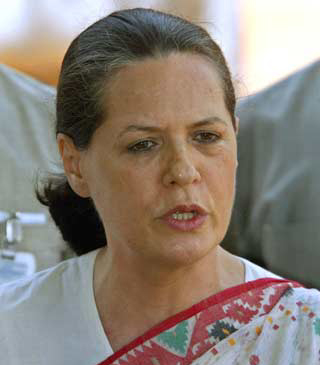 Sonia Gandhi
The withdrawal by the heir of the Nehru-Gandhi dynasty -- India's equivalent of America's Kennedys -- triggered anguished scenes outside her New Delhi home as hundreds of supporters rallied to press her to change her mind.
One man stood on the roof of a car, held a home-made gun to his head and waved a stick to deter people trying to calm him.
"Call Sonia Gandhi! Tell her I will kill myself if she doesn't become prime minister!" he said before being disarmed.
Others lay down in the street or torched effigies of Gandhi's Hindu nationalist opponents, who have run a bitter campaign targeting her Italian background after their humiliating election loss last week.
"Congress has informed us that Mrs Gandhi will no longer be leader of the Congress Parliamentary Party, and they are meeting to elect a new leader," said Sitaram Yechuri, a leader of the main Communist Party of India (Marxist), which has pledged its support to a Congress coalition government.
Congress lawmakers were due to choose a new leader at a meeting set for 7 pm in parliament's central hall, the same place where they anointed Gandhi PM-elect just three days ago under the portraits of former family PMs.
Congress leaders were making frantic last minute efforts to persuade Gandhi to stay on and become India's first foreign born prime minister and the fourth from the Nehru-Gandhi clan.
Her withdrawal, and the prospect of Singh leading Asia's third-largest economy, spurred markets, helping stocks on the Bombay exchange post their second-biggest daily rally just a day after the worst plunge in the exchange's 129-year history.
At Gandhi's residence, Congress leaders, some beating their chests, urged the 57-year-old widow of slain former Prime Minister Rajiv Gandhi to ignore what they called the ousted Bharatiya Janata Party's "racist" campaign.
"She feels the country comes first, she does not want the country to be faced with this," said Congress official Salman Khursheed. "We are stunned, it is shocking, I just can't see the Congress party accepting such an outcome."
Left-wing parties, with more than 60 seats, are supporting Gandhi without formally joining her coalition, but have spooked markets with anti-privatization comments.
As news of Gandhi's possible withdrawal filtered out, the stock market rebounded sharply and recorded one of its biggest gains.
"The market has gone up because of news that Sonia is reluctant to be PM," said Bharat Shah, director of Vikram Kenia Securities. "This means that Manmohan Singh, who is very reformist, will become prime minister."
Gandhi, an Indian citizen, and Singh met President Abdul Kalam earlier Tuesday to open talks about forming the government. Gandhi said later she would meet Kalam again today.
Kalam had invited Gandhi to meet him as leader of the biggest party in the new parliament, and is likely to accept Congress' claim to power in the country.
Today's Top News
Top World News

WHO: China's SARS outbreak contained




Taipei urged not to misjudge Beijing's resolve




US witness: 'Cover-up' at Iraq Abu Ghraib




Gandhi walks away from Indian PM post




US delegation to Taiwan opposed




Soldier on trial for Iraq prisoner abuse