Cargo plane crashes in China's northwest
(Agencies)
Updated: 2004-05-18 16:12
An Azerbaijani cargo plane crashed Tuesday in a forest shortly after takeoff in China's northwest, killing its seven-member crew and igniting an inferno that destroyed the aircraft, the government said.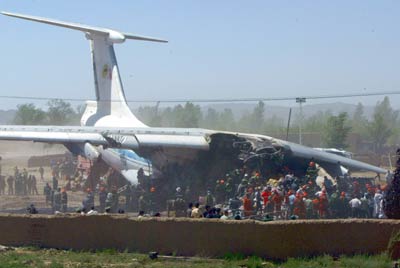 Rescuers rush to the site where an Il-76 cargo plane of Azerbaijan crashes near the Urumqi International Airport in Xinjiang, May 18, 2004. [newsphoto]
The Ilyushin 76 jet went down about 10 kilometers (six miles) from the Urumqi airport in the Xinjiang region, the Xinhua News Agency said. It said the plane took off at 10:48 a.m. (0248 GMT) and crashed two to three minutes later.
``Rescuers have found seven charred bodies of the crew of the Azerbaijani cargo plane,'' Xinhua said. ``The plane was completely burned by a fire after the crash. Only debris was left.''
There were no deaths among people on the ground and the plane carried no passengers, Xinhua said. It said the cargo was ``daily use goods.''
The plane was bound from the central Chinese city of Taiyuan to Baku, the capital of Azerbaijan, with a refueling stop in Urumqi, Xinhua said. That would mean the plane was loaded with thousands of liters (gallons) of highly flammable aviation fuel on impact.
The cause of the crash was unclear, said a spokeswoman for the Urumqi airport who refused to give her name.
The craft was on a charter flight and belonged to an Azerbaijani company, said a spokeswoman for China's airline regulator, the Civil Aviation Administration of China. She would give only her surname, Zhong.
It crashed in a forest west of the runway, Zhong said. She said there were ``no reports of ground casualties.''
The Il-76 hit the ground nose-first, ``causing explosions and sending off dense smoke,'' Xinhua said, citing witnesses. It said the blast hurled debris across a two-square-kilometer (one-square-mile) area.
The craft hit cowsheds belonging to three farmers, Xinhua said, citing local police. It said the farmers' houses suffered ``little damage."
Police sealed off the area and were searching for the "black box'' flight data and voice recorders, Xinhua said, citing local authorities.
Urumqi police and the city government, contacted by telephone, said they had no information about the crash.
The plane left Taiyuan at 5:50 a.m (2150 GMT Monday) and landed at Urumqi at 9:10 a.m. (0110 GMT Tuesday), Xinhua said.
Urumqi, the capital of Xinjiang, is about 2,500 kilometers (1,500 miles) west of Beijing.
Today's Top News
Top World News

New pact to pipe Kazakh oil to China




Cargo plane crashes in China's northwest




Taiwan's attempt to access WHO fails again




China may raise rates if inflation exceeds 5%




Direct elections move to township level




Concern grows after forced evictions