India's Gandhi to claim power as market recovers
(Agencies)
Updated: 2004-05-18 14:08
India's Italian-born prime minister-elect, Sonia Gandhi, is due to claim power on Tuesday as markets rebounded sharply after their worst day in history.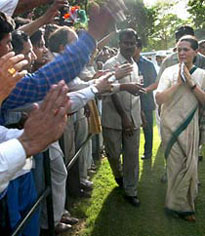 Sonia Gandhi greets Congress supporters following her stunning electoral victory. [AP]

Markets rose more than six percent in early trade, after shares fell as much as 17 percent on Monday on fears communist parties, which Gandhi needs to rule, will slow or block reforms.

Indian President Abdul Kalam has invited Gandhi for a meeting but no time has been set, a presidential spokesman said. Kalam, a titular head, is likely to accept Gandhi's claim to lead the world's largest democracy because there is no other contender.

After days of frantic deal-making, the heir to the Nehru-Gandhi dynasty has won the backing of more than 320 members of the new 545-seat lower house of parliament.

But the refusal of the powerful leftists to join her has raised questions about the new government's stability.

A renewed campaign by the defeated Hindu nationalist Bharatiya Janata Party targeting Gandhi's foreign origin added to the uncertainty over whether she would accept the top job.

Reports Gandhi might step aside for a compromise prime minister to win over leftists were dispelled when her party and allies said she would meet Kalam on Tuesday and be sworn in as India's fourth leader from the Nehru-Gandhi dynasty the next day.

"We salute her. Sonia Gandhi is treading this path very carefully," said key ally Laloo Prasad Yadav.

Trading was suspended twice on Monday before the key Bombay index closed 11 percent down, extending losses that have wiped more than $30 billion off the value of India's listed companies over three weeks. The rupee and bonds also fell.

"Ground Zero," the Times of India said in a banner accompanying an image of the Bombay exchange towers on fire with a plane with communist hammer and sickle markings slamming into the building.

MARKETS REBOUND

Bonds edged up early on Tuesday.

The Reserve Bank of India is due to announce its annual monetary policy for 2004/05 (April-March) around noon (0230 EDT), and traders and analysts widely expect it will hold interest rates steady at three-decade lows.

Traders are hoping authorities will try to maintain as much of a status quo as possible until the newly elected government takes office and spells out its economic priorities.

Leftist parties, with more than 60 of the new parliament's seats, decided not to formally join a coalition headed by the 57-year-old widow of former prime minister Rajiv Gandhi, stoking uncertainty among investors and worsening the market slide.

But the decision was not surprising because the leftists compete directly with Congress in their state bastions. They also bitterly oppose any return of the ousted Hindu nationalists, which would be the inevitable result if Gandhi falls.

So they have pledged to support her from outside and will likely vote with Congress on most issues, including confidence motions, and help draft a joint economic blueprint.

Investors are afraid the leftists, led by the Communist Party of India (Marxist), the third largest party in parliament with 43 seats, will block or slow key reforms in Asia's third-largest economy, especially the privatization of bloated state firms.

Congress' Manmohan Singh, father of India's economic reforms more than a decade ago, stepped in quickly to reassure investors.

"We will persist with the reform package... which strengthens the climate for enterprises in our country, promotes savings and at the same time is seen to be addressing the problems of agricultural stagnation, problems of jobless growth," the turbaned, white-bearded 71-year-old told Reuters.

A few hours earlier, his new communist allies were still demanding extra farm subsidies, the return of some import restrictions and the axing of the privatization ministry.

But Communist Party of India leader A.B. Bardhan also said the Left would support some stake sales in state firms.
Today's Top News
Top World News

New pact to pipe Kazakh oil to China




Azerbaijan plane crashes in NW China




Taiwan's attempt to access WHO fails again




China may raise rates if inflation exceeds 5%




Direct elections move to township level




Concern grows after forced evictions