Film goers shift venues
By TANG YUANKAI (bjreview)
Updated: 2004-05-18 13:52
Movie watchers head to Internet cafes to watch the latest blockbusters.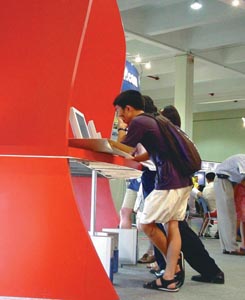 Some Internet cafes will soon feature commercial movies [newsphoto]
The movie industry has been going through some tough times. Twenty years ago, there were 29.3 billion people going to cinemas every year.
In the last decade, the movie industry lost 1 billion in audiences annually, seeing its annual income shrink from 2 billion yuan ($242 million) in the 1990s to 900 million yuan ($109 million) in 2003.
The reason is not because the audiences have changed their interest in movies, but because they have changed the places where they watch movies. Movie industry insiders attribute the shift in audience venues to pirated movie copies and Internet cafes.
Statistics show that, by the end of 2003, there were over 79.5 million netizens in China, 60 percent of them doing their surfing in net cafes.
About 10-15 percent of these net cafe customers frequently watch movies, while others choose to link online movie websites at home. To the movie industry, the Internet and net cafes seem to have become their natural adversaries.
But they should be friends in a win-win relationship on business, said newly established A-G Entertainment Co., Ltd. (AGEC), which is applying itself to film promoting and distributing, and offering services for the domestic movie market. AGEC operates in cooperation with its U.S.-based partner, International Date Group (Asia) Co., Ltd. On May 1, 2004, AGEC launched a trial operation of a plan called China Net Cafe A-G Cinema-Line, a new initiative in movie distribution. The operation would be tried first in big cities such as Beijing, Shanghai, Guangzhou and Shenzhen.
With AGEC¡®s authorization, net cafes that join A-G Cinema-Line will possess the legal right to feature AGEC¡¯s movies in their cafes. Customers in the partner net cafes can link to AGEC¡¯s website for movie viewing, for which they pay. The payment for the movies is distributed between AGEC and its net cafe partners. The process is similar to setting up a legal video-on-demand system between the AGEC and its partner net cafes.
Before the plan was launched, people mainly watched movies in net cafes in one of two ways. The first is watching movies on free websites, or watching by paying the websites online. The other is the more popular choice of net cafe owners, who set up their own movie hard disks by downloading from the Internet, or copying movies from elsewhere. Both these methods have deficiencies. For example, free movie websites with high link-up speeds are rare, and downloading or copying movies and offering them to the public without authorization is illegal.
"We don't want to download movies without copyright authorization," explained Li Ming, Marketing Manager of the Shanghai-based 3Dtop-Net cafe. "In that way, neither the movie quality nor charging movie watchers can be guaranteed. Moreover, we are constantly worrying about being punished by anti-piracy authorities."
However, if net cafes pay the website so as to let their customers watch free movies online, they cannot profit from the movies, as their customers only pay for the cost of Internet surfing.
Net cafe operators would also like to offer high-quality service to customers who like watching movies online. But they are hamstrung by deficient movie resources and bad feature quality, due to movies are usually being distributed through cinemas and TV movie channels.
The environment in net cafes has little chance to match that in cinemas. In addition, people have to watch movies on computer screens, and listen through earphones, which definitely reduces vision and audio quality. However, people have more freedom while watching movies in net cafes: They can choose which movie to watch, when to watch, as well as how to control the featuring process.
As Internet industries, especially broadband, became more popular, the movie industry and its affiliates began to seek their active cooperation. Now they realize that as customers change their habits and behavior toward entertainment, the only thing suppliers could do is to adjust their operation in accordance with the new tastes. Hostility and prejudice can just lead to a loss of profit.
Far-sighted business people, like the decision makers at AGEC, discovered the new road leading to wealth¡ªspreading or selling movies through the Internet. According to their budget, even if only one customer watches one movie, on each computer, everyday, in a net cafe possessing 50 computers on average, the total of 200,000 net cafes in China will make 10 million yuan ($1.21 million) a day, if charging 1 yuan ($0.12) for a movie. In this scenario the total business volume generated annually will be 3 billion yuan ($362 million).
The AGEC method is: First, it buys the copyright of some movies from movie producers; then it distributes the movies through its cinema online partners, while appointing agents throughout the country to explore more net cafe resources. The distributor, agent and partner net cafe will share the profits at a proportion of 5:2:3.
AGEC has already signed agreements with over a dozen agents in Beijing, Shanghai, Shenzhen and Guangzhou. And, its agent in Beijing has signed with over 40 net cafes, the most among all the agents.
Manager of the Jinlandao Club, a net cafe in Chaoyang District, Beijing, that signed an agreement with AGEC early on, said that, as AGEC is responsible for the complete set of featuring software, the net cafe only needs to provide computers. ¡°We already have over 200 computers, with 20 of them specifically for movie watching, as online movie audiences account for 10 percent of total customers,¡± he said.
The 3Dtop-Net, one of the AGEC¡¯s partner net cafes in Shanghai, also owns more than 200 computers. Though most of its customers prefer online games, 5-15 percent of them also watch movies in net cafes. Li Ming believes that if the online cinema alliance had more movies of high quality, and promotion was efficient, the population of movie audiences in net cafes would increase substantially.
Wang Yi, Chief Marketing Official of AGEC, is quite confident with their business in Beijing and Shanghai, because the two cities have enough net cafes, hardware options and purchasing power. So a considerable profit is a distinct possibility.
However, as the cinema online plan is still in a trial period, many net cafe owners would like to be observers. Experts believe there are several reasons for this. The first problem is control. For example, many customers may start a new movie, before they finish watching the last one. This makes it difficult to calculate the cost for the movies they have watched. Another problem is what happens to the computers designated for movie watching, if there are no movie customers. People also worried that if there are too many customers watching the same movie, it may cause an Internet jam.
In spite of those problems, many net cafe owners expressed that they would most likely join the cinema online plan, once AGEC has established a set of proper guidelines.
Many people believe that if the alliance of hi-tech companies, movie distributors and net cafes becomes a reality, it would exploit a huge and potentially lucrative movie market outside cinemas.
Today's Top News
Top Life News

New pact to pipe Kazakh oil to China




Azerbaijan plane crashes in NW China




Taiwan's attempt to access WHO fails again




China may raise rates if inflation exceeds 5%




Direct elections move to township level




Concern grows after forced evictions