Israel kills 12 Palestinians in big Gaza raid
(Agencies)
Updated: 2004-05-18 13:22
Israeli forces killed 12 Palestinians in southern Gaza's Rafah refugee camp early on Tuesday as the army launched a large raid into a militant stronghold in defiance of an international outcry.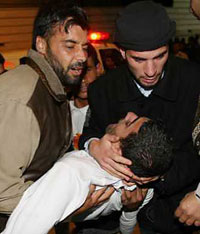 A wounded Palestinian is carried to a hospital after an Israeli helicopter fired missiles at the Rafah refugee camp in the southern Gaza Strip May 18,2004. [Reuters]

The assault by tanks and infantry, expected to be one of the most sweeping in Gaza since a Palestinian uprising began in 2000, drew international condemnation because of threats by Israel's army chief to destroy hundreds of Palestinian houses.

But Israeli security sources said there were no plans for any systematic destruction of homes during what the army described as an operation aimed at stopping weapons smuggling through tunnels from Egypt.

"The only way we will destroy homes is if we find a tunnel inside a house or if a house is being used as a shelter by terrorists to attack our forces," one source said.

Under cover of darkness, troops fanned out into Rafah's Tel al-Sultan neighbourhood, taking vantage points in buildings as soldiers carried out house-to-house searches for militants and fought Palestinian gunmen.

Before the raid began, helicopter gunships killed seven Palestinians, at least three of them gunmen hit by missiles. The identities of the other four were not immediately known.

Palestinian witnesses said the four, all men aged in their 20's and 30's, were among a crowd of worshippers gathering to pray at a mosque for pre-dawn prayers. Israeli military officials said the missiles hit a band of gunmen.

Five Palestinians, at least one of them a gunman, were killed in street fighting, medics said, adding that around 20 people were wounded in the strikes and fighting.

Troops had earlier cordoned off Rafah as they awaited orders to move into the refugee camp, a hotbed for militants who attack soldiers patrolling the Philadelphi corridor along the Egyptian border where seven were killed last week.

Deep in the camp, militants prepared ambushes and planted bombs against the troops. Hundreds of civilians loaded bedding, furniture and clothes onto donkey carts and rickety trucks fearing their homes were earmarked for destruction.

"There is no place for me to go. I don't think I will return," said Youssef al-Jamal, removing possessions from his home in the bullet-pocked, cinderblock camp of 90,000 people.

The planned raid had drawn UN and European Union criticism over concern it could make thousands of Palestinians homeless.

QURIE PLEADS FOR US INTERVENTION

Palestinian Prime Minister Ahmed Qurie pleaded for US intervention in rare talks in Berlin with US National Security Adviser Condoleezza Rice on Monday, but he received little@than expressions of concern.

Israel launched the raid after Palestinian fighters, dealing the Middle East's mightiest army its heaviest blow in two years, killed 13 soldiers in Gaza last week. At least 30 Gazans, militants and civilians, were killed in that violence.

As Tuesday's operation got under way, a militant was killed in an accident preparing a bomb in his house and three others were wounded, one critically.

"We know that Gaza is being run by the terrorist organisations due to the unwillingness of the Palestinian Authority to crack down on terrorism and the tunnel issue," said Major Sharon Feingold, an Israeli army spokeswoman.

"We fear Gaza is turning into a launching pad for large calibre weapons that would target Israeli cities," she said.

The UN Relief and Works Agency for Palestine Refugees (UNRWA) readied four schools with stockpiled food and water and set up rows of tents to take in 1,500 displaced to start.

Israel's army chief said on Sunday hundreds of houses would be demolished to put forces in the Philadelphi zone out of range of gunmen firing from the camp and thwart tunnel digging. Security officials later said home demolitions would be limited.
Today's Top News
Top World News

New pact to pipe Kazakh oil to China




Azerbaijan plane crashes in NW China




Taiwan's attempt to access WHO fails again




China may raise rates if inflation exceeds 5%




Direct elections move to township level




Concern grows after forced evictions