Israeli forces raid Gaza refugee camp
(Agencies)
Updated: 2004-05-18 09:42
Israeli helicopter gunships killed seven Palestinians, at least three of them gunmen, early on Tuesday, in what appeared to be the start of a large military operation in southern Gaza's Rafah refugee camp.
In the first strike, helicopter gunships fired at militants hiding behind a wall, killing three of them. Shortly before dawn, helicopters opened fire again as troops thrust into the Tel al-Sultan neighborhood on the outskirts of the camp.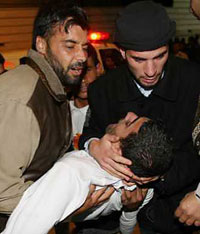 A wounded Palestinian is carried to a hospital after an Israeli helicopter fired missiles at the Rafah refugee camp in the southern Gaza Strip May 18,2004. [Reuters]

Four people were killed in that strike, which Palestinian sources said took place next to mosque where worshippers had gathered for early morning prayers.

Doctors had said five people were killed in the second strike but later revised that figure. The identities of the dead were not immediately known but all were men in their 20's and 30's.

An Israeli military official said helicopters had fired at bands of gunmen in both incidents.

"We fired at armed men," the official said.

As the second missile attack took place, soldiers took positions in buildings in the Tel al-Sultan neighborhood, near the Egyptian border.

Palestinian security sources said soldiers surrounded a building and began carrying out searches there.

An Israeli military official said "an operation is underway in Rafah at the moment," but declined to give details. A security source earlier told Reuters "there will be arrests at first and later on, demolitions of homes."

In all eight Palestinians, including one who blew up while preparing a bomb, died in Rafah on Tuesday, Palestinian medics said. About 14 Palestinians were wounded in both missile strikes.

Israeli troops earlier sealed Rafah off from the rest of the Gaza Strip ahead of an expected Israeli raid which has drawn international criticism over concern that it could uproot thousands of Palestinians and destroy hundreds of homes.

Palestinian militants had been preparing ambushes and bombs for the expected operation. Shortly before the helicopter attack, a militant died when a bomb he was preparing in his Rafah home detonated prematurely. Three others were hurt.
Today's Top News
Top World News

New pact to pipe Kazakh oil to China




Taiwan's attempt to access WHO fails again




China may raise rates if inflation exceeds 5%




Direct elections move to township level




Concern grows after forced evictions




IOC embraces transsexuals for Olympics