Direct elections move to township level
(China Daily)
Updated: 2004-05-18 09:36
When eight members of the Communist Party of China competed for five posts on the CPC committee of Lingshan Township in Southwestern China's Sichuan Province in October 2001, including the position of secretary, they hardly realized that they were making history.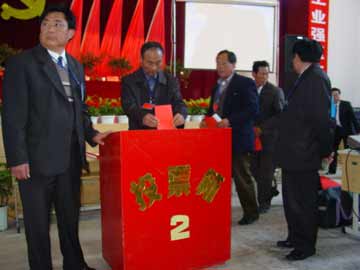 Party members line up on April 9 to cast their vote for secretary of the Caiji Township Party Committee of Jiangsu Province. [newsphoto/file]
That election, according to Lu Xianfu, a professor from the Party School of the CPC Central Committee, "smashed the long-established practice" of CPC officials being nominated by superior Party organizations.
Under the supervision of the CPC committee of Pingchang County, which has Lingshan under its jurisdiction, 230 out of the 260-odd CPC members throughout the township turned out for the vote. Those who missed the vote were either working elsewhere or bedridden because of illness.
Although the election was later hailed as a "breakthrough" in the history of CPC cadre selection, the township and county decided not to draw attention to what they had done lest they provoke controversy or even reproach. After all, said Zhang Jingsong, an official with the organization department of the County Party Committee, direct election is not written into the Party Constitution.
"There is no mention in the Party Constitution that such elections could be held in Party committees at township level," confirmed Shi Weimin, a political researcher with the Chinese Academy of Social Sciences (CASS).
"But it does say that 'election of grass-root Party committees can be held either by representatives or by all Party members' (Chapter 5, item 29) and that 'grass-root Party committees include those in neighbourhoods, villages and townships' (Chapter 5, item 32). This should give legitimacy to the election."
Professor Lu Xianfu of the Party School, which serves as both an ideological training workshop for Party officials and a think-tank for Party development, said that lack of straight statement doesn't mean that Party members are denied the right to nominate and elect Party officials.
There are historical reasons for the nomination and appointment of Party cadres by officials of the Party, observes Li Haiwen, a senior researcher of CPC history. "Ever since it was founded in 1921, the Communist Party of China has operated under the threat of 'white terror,' which compelled it to work in secrecy. The dangerous environment made it impossible for Party members to elect CPC officials," she says. She was referring to the rule of Kuomintang before 1949.
When the CPC seized power in 1949 after decades of hard armed struggle, the direct election of Party officials still seemed physically impractical. "In many areas where the Party work was weak, officials had to be dispatched from elsewhere to help set up Party organizations and mobilize the people to carry out land reform and other activities," Li explains.
Hence the practice of superior Party organizations nominating CPC officials came into being although those nominees still have to undergo elections to be appointed finally. At the bottom of the structure of the CPC, the approximately 3.5 million township Party committees lead the grass-root governments in China, setting the policies for local social and economic development.
With improved material conditions and information services, more and more Party members wish to extend their democratic rights. Zhang Jingsong of Pingchang County recalls that the decision to allow a direct election in Lingshan Township was triggered by a discussion at a training workshop for local Party members. Some trainees suggested that they should have the right to choose township Party officials on their own.
The organization department of the County Party Committee, which was in charge of cadre selection, thought this would be a good way to improve the cadre system, says Zhang. Nomination and appointment from above, though made necessary by historical conditions, "can lead Party officials to neglect their responsibility to the people, because they may feel their power is given to them not by the public but by their superiors."
As the terms of most township Party committees in Pingchang had expired around that time, the County Party Committee decided to allow one of the townships to elect its new Party Committee directly. "So the decision was not made on impulse, but was based on grass-roots Party members' desires and a rational perception of the situation," says Zhang.
Following a feasibility study conducted by his department, Lingshan was chosen as the pilot township for the direct election, as the membership of the CPC there, 264 in 2001, was considered manageable for such a pilot venture. Procedures and rules used in electing village heads served as points of reference, Zhang says.
All the Party members in the township were eligible to run for the five posts on the Party committee, and eight Party members were chosen for the final competition after giving public speeches at an assembly of Party members in the township.
But the low-key election was not made known to the media until two years later. Contrary to local Party officials' misgivings about the impact of this trial, the election has been acclaimed by many Party theoreticians as an "enlightening event." Experts like Professor Lu believe that the qualifications, competence and virtues of grass-roots Party cadres will have a direct and positive impact on local economic and social development. So direct elections of Party cadres at this level are in the interests of the people.
Elections take root
Now Lingshan is no longer a lonely forerunner. Pingchang organized similar election of Party committees in nine other townships in 2003. These elections were no longer low in key, and drew a lot of publicity. The most recent direct election of Party committee members in Caiji Township, in the city of Suqian in eastern China's Jiangsu Province in early April was even televised by China's leading TV network, China Central Television (CCTV).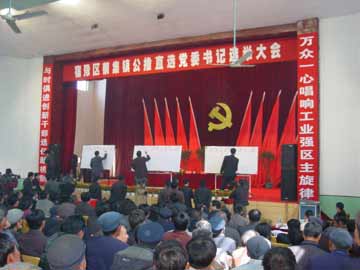 Votes were tabulated under the surveillance of all Party members in Caiji Township. [newsphoto/file]
This is a very encouraging sign for the pioneers in direct election of township Party officials in Lingshan and Pingchang. "We're glad to see that direct election of Party committees at the township level has been accepted by higher levels of government and is being promoted across the country," says Zhang.
Shen Baoxiang, another professor from the CPC Central Committee's Party School, says that direct election in Party cadre selection is an inevitable trend in the development of the Communist Party under the context of social and economic progress in the country today.
"Democracy will enjoy parallel development with social and economic changes," he says. "In China's reform and opening-up, both the common people and Party members have had their political consciousness sharpened. They are becoming increasingly aware of their democratic rights and are enthusiastic about getting involved in political processes such as elections."
The publicity of the direct election of township Party leaders, he says, "indicates the evolution of the environment of inner-Party democracy, which is more favourable now."
The promotion of inner-Party democracy was highlighted at the Party's 16th National Congress in November, 2002, when the development of what has been termed political civilization was advocated as a means to construct a well-off society. Scholars point out that political civilization should be based on a democratic system.
Democratic elections, Shen says, can help vitalize the energy of the whole Party as a political organization by stimulating its members' enthusiasm for political involvement. "Sheer obedience to orders and governance from above without active involvement can only produce passivism among Party members. The task of election reform is to turn passive observers into active participants."
CASS's Shi Weimin says that the promotion of inner-Party democracy can help boost the overall democratic development of the country.
However, some scholars don't agree that direct election of township Party officials equates to inner-Party democracy.
Wang Lixiong, an independent researcher, says the farmers he has talked to are not sure that they could elect a good township leader, although they are all certain they could elect a good village head.
"There are so many people and who knows who in a township? The farmers say to me," Wang Lixiong says. "It's easy to play tricks in such a game, they say."
He observes that direct election is only a form rather than the substance of democracy, and it's not necessary to chase after the form in pursuing democracy.
"Almost every village head is sure that village officials in a town will be able to elect a good town head, and there is little room for one to play tricks in elections among people who know one another well," Wang argues. "What we need is rational elections at the village level rather than irrational direct elections."
Shi Weimin agrees that democratic construction is a process and the direct election of Party committees and secretaries should be promoted step by step. "What is important now is to promote the new election mechanism at the township level in more places," he says.
Today's Top News
Top China News

New pact to pipe Kazakh oil to China




Taiwan's attempt to access WHO fails again




Check on 'Taiwan independence' a task




Experts: China may raise interest rates




Small firms have big impact in stock board




First quarter economy grows 9.8 percent