They abused me and stole my dignity
(Agencies)
Updated: 2004-05-18 09:13
Saddam Salah al-Rawi, 29, said inmates were ordered not to reveal the alleged abuse to Red Cross officials.
For two hours, al-Rawi, prisoner No 200144, gave a graphic and harrowing account of his time in jail. Although he speaks no English, he named some of the soldiers already identified in the investigation into prisoner abuse at Abu Ghraib.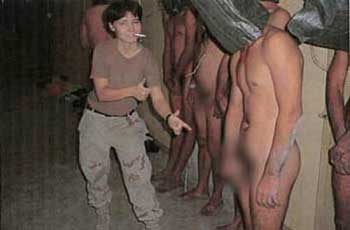 Saddam Salah al-Rawi, 29, told the Guardian newspaper that he was the Iraqi prisoner who was hooded and disrobed by American troops in Abu Ghraib jail near Baghdad in the photograph with charged US solider Lynndie England, who was smoking and smiling next to him. [Reuters]

His account suggests abuse at the prison was widespread and systematic and involved more than the actions of a handful of junior soldiers.

His testimony is one of around a dozen being studied by the Iraqi Human Rights Organization, which eventually hopes to bring cases against the US military.

"I feel I lost my dignity," al-Rawi said. "I couldn't even raise my head in my house when I went home."

Al-Rawi, a former trainer in Saddam Hussein's feared special security organization, was arrested in Baghdad on November 29 last year.

He claims he was detained by Iraqi police after he went to warn them about a car he saw in central Baghdad that he believed was packed with explosives.

Al-Rawi claims he was moved to a building in the Palestine Street district of Baghdad where he was beaten and then transferred to a US military base where he was again beaten. Four days later he was taken in an armoured personnel carrier to Abu Ghraib.

According to his "release form for detained civilians," al-Rawi was held at the prison from December 1 until he was freed on March 28.

"Whatever crime they have committed has been reviewed and any time required has been served," the document says. It is signed by the camp commandant, Lieutenant Colonel Craig Essick, but does not specify the charges against al-Rawi.

"When I got to the cells the first American who came to me was called Sergeant Joiner," he said.

Other prisoners have also spoken of a soldier named Joiner and they appear to be referring to Specialist Charles Graner, one of the soldiers who appears in the photographs and faces charges over the abuse scandal.

"He locked his arm under mine and holding the back of my head he beat my head against the doors of the cells," al-Rawi claimed. He was then hooded and pushed into a cell which contained three or four other prisoners. He asked one, who he named as Thamir Issawi, to turn around and to lift up his hood with his bound hands to allow him to breathe more easily.

"When he opened my hood I could see his back. He was naked. All of them around me were naked," he said.

When the evening call to prayer sounded at dusk, al-Rawi was taken out of the cell. "They untied my hands and took off all my clothes, including my underwear," he claims.

He was then made to stand on a box with his hands on his hooded head, it is alleged. "I stood like this for an hour, or an hour-and-a-quarter," he said. "Then some American soldiers came and they were laughing and some were beating me. They were beating me on my back and my legs. They were beating and laughing. I couldn't bear it and then I fell from the box against the wall and then on to the ground."

At this point they removed his hood.

"They were talking and then one of them started to urinate on me," al-Rawi said. "Then they started to drop cold water on me."

Only when it was morning was he returned to cell 42 in block 1-A, one of two main detention blocks at Abu Ghraib. He slept on a metal bunk bed, without sheets or a mattress.

He was kept in his cell, frequently with his hands and feet bound, it is claimed. He described one position he was forced to maintain in which his hands and feet were pushed through the metal bars of the cell door and then tied together.

"There was a stereo inside the cell and it played music with a sound so loud I couldn't sleep," he alleged. "I stayed like that for 23 hours."

Another position he was forced to adopt, it is claimed, was known as the "scorpion" position. It was initiated by a civilian American with a goatee beard who he identified as "Steven."

One of the civilians singled out for criticism in the Taguba report into abuse at Abu Ghraib, which was drawn up by Major General Antonio Taguba, is Steven Stephanowicz, a contractor working as an interrogator in the jail.

"They tied my hands to my feet behind my back. My left hand to my right foot and my right hand to my left foot. I was lying face down and they were beating me like this," al-Rawi alleged.

He identified another soldier in the jail as "Schneider," which appeared to refer to Sergeant Shannon Snider, of the 372nd MP Company, who was also criticized in the Taguba report.

At times, he said, the soldiers took photographs of him and other prisoners.

"They came to us and showed us the pictures they had taken of us and they were teasing us," al-Rawi claimed.

He alleged the soldiers identified him in one of the photographs that has since been published. The picture shows several naked and hooded detainees lined up next to Private Lynndie England, of the 372nd MP Company, who is laughing with a cigarette in her mouth and pointing at the men's genitals.

He pointed himself out as the man in line furthest from the cam era. "I remember them taking pictures. I remember there were these prisoners standing beside me. I was hooded but I remember a flash from the camera and the sound of a click when they took the picture," al-Rawi claims.

Al-Rawi has a tattoo of a large mermaid on his left thigh, although it was difficult to make out the tattoo in the picture he showed.

On another occasion he was threatened by a guard holding a dog on a leash, it is alleged. Another held al-Rawi, who was naked, from behind, pushing him towards the animal.

"What would you feel if you were in my shoes? I was terrified," he said.

"In my cell I was shouting 'Please come and take me. Please kill me. I am Osama bin Laden, I was in the plane that hit the World Trade Centre.' I wished for death at that time.

"I wanted to be dead 1,000 times. I asked my God to take my soul."

After 18 days, the alleged beating stopped. His clothes were returned and the interrogation began.

Al-Rawi said he was so broken he gave the soldiers the answers they wanted.

"Whatever they asked me, I said 'Yes.' They told me I was from Ansar al-Islam (a militant Iraqi group) and I said 'Yes,'" he said.

"I told them the leader of Jaish-e-Mohammad (another Iraqi militant group) was my cousin.

"They asked me about Zarqawi (a Jordanian militant thought to be in Iraq) and al-Qaida and I said 'Yes' even though I don't know who they are."

Some time later all the inmates were warned of an impending Red Cross visit and were told by a soldier speaking through a translator not to reveal the punishments, it is claimed.

"The translator stood at the end of the corridor and shouted to us 'Look all of you. The Red Cross will come to you today and if you say anything more than what is allowed then you will see a very, very dark day today and tomorrow will be darker and so on and so on,'" al-Rawi said.

Several prisoners who had been abused were moved from their cells before the Red Cross arrived and replaced with other Iraqis, he claimed.

A Red Cross official, who he named as "Eva," came to his cell to ask about conditions there.

"I couldn't say anything to her because there was a translator and an American soldier standing behind her," he said. He claimed that after the visit some prisoners were tied to their cell doors by their hands as a punishment.

At the end of March, al-Rawi was released. He was given clothes belonging to another prisoner and US$10 to catch a taxi home.

Allegedly, there was also a warning. "One of the soldiers told me 'You were inside the prison and you saw some good things and some bad things. Forget the bad things and remember only the good.'"

When he returned home he called off his planned marriage and now wants to testify at the courts martial that will be held against the soldiers allegedly involved.

"I broke off the relationship with my fiance because I felt I couldn't get my dignity back," he said. "Just think of all those prisoners in the jail. If Bush says sorry for them, will it bring back their dignity?"
Today's Top News
Top World News

New pact to pipe Kazakh oil to China




Taiwan's attempt to access WHO fails again




Direct elections move to township level




Experts: China may raise interest rates




Concern grows after forced evictions




Small firms have big impact in stock board