Same-sex couples marry in Massachusetts
(Agencies)
Updated: 2004-05-18 07:55
Elated and in some cases incredulous at making history, gays and lesbians by the dozens exchanged vows and were pronounced "partners for life" Monday as Massachusetts became the first state to let same-sex couples marry.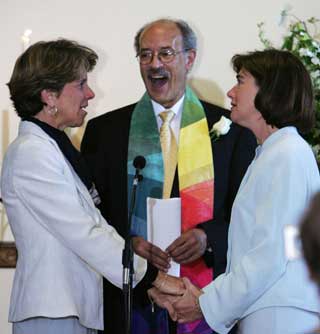 Successful same-sex marriage lawsuit plaintiffs Hillary (L) and Julie Goodridge are proclaimed joined in matrimony by Unitarian Universalist Association President, Rev. William Sinkford, at the culmination of their wedding ceremony in Boston May 17, 2004. Massachusetts became the first state in the United States to legally sanction same-sex marriage based on the ruling of the Massachusetts Supreme Judicial Court, won by the Goodridges, requiring the state to issue marriage licenses to gay and lesbian couples. [Reuters]

The nuptials ranged from quick city-hall ceremonies to ornate weddings in downtown Boston churches, complete with champagne and fancy cakes. Among the touches: matching orange bow ties, rainbow flags and confetti, the Boston Gay Men's Chorus singing "Marry Us," and a special rendition of "Here Come the Brides."

"When everybody wakes up tomorrow and sees nothing bad happened - it's the same world it was the day before, there are only more people that are equal to them - they're going to see there was nothing to fear," Sheldon Goldstein said after obtaining a marriage license.

Fewer than a half-dozen countries allow same-sex couples to marry.

Only a few protesters bothered to show up in Massachusetts, but some conservative leaders expressed outrage and President Bush renewed his call for Congress to pass a constitutional amendment banning gay marriages nationwide.

"The documents being issued all across Massachusetts may say 'marriage license' at the top but they are really death certificates for the institution of marriage," said James Dobson, founder of the conservative Christian lobbying group Focus on the Family.

For all the jubilation, the hundreds of couples who received licenses still confront uncertainty, perhaps lasting years.

Massachusetts lawmakers have taken initial steps toward letting voters decide in 2006 whether to ban same-sex marriages and instead define such partnerships as civil unions. It is not known how the marriages that occur between now and 2006 will be recognized if the ban occurs.

And even though the proposed federal amendment is considered a long shot, many states are trying to ensure - in the face of expected lawsuits - that they will not have to recognize gay marriages from Massachusetts or any other state.

Among the first to marry, under a rainbow flag at a Boston church with the Boston Gay Men's Chorus, were Robert Compton and David Wilson. They were one of the seven couples whose lawsuit prompted the state high court to rule in favor of gay marriage in its landmark November decision.

Compton called it "a journey that seems like a million miles with a million speed bumps."

The decision by the Supreme Judicial Court prompted months of bitter political debate in the Massachusetts Legislature and in statehouses nationwide, even spilling into the presidential race and into congressional politics. Bush and Democratic candidate John Kerry of Massachusetts both oppose gay marriage, but Kerry supports civil unions.

Gov. Mitt Romney, a Republican opposed to same-sex marriage, had instructed Massachusetts town clerks to deny marriage licenses to all nonresident couples. However, officials in three municipalities said they would issue licenses to any couples who attested they knew of no impediment to their marriage.

In Provincetown, a gay tourist spot at the tip of Cape Cod, two Anniston, Ala., men were first in line outside the town hall. "This is the most important day of my life," said Chris McCary, 43.

On Boston's Beacon Hill, Julie and Hillary Goodridge - the lead plaintiffs in the landmark lawsuit - were married by a Unitarian Universalist minister in the presence of ecstatic supporters and their 8-year-old daughter, Annie, who served as ring-bearer and flower girl.

"This isn't changing marriage. This is just opening the door," said Hillary Goodridge, 48.

Robin Ochs, who wept with joy while marrying partner Peg Preble in Brookline, said the idea that their marriage might be overturned "makes me nauseous."

"But that's not something I want to think about today, because today is a day for love and happiness and wonderful things," she said. "It's not a day for thinking about hateful people or people that don't get it."

Cambridge, a liberal bastion across the Charles River from Boston, got the jump on the rest of the state by beginning to issue applications for marriage licenses at the first possible moment: the stroke of midnight.

Among the first to get their paperwork there were Tanya McCloskey, 52, and Marcia Radish, 56, partners for 18 years. They filled out forms, obtained a waiver from the usual three-day waiting period, then returned to city hall to get their marriage license and exchange vows.

At 9:15 a.m., Cambridge City Clerk Margaret Drury told the couple: "I now pronounce you married under the laws of the Commonwealth of Massachusetts."

Outside Boston City Hall, the Rev. Rob Shenck of the Christian Defense Coalition led a small group of kneeling protesters in prayer.

"Let us pray first for those in these lines, waiting to receive what is an illegal piece of paper," he said. "Let us pray for the sin of Massachusetts and the pain and confusion that today will bring to so many."

The Massachusetts couples are now entitled to hundreds of rights under state law, such as health insurance, hospital visitation and inheritance rights. But couples still lack federal rights because federal law defines marriage as between a man and a woman.

The Netherlands, Belgium and Canada's three most populous provinces are among the only places in the world where gays can marry.
Today's Top News
Top Life News

New pact to pipe Kazakh oil to China




Taiwan's attempt to access WHO fails again




China may raise rates if inflation exceeds 5%




Direct elections move to township level




Concern grows after forced evictions




Small firms have big impact in stock board