Bombs hit HSBC banks in Turkey before Blair visit
(Agencies)
Updated: 2004-05-17 09:28
Four small bombs exploded outside branches of British bank HSBC in the Turkish cities of Ankara and Istanbul on Sunday night, hours before British Prime Minister Tony Blair was set to visit Turkey.
Police and local media said the blasts caused minor damage and no casualties.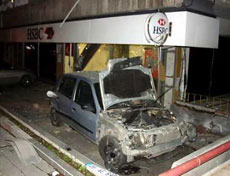 A car is damaged after a percussion bomb, believed to have been placed under the vehicle, exploded in front of a branch of British bank HSBC in Ankara late May 16, 2004. [Reuters]

The bank has been targeted before. Its main Istanbul office was one of four British and Jewish targets bombed in Istanbul in November, attacks which killed 61 people.

A police official said one percussion bomb, believed to have been placed under a car, smashed windows of a bank branch in the capital Ankara when it exploded around 10:30 pm (3:30 p.m. EDT).

There was also an explosion in front of another branch in the city, he said.

State-run Anatolian news agency said there were two similar blasts outside two HSBC branches on the Asian side of the country's commercial hub Istanbul around 10 pm, which were also caused by percussion bombs and caused some damage.

Percussion bombs, often used by militant groups in attacks in Turkey, generally produce a loud bang but little damage.

Television pictures showed slight damage to the wall of one of the banks, which had been cordoned off as police officers inspected the area for evidence.

November's devastating bombs, whose victims included British consul Roger Short, have been blamed on a Turkish Islamist group linked to Osama bin Laden's al Qaeda network.

Far-leftist and Kurdish militant groups have also carried out bombings in Turkey in the past. Istanbul is scheduled to host a NATO summit in late June.

Blair was expected to pledge his support for Turkey's bid to join the European Union and to discuss turmoil in neighboring Iraq during his six-hour visit to the capital Ankara.

He will be the first British leader to visit Ankara since Margaret Thatcher 16 years ago and is expected to praise Turkey's political reforms and stress its importance as a moderate Muslim country espousing democratic, secular values.

He is set to meet Turkish Prime Minister Tayyip Erdogan.

Iraq, which has badly sapped Blair's support at home, will also feature on Monday's agenda. Some Turkish left-wing groups are planning protests against Blair's visit over Iraq.

Turkish public opinion strongly opposed the U.S.-led war to oust Saddam Hussein and has been shocked, like the rest of the Muslim world, by photographs detailing abuse of Iraqi prisoners by U.S. soldiers.
Today's Top News
Top World News

Taiwan leaders at crossroad: peace or war




Nine die in wine poison case, 12 arrested




Divorces rise as rules more flexible




US Embassy issues new visa schedule




Crime stories disappear from prime time




US trade approves duties on Chinese TV sets