Israeli missiles strike Fatah office in Gaza
(Agencies)
Updated: 2004-05-17 08:58
Israeli helicopters fired missiles at an office of Palestinian President Yasser Arafat's Fatah movement and that of another faction in Gaza City early on Monday.
Medics said the Fatah building and offices of the Democratic Front faction were empty at the time of the early morning strike and there were no casualties.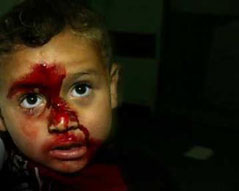 A Palestinian boy waits to be treated after Israeli missiles struck Gaza city on May 16, 2004. Israel's top general threatened to destroy hundreds of Palestinian refugee homes after the Supreme Court cleared the way for demolitions in a flashpoint Israeli-held corridor on the Gaza-Egypt border. [Reuters]

An Israeli military statement said the missiles struck two offices "which served as focal points for Palestinian terrorist activity" in the raid close to the site of an ambush that killed six soldiers a week ago.

Ramzi Ramab, of the Democratic Front for the Liberation of Palestine, one of the offices targeted, told Reuters his workers had a narrow escape, having managed to flee as they heard the helicopters in the sky, "but the office was destroyed."

The Fatah-linked militant group, al-Aqsa Marytrs Brigades, called on supporters "to launch painful strikes against the enemy" in revenge for the missile strike.

Elsewhere in Gaza, Israeli soldiers shot dead at least three Palestinians suspected of seeking to infiltrate into Israel to plant explosives, Israeli media reports said.

Israel's army chief Moshe Yaalon threatened on Sunday to destroy hundreds of Palestinian refugee homes after the Supreme Court cleared the way for demolitions in a flashpoint Israeli-held corridor on the Gaza-Egypt border.

Within hours of the court ruling, dozens of Israeli armored vehicles were spotted massing outside of Rafah, and hundreds of Palestinians fled their homes near the "Philadelphi" buffer zone, witnesses and Palestinian security sources said.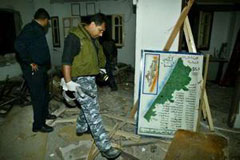 A Palestinian security man inspects the damaged office of Fatah movement after it was hit by missile from an Israeli helicopter in Gaza, May 17,2004. [Reuters]

Rafah was the site of two other deadly ambushes that killed seven other soldiers last week. Yaalon told the cabinet "hundreds of houses" believed to be concealing tunnels or to have been used by gunmen had been marked for destruction.

His threat meant thousands more Palestinians could be rendered homeless. Residents vacated at least 200 homes in Rafah along the border with Egypt soon after the court ruling was issued, witnesses said.

"I don't know what to take. I will start with clothes or the refrigerator or the television," said Abed al-Majid Abu Shamala, 52, preparing to flee a four-story dwelling.

Israeli officials said there were plans to widen the "Philadelphi" buffer zone to make it safer to patrol and less accessible to militants who smuggle weapons in by tunnels from Egypt.

CONDEMNATION

In addition to flattening homes, Israeli officials were weighing a plan to spend millions of dollars on digging a wide canal in the buffer area of southern Gaza, and possibly to flood it so as to block weapons smugglers, a political source said.

The threatened demolitions drew immediate world criticism.

The United Nations said Israel had made more than 12,000 people homeless in Rafah since the start of a Palestinian uprising in September 2000, and that more demolitions would be in "grave breach" of international law.

U.N. relief officials estimated that Israeli armored bulldozers leveled more than 80 buildings in Rafah in recent days, leaving about 1,100 Palestinians homeless. The army said it demolished structures that provided cover for armed men.

"We are extremely alarmed that even more demolitions are planned," said UNRWA chief Peter Hansen in a statement.

Palestinian Prime Minister Ahmed Qurie accused the Israeli court ruling of permitting "ethnic cleansing crimes and collective punishment of innocent civilians."

Secretary of State Colin Powell told a news conference in Jordan that Washington opposed the "wholesale bulldozing of houses" in Rafah.

But Powell sought to persuade Qurie to "seize the opportunity" and accept an Israeli plan to quit Gaza, which Israeli officials expect Sharon to resubmit with minor alterations after his rightist party voted it down.

At least 29 Palestinians, including militants and civilians, and 13 Israel soldiers have been killed in fierce fighting in the Gaza Strip in the past week. It was the Israeli army's worst casualty toll in Palestinian territories in two years.
Today's Top News
Top World News

Taiwan leaders at crossroad: peace or war




Nine die in wine poison case, 12 arrested




Divorces rise as rules more flexible




US Embassy issues new visa schedule




Crime stories disappear from prime time




US trade approves duties on Chinese TV sets