Miracle of 49-day fasting in the air
(Shanghai Star)
Updated: 2004-05-17 08:50
What happens when you don't eat anything for 49 days? Well, an expert in Traditional Chinese Medicine from Southwest China's Sichuan Province seems to have shown that one can survive, disproving scientific research which says that seven days is the limit for a human being to live without food but drinking only water.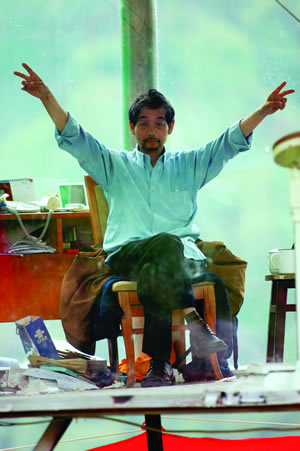 Chen Jiamin, 51, during his 49-day fasting [newsphoto]

On last Friday, May 7, at 3:15pm Chen Jianmin, 51, walked out from the glass room in which he had been fasting. The room had been suspended 15 metres in the air on a mountainside in Bifengxia, near Ya'an city. About 30,000 people and over 100 reporters were on hand to watch Chen end the public fast he had begun on March 20 and which was supervised by a local notary and medical staff.

He didn't leave the glass room during the 49 days of his fast. He said he had succeeded in beating the previous record of 43 days set by David Blaine in London last year.

Just before the end of the fast, he stood up frequently and waved to the watching crowd. He also received many calls on a mobile phone but he was looking very tired and often had to lie down.

His wife Zhao Jiayu said Chen had given several interviews on May 3 and had come down with a heavy cold. He had also suffered heat stroke because of the hot weather and on the day before the fast ended, he had retched four times.

Medical check

Two hours before the completion of the fast, Chen was given a health check-up by the vice-president of Ya'an People's Hospital, Li Xian and a doctor, Du Xiaoyu, in his glass room.

Chen's weight was found to have dropped to 49kg from the 69kg he weighed when the fast began. The medical examiners said Chen had lost a lot of hypodermal fat. The flexibility of skin and muscle was poor but his heart, lungs, stomach, nervous system and mental processes were all normal.

Chen, who practises as a herbalist doctor, opened a private clinic in 1999 after his employer, a leather manufacturer, went into bankruptcy.

He claims to have succeeded in marathon fasting attempts in the past - in 1987, 1994 and 1999 - and said that in 1994, he had not eaten anything for 81 days, living only on water or tea. He claims that on that occasion he had gone to work as usual every day.

Dubious feat

But his feat has also aroused doubts around the country.

Sima Nan, the researcher famous for his disclosure of pseudo-scientific frauds in China, is the leading cynic. He gave several reasons why he doubted the genuineness of Chen's fast.

"First, Chen has an opaque water pipe in his glass room and no one knows what was sent through it," he said.

Sima who is familiar with various techniques used by magicians said Chen may have used a magician's prop, a "magic teapot" which can pour out various drinks. The secret was the pipe-within-pipe equipment in the teapot.

"The possibility of Chen using magician's props exists, in my view," he said.

Another doubt that worried Sima was that Chen would draw the curtains when he used the toilet and he did this for hours every day. "Without taking any food, how could he excrete every day for hours?" Sima asked. "Under such conditions, Chen could have enough time and the opportunity for 'hanky-panky'."

The organizers said the event would be broadcast live around the clock but when people tuned in at night, they would see a totally black screen.

When others went to the glass room with the aim of examining it carefully, the organizers wouldn't let them get close. "I wonder if it is a true event or just commercial hype," Sima said.

Sima added Chen had a team of around 30 people working with him over the 49 days of the fast. "It can't be said to be totally fair - they could have created any 'miracle' under such conditions."

Liang Chao, an expert with the Digestive Department at Chengdu University of Traditional Chinese Medicine, also doubted Chen's feat.

Liang referred to Chen's earlier statement that his theory of fasting was based on an ancient Chinese skill named "pi gu" which means not eating cooked food. Liang said that in books on Traditional Chinese Medicine and Oriental religion, there were chapters about this mysterious skill which enabled people to survive long fasts. But Liang said there were no actual examples of it.

"Maybe the key is in intravenous injections of nutrients," Sima said. By injecting high-value nutrition, people can obtain enough energy, amino acids and electrolytes," Sima said. "It can replace nutrition normally obtained from eating."

Commercial success

Despite the dispute about the risk Chen was taking, the big winners in the event are happy with the huge commercial spin-off.

During the press conference after the fast, the general manager of Wanguan Group, Kang Kai, who had put up about 3 million yuan (US$360,000) to support the event said it had achieved its financial aims.

Tourism was also boosted. Compared with the same period of 2002 (last year was not counted because of SARS), the number of visitors to the region was up by 87,000. Revenue from tourism also increased by 6.9 million yuan (US$834,000).

On May 7, when Chen finished his fast, more than 30,000 tickets were sold and the region is now well known around the country.

As for Chen himself, his fast has also paid off handsomely. Although Kang didn't give any details at the press conference, another company official surnamed Feng said Chen would receive between 500,000 and 1 million yuan (US$60,000 to 120,000) which he would use to help his recovery from the fast and for research into Traditional Chinese Medicine.

Chen's wife Zhao said the aim of the fast had not been for money but to research the chances of human survival in disasters and for Traditional Chinese Medicine.

She said Chen's clinic earned about 20,000 yuan (US$2,420) a month with more income coming from their private fruit garden, Zhao said the family didn't lack for money at all.

Chen told the Shanghai Morning Post in a telephone interview that he may launch another challenge after a period of rest (maybe six months to one year).

"But I will invite authoritative research organizations from abroad to witness the challenge for me," he said. "I am confident I will succeed again."
Today's Top News
Top Life News

Taiwan leaders at crossroad: peace or war




Nine die in wine poison case, 12 arrested




Divorces rise as rules more flexible




US Embassy issues new visa schedule




Crime stories disappear from prime time




US trade approves duties on Chinese TV sets