Irish bring a genuine 'Godot'
(China Daily)
Updated: 2004-05-17 08:33
The work of the charismatic Irish playwright and novelist, Samuel Beckett, has stirred up a great deal of debate, particularly from 1947 to 1952 when the "Molloy" trilogy and "Waiting for Godot" were first published.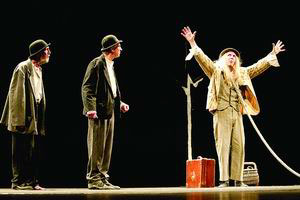 Pozzo's slave lucky confesses his view about life. [China Daily]

There is an abundance of literature that tries to pin down the meaning of Beckett's oeuvre, a task made complicated because he was tackling themes about meaninglessness, drawing upon terms like existentialism, absurdity and determinism. The basic idea behind these theories is that the world is neither designed nor predictable, but irrational and lacking meaning. What is known is what is taken from experience.

No doubt is attached to the importance of Beckett's work: a Nobel laureateship and the choice of "Waiting for Godot" as the best play of the last century are honours that run contrary to any concept of meaningless. "Waiting for Godot" itself has outgrown attempts at definition by literary analysis or rigid pigeonholing.

Beckett may have been not so much interested in academic controversy, but more in the Irish delight in the use of language and its refinement, serious yet playful at the same time.

In this way, he related to his mentor, James Joyce, and Finnegan's Wake's notions of circularity: not unknown in Eastern thought.

So here in the spotlight was Dublin's highly esteemed Gate Theatre in Beijing in 2004, staging this complex, difficult and occasionally incomprehensible drama to a pretty full house with a mix of Chinese and foreign onlookers.

The set, designed by Louis le Brocquy, is stark and simple, dominated by a spindly tree bare in the first act, in the second sprouting three leaves. There is a rock and occasionally a pair of boots, set against a burnished copper backdrop. The set is speared by a brilliant full moon as it darkens at the end of each act.

The ensuing performance - a version true to the playwright's intentions, married to sublime technique and skill - was one that needed a dictionary of superlatives to praise adequately. Seldom in a theatre-going career does a cast scale such heights.

Part of that was the fluidity springing from the fact that the actors have been touring this production for a while and their interplay and timing through familiarity has become finely honed and attuned.

From there the players' evident empathy enables the production to operate at a higher level than usual.

The temptation is to write ever. Particular instances such as Lucky's harangue in the first act, and Pozzo's variation on the same theme in the second, lifted the show from excellent to "a once in a lifetime" experience. It was sheer theatrical magic.

In productions of "Waiting for Godot" the central thrust often falls on Vladimir and Estragon - Barry McGovern and Johnny Murphy in this play - but here the spread of action was more even. Deliberately.

That is not to take anything away from McGovern's and Murphy's performances. Their repartee - spanning clowning, quarreling, philosophizing and thoughts of suicide - was distinguished by enunciation and projection heard clearly throughout the theatre; alternately fast, furious, frightening and funny.

They even functioned well on the non-verbal level: a surreal incident featuring an extended interchange of bowler hats was an example.

The dialogue, also, in the hands of these masters, constantly undercut itself, yet soared: "I suppose we blathered about nothing in particular," one of them said.

Still they and Alan Stanford's portrayal of a fruity Pozzo and Conor Lovett's paradoxical Lucky, conveyed not only the essence of "Waiting for Godot," but also a manifest enjoyment in their own art, delivered with a rare rapport and precision, give or take a few textual liberties.

Rather than the play's conventional immediate post-World War II reading of the Pozzo-Lucky thread as representative of French-German relations, this Irish view delivered several solid swipes at England's colonial mentality.

In just over two hours this cast presented its audience with a definitive version of Godot and achieved a history of dramatic development as well.

Often effort falls flat through over-contrivance. Here it culminated in triumph.

Stand up and take another bow, gentlemen.

Faithful version provokes thought

Half a century after its premiere, "Waiting for Godot" is no longer a pioneering play, but its power is still there.

There was probably never a simpler set put together on the stage of the Capital Theatre. A tree, a stone and a moon over a unified two days constituted all the set in this classic work of the Theatre of the Absurd, performed by the Gate Theatre from Ireland, which is the home of author Samuel Beckett.

In the bog represented by the vast space on the stage, two vagrants, Estragon and Vladimir were placed in such a lonely and helpless environment that life itself seemed absurd.

Though most Chinese audiences had to check the subtitles from time to time to understand the lines, the general atmosphere of the play seemed to be well-perceived.

Chinese theatre-goers are somewhat familiar with "Waiting for Godot." Six years ago this very stage witnessed renowned director Lin Zhaohua's interpretation of the work, though it was not exactly the same play but a fusion of Chekhov's "The Three Sisters" and Beckett's "Waiting for Godot."

There was another "Waiting for Godot" in 1998, directed by Ren Ming and staged at the Mini Theatre just beside the Capital Theatre. In this production, the two vagrants waiting in a country road were changed into two young women waiting in a bar.

Shanghai director Zhang Xian also had a version of the play with female leads in 2001, believing the innovations would make the play more appealing to contemporary audiences.

Back in 1991 there was a version directed by Meng Jinghui, who is planning a new production of "Waiting for Godot" with a cast of 100 actors.

Though Godot has already been on Chinese stages a number of times, the Gate Theatre's production has been the only chance of late for Chinese audiences to view Godot in a way closest to Beckett's original version.

No set changes, no appearances of new characters, no new plots (if there is any real plot), no insertion of fashionable elements, just two old, dirty, hopeless bums waiting by a tree.

They were waiting for Godot, from whom they expected some aid and comfort, but they were not sure of whom Godot was and when he would come. All they could do was wait, yet every night a young messenger arrived to say that Godot would not come this evening but "surely tomorrow."

To pass the time they tried talking about the Bible, abusing each other and even hanging themselves. They were temporarily rescued from boredom by the arrival of Pozzo and Lucky, master and slave. However, Pozzo and Lucky didn't seem to change their situation at all, but only uttered the hard truth about human mortality. They could do nothing but wait for Godot.

Without any innovations or stunts, "Waiting for Godot" by the Gate Theatre simply excelled with a deep understanding of Beckett's fundamental observations of modern man's living situations and was complemented by top-notch performances from the cast.

Estragon and Vladimir were portrayed with an appropriate sense of humour throughout the play, in accordance with this "tragicomedy." Lucky's fragmented and disjointed pouring out of his thoughts was a highlight, in which the process of slavishness shading into madness was most vividly enacted.

Pozzo was also given a suitable treatment in the role's absurdly philosophical discourses, inspiring the audience with lines that might have been buried in other versions, like "Let us not then speak ill of our generation, it is not any unhappier than its predecessors. Let us not speak well of it either. Let us not speak of it at all. It is true the population has increased."

If we have seen more innovation from directors in other productions of "Waiting for Godot," we found an authentic version in the performance of the Gate Theatre.

Like all great works, "Waiting for Godot" has a timeless appeal. And this appeal comes from the inner being of the work, as the Gate Theatre has portrayed.
Today's Top News
Top Life News

Taiwan leaders at crossroad: peace or war




Nine die in wine poison case, 12 arrested




Divorces rise as rules more flexible




US Embassy issues new visa schedule




Crime stories disappear from prime time




US trade approves duties on Chinese TV sets