China down Denmark to wrap up double badminton triumph
(Xinhua)
Updated: 2004-05-17 07:50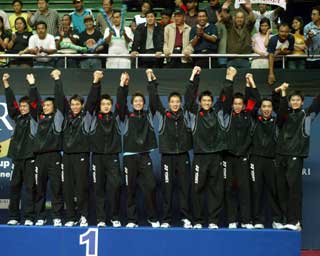 The Chinese team hold up their hands as they celebrate their team victory in Jakarta on May 17, 2004. China beat Denmark 3-1 during the final match of the Thomas Cup. [Reuters]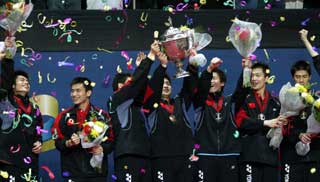 Chinese players hold the Thomas Cup while celebrating their victory in Jakarta on May 17, 2004. China beat Denmark 3-1 during the final match. [Reuters]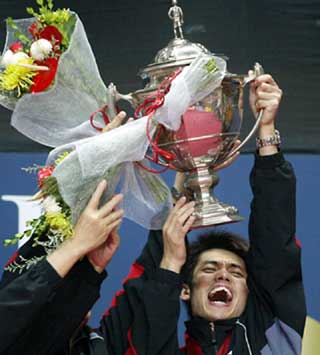 China player Dan Lin holds Thomas Cup during celebrating their victory in Jakarta on May 17, 2004. China beating Denmark 3-1 during the final match. [Reuters]
China's dominant men's badminton team claimed their first Thomas Cup title in 12 years with a hard-fought victory over battling Denmark.
The win wraps up a deserved Thomas and Uber Cup double for the top-seeded squad, whose women claimed a fourth successive trophy on Saturday, just three months before the Athens Olympics.
World number one Lin Dan subdued fierce rival Peter Gade in the evening's bad-tempered opening encounter 15-8, 15-13. The European champion recovered from a hesitant start to take charge of the second game but faltered on 13-9 and gifted Lin, whom he has now failed to beat in their last five meetings, victory with a series of errors.
A disconsolate Gade then slumped alone at the back of the stadium while Lin celebrated with his team-mates, ripping off his shirt and throwing it into the crowd.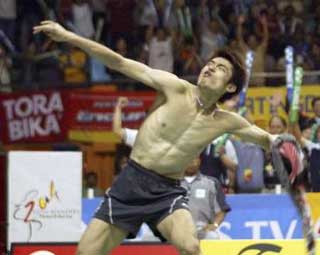 Lin Dan throws his shirt in celebration after beating Denmark's Peter Gade in the mens single final of the Thomas Cup badminton tournament in Jakarta May 16, 2004. Lin beat Gade 15-8 15-13. [Reuters]

The Danes hit back through world champion doubles pair Lars Paaske and Jonas Rasmussen, who knocked Cai Yun and Fu Haifeng out of their stride 17-16, 15-6.

The lumbering Kenneth Jonassen came close to making it 2-1 with a typically determined display against Bao Chunlai. However, the world number four came back from a game down and 4-10 in the third game to hand China the advantage.

Sang Yang and Zheng Bo, ranked sixth in the world, then shocked European champions Jens Eriksen and Martin Lundgaard 15-13, 15-8, sparking scenes of jubilation in the half-empty Senayan Indoor Stadium.

"We beat all our opponents to love before the final and we won the final 3-1, so we deserved to win the Thomas Cup," said a typically forthright Li Yongbo, China's head coach who was part of the 1990 winning team.

He also criticised match officials who showed Lin Dan a yellow card for twice not being ready to take serves from Gade.

"Many players today have shown the umpires that they were not ready but only Lin Dan was given a yellow card, so that's not very fair," he said.

Gade said he had been weakened by a stomach upset and rued his missed chance to take the second set. "I was very tired and my stomach has not been so good but I fought the best I could," he said.

"The team is very disappointed of course because we were very close -- we were almost there."

Danish coach Steen Pedersen said he had expected Eriksen and Lundgaard to beat Sang and Zheng to take the match into a deciding singles match.

"I thought we had a good chance of winning the second doubles because we started very well but it was very difficult for those two to play with all the pressure on them," he said.

"Jens and Martin have a good record against Sang and Zheng but the Chinese players did very well and I think we allowed them to control the game a bit too much."

Doubles star Jonas Rasmussen was also surprised at Eriksen and Lundgaard's loss.

"After the second singles their spectators were cheering, they got into a rhythm and I think they capitalised on that in the second doubles because I thought Jens and Martin would have won today."

But coach Pedersen said he was pleased with Denmark's campaign.

"I told the players that of course we were sad right now after losing a very close match where we were the only team in the tournament that gave China a run for their money," he added.

"But we can only be sad for a short time because we also have to be proud of ourselves because we played a really good tournament."

China's women beat South Korea by the same 3-1 scoreline in Saturday's Uber Cup final.