Massachusetts to hold same-sex weddings
(Agencies)
Updated: 2004-05-16 14:38
For better or for worse, depending on which side of the ideological aisle one chooses, a divided America crosses a historic threshold Monday as state-approved marriages of same-sex couples take place for the first time.
Promised a waiver of the normal three-day waiting period, the seven gay and lesbian couples who successfully sued for marriage rights in Massachusetts will wed before relatives, friends and supporters in Boston and three other towns. The United States will become just the fourth country in the world where same-sex couples can tie the knot.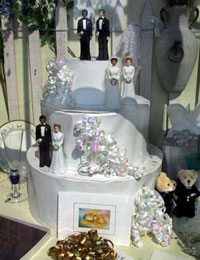 A window display at a wedding shop, in Provincetown, Mass., Saturday, May 15, 2004, features figurines of the same sex paired together on a wedding cake on the weekend before gay marriage becomes legal in Massachusetts. Provincetown, long considered a destination for gay and lesbian couples to vacation and relax, is expected to soon become a location where they may marry as well. [AP]

The couples' jubilation will be shared by gay-rights advocates across the country, including many in states such as New York, California, Washington and New Jersey where comparable lawsuits are moving forward.

"This isn't just one historic moment in Massachusetts," said Kevin Cathcart, executive director of the gay-rights group Lambda Legal. "It's the start of what will be a long period of progress and breakthroughs, with gay couples in other states also winning the right to marry."

For foes of gay marriage, Monday's weddings represent a stinging defeat ! but one they hope will be reversed by a backlash among politicians and voters nationwide.

"What I'm starting to see is people who are apolitical, who never got involved before, saying, 'This is too much ! we don't want same-sex marriage foisted on us,'" said Mathew Staver, president of a Florida-based legal group, Liberty Counsel, that is opposing gay marriage in numerous court cases.

Both sides in the debate expect the issue to figure prominently in the November election, with Massachusetts serving as a rallying cry and alarm bell.

Candidates for Congress will face pressure to explain their position on a proposed federal constitutional amendment that would ban gay marriage. Voters in Georgia, Kentucky, Mississippi, Oklahoma, Missouri and Utah ! and probably several other states ! will consider similar amendments to their state constitutions.

"It will be a national referendum about gays and gay marriage," said Rod McKenzie of the National Gay and Lesbian Task Force. "We're the underdog when it comes to all these ballot measures ! the scale is bigger than we've ever had to deal with."

In states with the ballot measures, divisive campaigns already are underway.

An Oklahoma gay-rights group, for example, took out newspaper ads last week showing an outline of the state with "Closed" stamped over it. The ad contended that businesses would leave ! or stay away ! if voters approved the constitutional ban on gay marriage.

State Sen. James Williamson, a Republican from Tulsa, called the ad outrageous and predicted that a ban would attract new businesses.

"There is a real hunger for a return to traditional values and for leaders who will draw a line in the sand to help stop the moral decay of this country," he said.

Nationwide, both sides are planning marches and rallies over the coming week ! among them, pro-gay marriage events in Iowa City, Iowa, and Las Cruces, N.M., and a "Not on My Watch" rally in Arlington, Texas, for pastors opposed to gay marriage.

Also following the Massachusetts events with interest will be the thousands of gay couples who married in recent months with the encouragement of local officials in San Francisco, Portland, Ore., and a handful of other municipalities.

Those marriages are clouded by varying degrees of legal uncertainty, and even in Massachusetts there is a possibility that voters in 2006 could jeopardize the impending marriages by approving a constitutional ban.

Katie Potter, a Portland policewoman who married partner Pam Moen in March, said she was delighted by the Massachusetts developments yet worried that it could take years for marriage rights to extend nationally.

"It's important for my two children to be able to say, 'My parents are married,'" Potter said.

Anti-gay marriage activists have no sympathy for such arguments.

"If we move down the road to legalizing marriage for unnatural homosexual couples, it will lead to an explosion of intentionally motherless or fatherless households," said Dave Smith of the Indiana Family Institute. "That is a radical social experiment that will place children in harm's way."

Though opinion polls show that most Americans oppose gay marriage, the rate of acceptance is much higher among people under 30 ! for the younger generation, polls show a roughly even split on the issue.

"There's an absolute inevitability there," said Lambda Legal's Cathcart. "There's no reason to think the next generation of young people will go backward."

Mathew Staver, referring to the same demographic trends, said the next 18 months would be critical for gay-marriage foes.

"The window is now to pursue a federal marriage amendment that would put a halt to this nonsensical patchwork of litigation," said the Liberty Counsel attorney.

Even if many Americans wish otherwise, Massachusetts, as of Monday, will join the Netherlands, Belgium and Canada's three most populous provinces as the only places worldwide where gays can marry, though the rest of Canada expected to follow soon.

In the Netherlands, which pioneered gay marriage three years ago, the practice now stirs little controversy. Cheryl Jacques, a former Massachusetts legislator who now heads the Human Rights Campaign, a major gay-rights group, hopes her compatriots eventually emulate the Dutch.

"For the vast majority of Americans, Monday will be a completely ordinary day ! nothing's going to change," she said. "But for some Americans in Massachusetts ! gay and lesbian families ! it will be a truly historic day, when their families will be made stronger and their children will become safer."

"I'm very proud of my state," Jacques added. "Massachusetts is going to teach the rest of the country a lesson ! equality doesn't hurt anyone."
Today's Top News
Top Life News

Selling slapstick by cellphone




US trade approves duties on Chinese TV sets




Report: Rumsfeld OK'd prison program




China's nuke plan lures foreigners




Third 6-party nuke talks to open in June




Bush job approval rate down to 42% in poll