Media seek end to Jackson gag order
(Agencies)
Updated: 2004-05-15 15:50
In court documents filed Friday, Michael Jackson's attorneys agreed with prosecutors that people involved in the superstar's child molestation case should continue to be barred from discussing it publicly.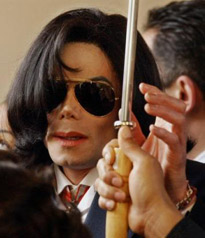 Pop star Michael Jackson reaches for his umbrella as he leaves the Santa Maria Courthouse with his sister Janet, left, following his arraignment arraignment on sexual molestation charges Friday, Jan 16, 2004, in Santa Maria, Calif. [AP]

Attorneys representing the media, meanwhile, criticized the court-imposed gag order and Santa Barbara County prosecutors' attempt to uphold it.

"Eliminating the gag order will ensure that more accurate information will be disseminated, and will reduce the amount of rumors, speculation and gossip about which the District Attorney complains," wrote attorney Theodore Boutrous, who represents various news organizations, including The Associated Press.

The lawyers submitted arguments to the state Supreme Court, which is deciding whether to hear the case over whether the gag order should be lifted.

District Attorney Thomas Sneddon submitted a letter to the court saying the gag order is important to keep an untainted pool of potential jurors. Sneddon criticized the media in the letter, saying it has pandered to a "gossip-hungry" audience.

Jackson's attorney Thomas Mesereau wrote that he and his client support the gag order and withdrew any objections to it made by Jackson's prior counsel.

Calls left for Mesereau on Friday were not immediately returned.

Jackson has pleaded not guilty to charges of child molestation and a conspiracy count involving allegations of child abduction, false imprisonment and extortion.

Prosecutors have attempted to keep secret many developments in the case. One sealed document ¡ª the bench warrant for Jackson's arrest ¡ª was released Thursday.

Boutrous argued the gag order is unconstitutional, and said prosecutors want to choose how details of the case should be released.

"The District Attorney would prefer to be able to file serious felony charges against citizens without being bothered by public scrutiny and evidence, but that is simply not the way our democratic system operates," Boutrous said.
Today's Top News
Top Life News

Banks urged to follow policies in offering loans




Third 6-party nuke talks to open in June




China launches "2004 Science Week"




Bush job approval rate down to 42% in poll




Taiwan's Chen urged to cancel inauguration




US battles Shiites in Iraq; 5 GIs die