Will Smith, Angelina Jolie plug new animation at Cannes
(Agencies)
Updated: 2004-05-15 15:18
Will Smith, Angelina Jolie and Jack Black burst into the Cannes film festival to promote an upcoming animation film they voiced which the US studio DreamWorks hopes will blow "Finding Nemo" out of the water.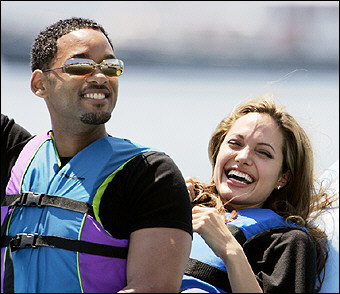 US actor Will Smith (L) and actress Angelina Jolie ride a shark-shaped float during a photo call at the Carlton Hotel beach for the film 'Shark Tale' during the 57th Cannes Film Festival. [AFP]

The actors were brought in specially to plug the movie "Shark Tale" aboard -- appropriately enough -- an inflatable shark boat that docked on a pier on the waterfront in Cannes.

From there, they entertained a small media conference led by DreamWorks co-founder Jeffrey Katzenberg with quips and a few sneak peeks at the movie in progress.

Its presentation came on the eve of the studio's big hope to win the Cannes festival's Palme d'Or prize with "Shrek 2", the sequel to the hugely successful 2001 animation about a grumpy green ogre.

"I'm excited to be here," Smith told the journalists after whooping them up into applause.

He voices a smart-mouth fish in the film who mislead an underwater mafia of sharks into thinking he's a piscine killer with attitude.

"Shark Tale is the story of a little fish called Oscar who dreams big, and schemes bigger. And then gets in trouble trying to chase after the things he thinks will make him happy," Katzenberg said.

The movie is to be released, in the United States at least, in October.

DreamWorks is positioning itself to take over the animation crown from Disney, riding on the clever dialogue and sophisticated graphics it first explored with "Shrek".

Its main competition in the arena now comes from Pixar, the hi-tech animation studio responsible for "Finding Nemo" which is parting company with Disney -- but not before putting out a movie called "The Incredibles" under the Disney label in November.

Other actors lending their vocal chords to "Shark Tale" include Robert de Niro as a sort of shark godfather, director Martin Scorsese as his right-hand fish, Renee Zellweger, and "Colombo" star Peter Falk.
Today's Top News
Top Life News

Banks urged to follow policies in offering loans




Taiwan's Chen urged to cancel inauguration




Firms notified of new food import policies




Diamonds worth US$1m stolen while on show




France: U.S. must accept end of occupation




President Roh gets back his seat