Vajpayee resigns after poll upset
(Agencies)
Updated: 2004-05-14 11:44
Indian Prime Minister Atal Bihari Vajpayee has resigned after a stunning election upset, ending his nearly six years in power and setting the stage for the return of the Nehru-Gandhi dynasty.
The move follows a stronger than anticipated showing from the main Congress party headed by Italian born-Sonia Gandhi.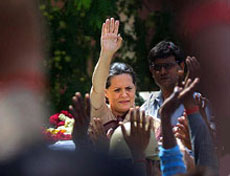 Sonia Gandhi is now set to be India's new prime minister. [AP]

Though the party won't be able to form a majority, the stage is now set for Gandhi to be the next leader of the world's biggest democracy.

In brief comments to reporters on Thursday Gandhi declined to say if she would be prime minister, saying only that it was be up to alliance leaders and they would make a decision on Saturday.

"The Congress party will take the lead to ensure our country has a strong, stable and secular government at the earliest," Gandhi said.

As details of the result were reported, celebrations erupted on the streets throughout the country with Congress supporters waving flags, dancing, singing as they heralded the party's apparent victory.

Gandhi's Congress won 219 out of 539 seats for which votes were counted Thursday in the 543-member lower house, or Lok Sabha.

She also has the support of leftist parties which won 63 seats.

In contrast, Vajpayee's NDA coalition won 188 seats, meaning no single party has gained a clear majority of 272 seats.

But senior Congress officials say they are confident they will be able to form a government with the help of left-leaning parties, CNN New Delhi Bureau Chief Satinder Bindra reports.

Is it the end of the political road for Vajpayee? [AP]

"We have not got the mandate of the people, we have decided to sit in the opposition," BJP President Naidu announced Thursday.

Gandhi, 57, is the widow of Rajiv who was was assassinated in 1991 by Sri Lanka's Tamil Tiger rebels. Rajiv is the son of former prime minister Indira Gandhi and grandson of India's first premier, Jawaharlal Nehru.

India's last female leader was Indira Gandhi, who was assassinated while in power in 1984.

Gandhi, and her popular children Rahul and Priyanka, have revitalized the Congress party, leading it to defy opinion polls that only weeks ago suggested they had no hope of faring well in this election.

Vajpayee called the early election in a seemingly unassailable position -- boosted by a booming economy and also a strengthening peace process with neighbor and arch-rival, Pakistan.

Congress party officials said they would keep pursuing a peace dialogue with Pakistan, while Islamabad -- which had been hopeful the BJP-led ruling coalition would be reelected -- says it is hopeful talks will continue.

The 79-year-old Vajpayee had sought a fourth term as prime minister, arguing he had earned another five years in office because he had turned the economy around.

Early opinion polls had indicated that Vajpayee's ruling Hindu nationalist-led coalition would easily win a new five-year term.

In contrast, the Congress party and its allies have been championing the nation's poor, which the party says has been left out of India's new found prosperity.

While Indians have traditionally voted on party, caste and religious lines, this election has been fought on bread-and-butter issues such as jobs, prosperity, water and electricity.

Financial markets were initially nervous with the benchmark index of the Mumbai Stock Exchange, the Sensex, opening 3.3 percent lower. But the Sensex bounced back as early results and trends pointed towards a Congress victory, closing 0.77 percent higher at 5399.47.

India's massive election was staggered over several stages because more than 650 million people voted.

Elections are usually tinged with violence in the world's largest democracy, and this year was no different -- despite more than 400,000 security forces being deployed.

Election violence claimed 48 lives, less than half the number of deaths that occurred in the 1999 election.
Today's Top News
Top World News

Taiwan leaders at crossroad: peace or war




Nine die in wine poison case, 12 arrested




Divorces rise as rules more flexible




US Embassy issues new visa schedule




Crime stories disappear from prime time




US trade approves duties on Chinese TV sets