Chinese parents lose daughter to US couple
(Agencies)
Updated: 2004-05-14 10:30
An American couple has won custody of a 5-year-old Chinese girl who became the subject of a tug-of-war between her foster and biological parents, ending a four-year fight that drew international attention.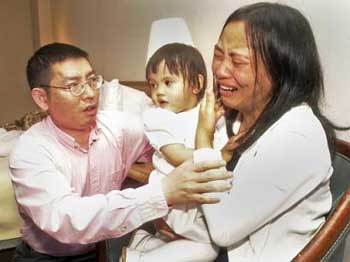 Shaoqiang He, left, comforts his wife, Qin Luo He, as she holds their daughter, Avita He, in their hotel room in Memphis, Tenn., on Wednesday, May 12, 2004, after a judge ruled the couple were unfit to raise their 5-year-old daughter, Anna Mae, leaving her in the custody of the American foster family who has raised her. [AP]

Circuit Court Judge Robert Childers said their foster daughter, Anna Mae He, will remain with Jerry and Louise Baker, who can continue efforts to adopt her unless his ruling is overturned on appeal.

Childers said the girl's biological parents, Shaoqiang and Qin Luo He, are in the United States illegally and have used the custody fight over their daughter to avoid deportation.

"Both Mr. and Mrs. He have shown themselves to be persons who do not consider themselves bound by the rule of law," Childers said Wednesday in nullifying the Hes' parental rights.

Childers rejected arguments by the Hes that they put Anna Mae in what they thought was temporary foster care in 1999 because of financial and legal hardships. The judge said the child's best interest is served by staying with the family she has become to regard as her own.

The Hes, who face possible deportation, vowed to appeal, and a citizens group, the Greater Memphis United Chinese Association, promised to continue helping them pay legal bills.

"This is a typical travesty of justice," said Shaoqiang He after hearing news of the decision. Next to him, his wife cried uncontrollably as she held her two younger children.

The trial was scrutinized by Chinese-Americans and Chinese citizens across the United States. The Chinese embassy in Washington sent representatives to pretrial hearings and wrote to the Tennessee courts seeking assurance the Hes would be treated fairly.

The Bakers argued that Anna Mae has become part of their family, which includes four biological children, and taking her away would be emotionally devastating for her.

"We're so relieved and proud that Anna is going to be allowed to wake up in the same bed that she woke up in since she was 3 weeks old," Jerry Baker said. "One day, we're going to be allowed to walk her down an aisle when she gets married."

Childers said Shaoqiang He admitted lying about his income under oath in a December 2002 deposition and also lied on a visa application for Anna Mae's mother.

The judge also said Qin Luo He was "unstable" and demonstrated a pattern of irrational behavior. He cited how she would begin sobbing when asked difficult questions but regained composure for others.

"Mrs. He's courtroom hysterics were calculated," Childers said.

The judge also cited China's "one-child-per-family" policy in his ruling, noting that families with more than one child in China were subject to financial penalties and the loss of government benefits.

Shaoqiang He came to Tennessee to work on a Ph.D. in business at the University of Memphis. His trouble began in 1998 when he was accused of sexual assault by another student.

He was eventually acquitted, but the university had already taken away his scholarship and stipend. The government revoked his visa and started deportation proceedings, which were put on hold because of the custody fight.

The Hes say they were forced to find help caring for Anna Mae because they were out of work and faced large legal and medical bills.
Today's Top News
Top Life News

Nick Berg died for Bush, Rumsfeld 'sins' - father




Nation reports fourth monthly trade deficit




Rumsfeld visits Iraq, vows no abuse cover-up




TV told queer dressing, phony tones are out




S. Korean impeached president reinstated




Beijing acts on low-end housing