TV told queer dressing, phony tones are out
(eastday.com)
Updated: 2004-05-14 08:54
TV personalities have been asked to abandon "queer" dressing and "colorful" hairdos and mind their language.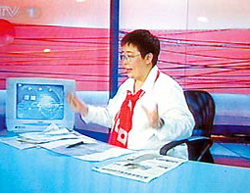 Zhang Yue, famous CCTV hostess, wears a controversial silk scarf, which many say looks like the Japanese National Flag, during on her TV program. Her careless choice of accessories drew a lot of criticism among the audience. [CCTV]

A rule issued by the State Administration of Radio, Film and TV also said "crime-related" overseas productions should not be imported in principle.

Many of Shanghai's TV producers and personalities were asked to sit in meetings to study the rule yesterday.

"The rule intends to reduce the negative impact of queer dressing and behavior on youngsters," said Xu Caihua, an official at the Shanghai Administration of Culture, Radio, Film and Television.

"The state administration published similar regulations before, but they were not followed closely. Now the administration is exercising great efforts to get the new rule implemented.

"Shanghai will strictly follow the rule."

According to the rule, TV personalities should not wear "over-fashionable or exposing clothes."

They are also told not to dye their hair "too colorful" or wear "queer styles."

The "purposeful imitation" of Hong Kong or Taiwan accents, and the mixing of English words and phrases with the Chinese language - common in entertainment programs - are also banned.

Yang Lei, hostess of Style Today, one of the most popular daily entertainment programs in the city, said she has read the notice carefully.

Liu Yiwei, former CCTV host, is featured by his substandard mandarin. He is now actively learning the mandarin after a teacher from Beijing Broadcasting Institute. [sina]

"We pay attention to our dressing on the screen to avoid controversial clothing," she said.

"I don't think the new regulation will affect my dressing style much. But I will be more careful," the hostess said.

Audience responses are mixed.

"It is time to regulate those posing hosts and hostesses who deliberately imitate their Hong Kong and Taiwan counterparts. That's very irritating," said Chen Wen, a local mother.

She said weird clothing and speaking tones hinder the healthy development of impressionable youngsters.

Ma Yuhua, 21, a student at Shanghai Teachers University, disagreed.

"Unlike serious news programs, it is natural for entertainment programs to be carried out in a relaxing atmosphere. Brilliant dressing and flexible speaking tones certainly can make the program more vigorous and easy- going," Ma said.

Yang Mingzhi, editor of a local entertainment program, said: "So long as hostesses' dress doesn't lower the program's taste, I don't see any problem with having a more fashionably dressed hostess to attract more audiences."

A more discreet dressing code is only part of the efforts to clean up the TV screen, making it less sexy and violent.

The regulation bans imports of programs whose themes are unfit for China's social system and national conditions.

Plots, pictures or words that will harm ethics or society should be deleted.

Programs that propagate western ideology and politics should not be imported, the rule said.

Officials say they will limit imports from the same country or on a similar theme.

Last month, the administration banned the broadcasting of sitcoms themed on crime in prime time (5pm to 10pm).

Later, the administration said that no computer game-related TV programs should be produced or broadcast on China's mainland.
Today's Top News
Top Life News

Nick Berg died for Bush, Rumsfeld 'sins' - father




Nation reports fourth monthly trade deficit




Rumsfeld visits Iraq, vows no abuse cover-up




Beijing acts on low-end housing




TV told queer dressing, phony tones are out




Traffic issue causes concern in Beijing