Cyber sports go pro
(eastday.com)
Updated: 2004-05-14 08:40
Cyber sports are no longer kid's stuff: As e-gaming goes professional, it has created an industry similar to professional sports, with pro athletes, fans and even apparel, writes Zhou Zuyi.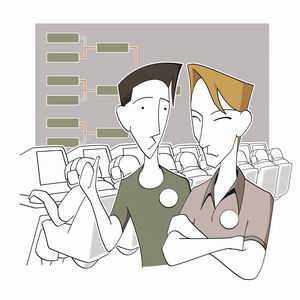 Right now, somewhere in Shanghai, a teenage boy is playing a computer game in his bedroom and his mother is calling him to dinner from the kitchen. The boy shouts back, ``Okay, Mom. I'm playing in a really important match. I'll be right there when I'm finished.''
A match? That's right. He just referred to a computer game as an important match, as in a sport. The scenario might alert those self-appointed whistle-blowers concerned with the "health and welfare of youth," but it struck a very different chord with Zhou Chen. The days of missing a dinner for a virtual duel are past for the 24-year-old, but that doesn't mean he's out of the game.
In fact, he's now earning his dinner by playing cyber games. "I'm doing essentially the same thing as professional athletes," says Zhou, who is now 3,000 yuan (US$375) richer after winning the local preliminary of the inaugural Chinese E-Sports Games late last month. The winners from all over the nation will form a league from May 22 through the yearend for the final trophy.
Zhou's career as a pro gamer started five months ago when he joined GamEdge, a new-born electronic gaming club sponsored by locally based GamEdge Industry Developing Co Ltd. But even before turning pro, Zhou had made a name for himself in the world of cyber game.
Zhou, who specializes in the popular US-made real-time strategy game Warcraft, advanced through the Chinese qualifying rounds of the World Cyber Games (WCG) early last year to win a spot in the final eight of the Warcraft tournament, held at the 2003 WCG Grand Final from October 6 to 10 in San Francisco. The finals are an Olympic-style competition, where teams representing each country play for medals in a variety of computer game categories.
The feat earned him a sort of celebrity status among local cyber game aficionados, most of whom know him as Magic Yang, an online pen name borrowed from a cunning character in the popular Japanese animation film "The Legend of the Galactic Heroes." But for Zhou himself, a former computer science major at the Shanghai Institute of Technology, going pro makes all the difference.
"My family just couldn't understand my decision to quit my job as an Internet cafe manager, which was my first stint after graduation," Zhou recalls. "To them, choosing to be a full-time computer gamer is something beyond imagination."
Their opposition turned into amazement when Zhou made it to the WCG quarterfinals, but he didn't get their seal of approval until he brought home his first paycheck from GamEdge.
"Now they realize that this might be a proper livelihood," Zhou smiles. GamEdge also employs three other professional virtual world athletes. The foursome, all top-notch Warcraft players at the national-level, train an average of 10 hours every weekday in a shared company apartment.
Their income levels may be blue-collar -- 1,500 yuan per month -- but they are up for meaty bonuses whenever they win medals in major game competitions. "The team has brought us great brand recognition among our target customers," says Jiang Huifang, executive vice president of GamEdge Industry Development, which was licensed last October to sell Warcraft accessories, such as T-shirts and hats with logos on, in China.
And the best way to market their products among the estimated 6.5 million Warcraft fans in the country, Jiang thought, was to simply demonstrate their products through the game itself. Between the contests, the team visited Internet cafes, schools and shopping malls to play exhibition games, often attracting crowds of youngsters. But beyond marketing orientation, there's something more that motivates Jiang to maintain this professional gaming club.
"I love playing Warcraft myself, and I believe e-sports will boom, as will all other forms of professional sports," says Jiang, who is in his 30s. "Electronic games like Warcraft and Counter Strike entertain tens of millions of game lovers in China, which provides a solid base for a promising industry." Although e-sports in China is only at a fledgling stage, a great number of civil and governmental institutions share Jiang's vision.
Aopen Inc, a domestic computer hardware manufacturer, splashed out 4 million yuan to buy out the title rights of the inaugural Chinese E-Sports Games only four months after the State General Administration of Sports acknowledged the status of electronic gaming as a competitive sport last November. Meanwhile, Shanghai is making a host bid for the 2006 WCG Grand Finals. And, most important of all, many more aspire to join GamEdge as a professional cyber game club.
"As far as I know, there are currently eight professional e-sports teams in China, and we want to launch the ninth," says Qin Qian, a member of SOZ Club, an online amateur electronic gaming clan. Qin and dozens of fellow gamers at SOZ from all over the country are now seeking venture capitalists or GamEdge-like sponsors to turn their dream into reality. "The grand finals of the inaugural CEG has a purse of 1 million yuan, which reflects the commercial value and potential of the Chinese e-sports industry," says Qin. "But money is just part of the story. Professionalism means much more."
According to Qin, a good team competing in either single-player Warcraft or group-format Counter Strike (a fast-paced shooting game), has to follow a long-term systematic training program in order that they maintain their competitiveness in the rapidly evolving cyber game world.
"It's something like playing chess. You've got to prepare yourself for different strategies and situations. You need someone to coordinate the training, just like a head coach in professional soccer. But most domestic e-sports teams are short on this type of training. Players just watch videos of their past matches, trying to analyze the experience on their own." Jiang admits that this lack of good coaching may take its toll on the level of the game.
"It's still a young sport. And even in countries like South Korea and Swede, where cyber gaming has been going on for a few years now, a lack of qualified coaches is always an issue. At GamEdge, Zhou is the best player in our team, so I sometimes ask him to act as an interim coach. It's an area in which he shows some talent." But for Jiang, the next, and more urgent, step is to create the sports' own superstars.
GamEdge is planning to distribute DVDs featuring videos of the team's past games of Zhou's. Accessories like official GamEdge team T-shirts and key rings are also on the agenda. "Magic Yang (Zhou) is a prominent Warcraft player. But now I want to nurture a cult around him. That's the way all professional sports operate," he says. But like all star athletes, the commercial ideas are just the icing on the cake. For Zhou, the most intriguing part of life is always thrumming the keyboards to keep his dummy warriors victorious.
"I just coincidentally found a simple online flash game that helps practice finger agility. It's something that I badly need. You know, the career of a gamer wouldn't last long if he failed to maintain the high-level of nimbleness of the mind and fingers essential to a good game," he says. "The majority of people couldn't continue after only two or three years. But I hope I can fare better and longer than that because it really feels good to have a job that you enjoy from the bottom of your heart."
Today's Top News
Top Life News

Nick Berg died for Bush, Rumsfeld 'sins' - father




Nation reports fourth monthly trade deficit




Rumsfeld visits Iraq, vows no abuse cover-up




Beijing acts on low-end housing




TV told queer dressing, phony tones are out




Traffic issue causes concern in Beijing