Rumsfeld visits Iraq, vows no abuse cover-up
(Agencies)
Updated: 2004-05-14 08:34
Hoping to contain a spreading scandal, Defense Secretary Donald H. Rumsfeld went to the Abu Ghraib prison camp on Thursday and insisted the Pentagon did not try to cover up abuses there. A top general with him said he had given clear guidelines months ago on the humane way to question Iraqi prisoners.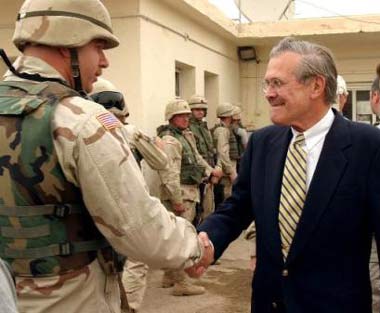 U.S. Defense Secretary Donald Rumsfeld meets military personnel at the Abu Ghraib Prison on the outskirts of Baghdad, Iraq, Thursday, May 13, 2004. [AP]
Rumsfeld arrived at Abu Ghraib by helicopter in a dust storm on a trip that provided respite from a storm of a different sort back in Washington. There, the No. 2 general and civilian at the Pentagon both indicated Thursday that interrogation techniques used in Iraq had violated the Geneva Conventions and said they did not know who, if anyone, had approved the use of those techniques.
The two, Marine Gen. Peter Pace and Deputy Defense Secretary Paul Wolfowitz, said they were unaware of any U.S. military rules for interrogating prisoners that would allow them to be put in stressful positions, deprived of sleep for up to 72 hours, threatened with dogs or kept in isolation for more than 30 days.
Images of abuse have appeared in photos of Iraqi prisoners that were taken by American military guards at the prison near Baghdad. Pentagon officials have said the abuses reflected in the photos went beyond approved interrogation techniques.
In Iraq on Thursday, Rumsfeld called the controversy surrounding the prison a "body blow for all of us" and said the people who did wrong will be punished.
"You can be absolutely certain that the abuses of a few are not going to change how we manage this force," Rumsfeld told troops. "We need all of you to make this thing work for our country."
Rumsfeld also held out hope to his war-weary audience that international troops may soon arrive to augment their ranks, saying U.S. officials were engaged in talks with nations "that have capabilities to bring forces in" and those discussions were going well.
"I'm encouraged. I think we'll find that we will get additional forces," Rumsfeld said. He did not specify which or how many countries are involved, saying only "we're probably talking to a couple of handfuls, maybe three handfuls of nations."
The commander of Abu Ghraib gave Rumsfeld a tour that took him past dozens of Iraqi detainees lined up along the boundary of their outdoor camp, marked by rolls of concertina wire. Some detainees waved, some did not, and some stood expressionless as Rumsfeld's armored bus rolled by.
All 3,800 Iraqis at Abu Ghraib are "security detainees," said the commander, Maj. Gen. Geoffrey Miller, or people suspected of roles in insurgent attacks on coalition forces. No one is a prisoner of war, Miller said.
All prisoners under U.S. control will have been moved out of the old prison building by the end of the month, and a new complex of outdoor camps will be built to provide better living conditions.
Rumsfeld encouraged Miller to thin out the prisoner population as quickly as possible. Miller said 300 to 400 detainees per week are either released outright or transferred to the Iraqi justice system.
Speaking to reporters, Miller defended his role in advising U.S. authorities last fall on how to set up a detention and interrogation system in Iraq that could yield useful intelligence on the insurgency.
"I'm absolutely convinced we laid down the foundations for how you detain people humanely," said Miller, former commander of the U.S. prison compound at Guantanamo Bay, Cuba, where hundreds of suspected terrorists are still being held from the Afghanistan war.
The Defense Department is investigating the abuse depicted in snapshots apparently taken by American military police guards at Abu Ghraib, and courts-martial have been ordered for three guards.
A central question is whether military intelligence officials encouraged the abuse at Abu Ghraib in order to "soften up" prisoners for interrogations.
During the flight to Baghdad, Rumsfeld fiercely defended the Pentagon's response to the Abu Ghraib allegations.
"The garbage that you keep reading ¡ª about cover-up and the Pentagon doing something to keep some information from people ¡ª is unfair, inaccurate and wrong," Rumsfeld said. He also said "more bad things will come out, unquestionably," but did not elaborate.
Among his first responses to the international outcry over the abuse photos, Rumsfeld sent Vice Adm. Albert T. Church, the Navy's top investigative officer, to the prison camp at Guantanamo last week.
Church told reporters he found no major current problems at that prison. But the State Department said Thursday the International Red Cross had raised some concerns with the administration about prisoners held at the U.S. naval base.
Today's Top News
Top World News

Nick Berg died for Bush, Rumsfeld 'sins' - father




Nation reports fourth monthly trade deficit




CIA says Al-Zarqawi beheaded Berg in Iraq




Major differences exist in six-party talks




Gandhi-led opposition wins India election




Capital acts on low-end housing