CIA says Al-Zarqawi beheaded Berg in Iraq
(Agencies)
Updated: 2004-05-14 00:39
U.S. intelligence officials have concluded that terrorist leader Abu Musab al-Zarqawi was the person shown on a video beheading an American civilian in Iraq based on an analysis of the voice on the video, a CIA official said Thursday.
Intelligence officials conducted a technical analysis of the video released on an Islamic web site May 11 and determined "with high probability" that the person shown speaking on the tape — wearing a head scarf and a ski mask — is al-Zarqawi, a CIA official said, speaking on the condition of anonymity.

A frame grab taken from website video footage May 11, 2004, shows a man, who identified himself as Nick Berg of Philadelphia (C) seated in front of his five masked captors moments before he was executed. Al Qaeda's leader in Iraq beheaded an American civilian and vowed more killings in revenge for the abuse of Iraqi prisoners, an Islamist Web site said on Tuesday. [Reuters]
The person who is shown speaking in the video — determined to be al-Zarqawi — is then shown on the video decapitating American citizen Nicholas Berg, the official said.
Berg's body was found in Baghdad on Saturday. On Tuesday, an Islamic Web site released the video, titled "Sheikh Abu Musab al-Zarqawi slaughters an American infidel with his own hands."
The speaker on the video, now believed to be al-Zarqawi, reads a lengthy statement criticizing Islamic scholars and taunting the crusaders.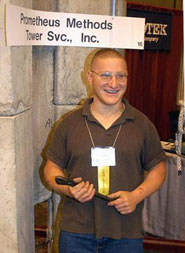 This photo dated Oct. 2003 shows Nick Berg standing under a banner of his company while attending an engineering conference in Hershey, Pa. Berg's body was found Saturday in western Baghdad. Three days later, a videotape posted on an al-Qaeda-related Web site showed him decapitated by hooded, armed men. [AP]

Standing alongside four other militants wearing headscarves and masks to disguise themselves, al-Zarqawi then kills Berg.

Al-Zarqawi is thought to be in Iraq, operating his own terrorist network, known simply as the "Zarqawi network." A specialist in poisons, he is thought to have extensive ties across the militant Islamic movement and is considered an ally of Osama bin Laden.

As recently as March, U.S. officials said al-Zarqawi's practice was not to make taped public pronouncements or take credit for attacks. However, in the last five weeks, he has increased his public profile with at least three recordings, including Berg's beheading.

Al-Zarqawi is believed to be behind well over a dozen high-profile attacks in Iraq, and many other acts of violence, which have killed hundreds.

The United States is offering a $10 million reward for information leading to his death or capture.

Rumsfeld makes surprise visit to Iraq

US Defense Secretary Donald H. Rumsfeld, making a surprise visit to Iraq went to the Abu Ghraib prison Thursday and told U.S. troops "we'll get through" the international uproar over abuse of inmates there.

Arriving here with Joint Chiefs of Staff Chairman Richard Myers by helicopter in a dust storm, the embattled Rumsfeld called the abuse scandal a "body blow for all of us" but said he was determined that those in the wrong be punished.

A US soldier makes a thumb-up sign as she ordered one naked Iraqi prisoner of war sit on the back of another. [cbs]

"The people who engaged in abuses will be brought to justice," the defense secretary said. "The world will see how a free and democratic society functions."

Rumsfeld and Myers were accompanied here by Maj. Gen. Geoffrey Miller, commander of the prison system in Iraq, who told Rumsfeld that a new complex of outdoor camps is going to open soon on the grounds outside the main prison building.

It will be called "Camp Redemption," he said, at the suggestion of the Iraqi Governing Council, and will provide better living conditions for the detainees. Rumsfeld has heard many calls for his resignation in the wake of publicly released photos showing abuse of Iraqi prisoners by U.S. forces. President Bush has given Rumsfeld a vote of confidence.

"I've stopped reading newspapers," Rumsfeld quipped to the troops here. "You've got to keep your sanity somehow. I'm a survivor."

Later, Miller took Rumsfeld and Myers on a drive around the compound in an armored bus. They passed many dozens of Iraqi detainees who lined the boundary of their outdoor camp, marked by rolls of concertina wire, aware from the heavy security that someone important in their midst. Some waved. Some stood without expression.

Miller told Rumsfeld that by the end of May, all prisoners under U.S. control will have been moved out of the old prison building.

Rumsfeld said the U.S. military is moving Iraq toward sovereignty by training an Iraqi security force that will be capable of protecting Iraqis. "It's their country and they're going to have t5o take over security," he said.

Earlier, Rumsfeld told reporters en route to Iraq that lawyers are advising the Pentagon not to publicly release any more pictures of Iraqi prisoners being abused by U.S. soldiers. He also dismissed as "garbage" any suggestion the Pentagon tried to cover up the prison abuse.

After meetings in Baghdad, the defense secretary traveled to the prison where American military police sexually humiliated and abused Iraqi prisoners last fall, according to photos of the abuse, then flew back to Baghdad to meet with troops.

Once there, he said U.S. officials have had talks with "a couple of handfuls, maybe three handfuls of nations" about contributing troops to the international force in Iraq. He did not name the countries involved.

"The discussions are quite far along with respect to a number of them," Rumsfeld said. "And I'm encouraged. I think we'll find that we will get additional forces."

In his talk with reporters earlier, he said, "As far as I'm concerned, I'd be happy to release them all to the public and to get it behind us. But at the present time I don't know anyone in the legal shop in any element of the government that is recommending that."

The government lawyers argue that releasing such materials would violate a Geneva Convention stricture against presenting images of prisoners that could be construed as degrading, Rumsfeld said. His trip was not announced in advance due to security concerns.

Miller defended his role in advising U.S. authorities last fall on how to set up a detention and interrogation system that would produce useful intelligence on people involved in the insurgency.

"I'm absolutely convinced we laid down the foundations for how you detain people humanely," he said. Miller had commanded the U.S. prison compound at Guantanamo Bay, Cuba, where hundreds of suspected terrorists are still detained from the Afghanistan war.

Miller said he plans to reduce the prisoner population at Abu Ghraib from the 3,800 who are there now to as few as 1,500 by June 15. In January, there were about 7,000 prisoners there.

Speaking later to U.S. troops in Baghdad, Rumsfeld said his trip was aimed in large part to ensure such abuses "will not happen again."

He said the incidents "sullied the reputation of our country. I was stunned. It was a body blow. And with six or seven investigations under way and a country that has values and a military justice system that has values, we know that those involved, whoever they are, will be brought to justice."

" .. It's important for each of you to know that that is not the values of America and it's not your values and I know that, and you know that and your families know that," he said.

Rumsfeld was accompanied by Myers and several lawyers on a trip designed to reassure U.S. troops that the prisoner abuse scandal has not weakened public support for their mission and to get firsthand reports from the most senior commanders.

Neither hid his feelings about the tough questioning he endured from members of Congress over the prison abuses.

"I'm really glad to be here," Myers enthused.

Before taking questions from soldiers, Rumsfeld said, "It's generally a lot more fun here than it is back home."

The Pentagon officials arranged meetings with the top U.S. commander in Iraq, Lt. Gen. Ricardo Sanchez, and other senior commanders.

Rumsfeld's trip followed Bush's visit Monday to the Pentagon, where he got an update from commanders in Iraq and declared his unwavering support for Rumsfeld, who has taken a lot of criticism from members of Congress for his handling of the scandal. Some Democrats have called for his resignation, but Rumsfeld gave no indication Wednesday that he was considering quitting.

The 71-year-old defense chief did appear weary, however. He has weathered three lengthy rounds of questioning from congressional committees over the past several days. After taking questions aboard his plane for nearly an hour he called a sudden halt, saying his voice was giving out.

He fiercely defended the Pentagon's response to the revelations of U.S. guards at the Abu Ghraib prison having subjected Iraqi prisoners to sexually humiliating treatment and photographing it.

But Rumsfeld also predicted that the abuse scandal would get worse in the days ahead.

"More bad things will come out, unquestionably," he said without being specific. "And time will settle over this and we'll be able to make an assessment of what the effect has been" on the effort to stabilize Iraq. "It clearly has not been helpful. It has been unhelpful."

Among his first responses to the international outcry over the abuse photos, Rumsfeld sent Vice Adm. Albert T. Church, the Navy's top investigative officer, to the U.S.-run prison camp for terrorist suspects at Guantanamo Bay, Cuba, last week. Church, who accompanied Rumsfeld on his trip to Iraq, told reporters en route from Washington that he found no major problems at that prison in Cuba.
Today's Top News
Top World News

Nick Berg died for Bush, Rumsfeld 'sins' - father




Nation reports fourth monthly trade deficit




Rumsfeld visits Iraq, vows no abuse cover-up




Beijing acts on low-end housing




TV told queer dressing, phony tones are out




Traffic issue causes concern in Beijing